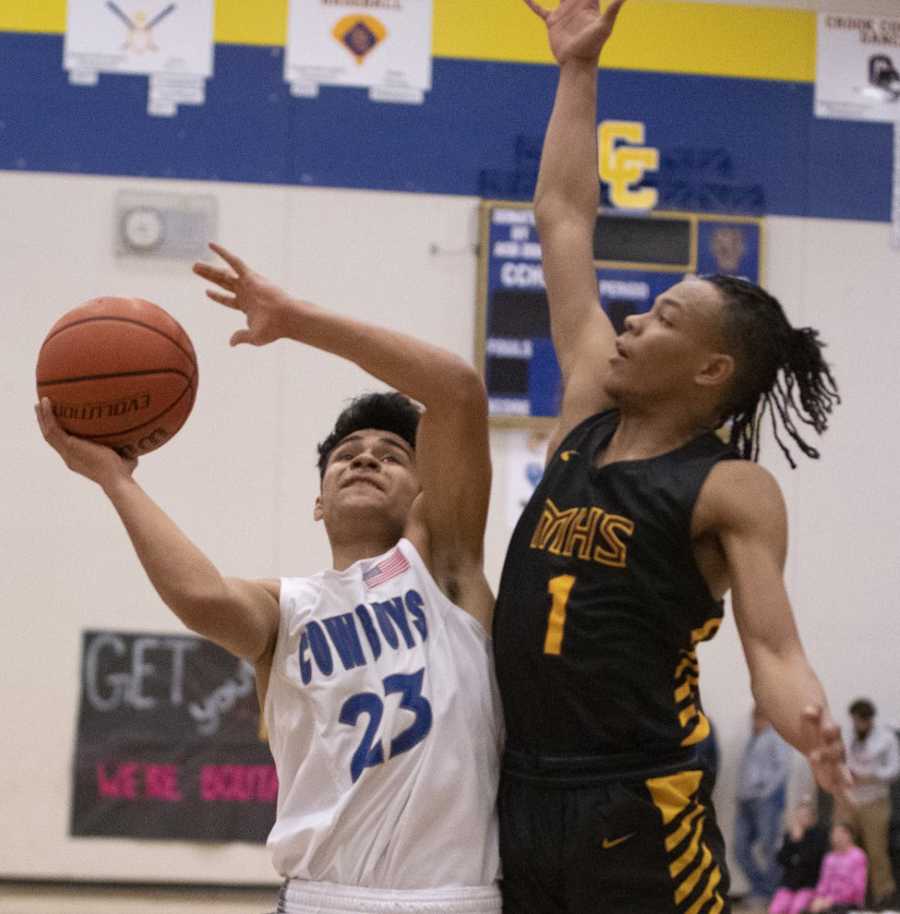 Crook County has a great tradition in wrestling and volleyball and the dance team has been very good. Boys basketball? Not so much. That's what makes the Cowboys' presence this week in the eight-team field at the OSAA/OnPoint Community Credit Union 5A Boys State Basketball Championships so refreshing.
Two days ago, led by first-year head coach Jason Mumm, Crook County hosted its first-ever playoff basketball game and won convincingly. The Cowboys got 30 points from Intermountain Conference POY Kevin Sanchez to beat Milwaukie by 15 points. The playoff game was only the fifth for Crook County in 72 years; the win the first. The team will be in the state tournament for the first time ever!
It's not the only "first" for the Cowboys this season. They also grabbed a share of the conference title, with Pendleton, for the first time ever.
"This group of guys put goals together last summer," said Mumm, who had prior head coaching experience at Vale (two seasons) and La Pine (one year) before spending the two years before this one as a Crook County assistant. "Their first goal was to get a number on the wall of our gym. So when we won league they accomplished that goal. The other goal that they set was getting to Corvallis. After the Milwaukie win, they accomplished that goal."
Crook County had a down year in 2019, finishing fifth in conference play. Even so, Mumm was bullish about its prospects heading into his first year as head coach.
"I inherited a good team," he said. "There is a lot to be said for the coaches that were here before me. Our youth coaches and youth program is strong and they have developed players really well. I stepped into a good position with a lot of talent."
Crook County found itself just 5-4 after nine games this season, hardly the formula for a state tournament team, but Mumm was unconcerned.
"We played a tough preseason schedule on purpose," he said, "and we learned from every game win or lose. We continued to get better and continued to work. I knew that we would be in the mix at the end of our league."
Mumm said that losing the league opener by a point on the road at The Dalles was a wakeup call for his squad and the coaches.
"We made some adjustments and learned from the game and continued to get better," he said.
Crook County lost only once thereafter, at Pendleton, and comes to Gill winners of nine of its last 10 games. While the Cowboys face a daunting first-round test in top-seeded Churchill, they also know that anything is possible in this season of firsts.
"We have said all along that once you are in the final eight that anything can happen," said Mumm. "Anybody can beat anybody else.
"We will prepare for the state tournament just like we prepare for all of our other games. We will put a game plan together and take it one game at a time."
***
Wilsonville boys coach Chris Roche is strongly encouraging basketball fans from across the state to make their way to Gill Coliseum sometime this week.
"This could be an absolutely epic 5A state tournament," he said. "I think there are eight really good teams in this field. These are all tough, competitive programs that are well-coached and will be ready to go. If you are a basketball fan, there could be some incredible basketball featuring very, very good teams with talented players battling it out. It's exciting if you love basketball. Oregon 5A boys basketball is alive and well. And I mean big-time. I can't wait for state!"
5A boys quarterfinals, Wednesday, Gill Coliseum, Corvallis
No. 8 Crook County (17-6) v. No. 1 Churchill (23-3): Crook County won its last five games, four by double digits, to accomplish dual first-time goals of a conference title and state tournament berth. Guard Kevin Sanchez leads the way for the Cowboys. The junior averages 16.9 points and five rebounds per game. Caleb Arnold, a 6-7 senior post; and Cayden Lowenbach, a 6-6 junior post; also are impact players. They combine to average 21.6 points and 14.3 rebounds per game. Guard Jesse Sanchez leads the squad in assists and contributes 6.8 points per contest. "Can anybody beat Churchill?" That's the question 5A coaches have been pondering since the end of last season, when the Lancers lost in the state final to Wilsonville. Churchill, which has been state runner up four times since 2013, is the favorite to win state in a tough field. The Lancers make their ninth straight trip to the state tournament with their top seven players back from last year. Kelly Bokn's team has split with Crater but is otherwise perfect in 5A and comes to Gill Coliseum on a 17-game winning streak. This is an experienced, guard-focused Churchill team with 10 seniors on the roster. Key players include 6-6 Brian Goracke, 6-1 Isaiah Wallace, 6-0 Silas Bennion and 6-5 Dylan Carson, all seniors; as well as 5-8 sophomore Samaje Morgan, a playmaking point guard.
No. 5 West Albany (20-5) v. No. 4 Wilsonville (21-5): West Albany started the 2018-2019 season 0-9 but has gone 31-9 over the past 40 games since, including 20-5 this season. The Bulldogs are making their 19th state tournament appearance but first since 2014, when they took third. They are a junior-dominated squad led by First Team All-League picks TJ Zimmermann and Luke Killinger. Zimmerman averages 18.9 points and 8.2 rebounds per game while Killinger contributes 14.1 points and 6.4 rebounds per contest. Justin Henderson (9.9 PPG; 7.3 RBG) and Koby Ruiz (9.1 PPG; 3.8 APG) are two other juniors to watch. Wilsonville is the defending state champion and has won three of the past four 5A titles. The Wildcats have appeared in five straight state championship games, the only team in Oregon history across all classifications to achieve that. They also have appeared in 12 straight state tournaments, which may be another record. Coach Chris Roche's team has not lost in 5A all year but they come to Gill having not played any of the other seven teams in the field. Four seniors are scoring in double figures for Wilsonville, led by NWOC Player of the Year Dakota Reber, a 6-6 wing, who averages 18.5 points and 6.3 rebounds per contest. Guard Gabe Reichle averages 14.7 points and 5.2 assists while wings Keegan Shivers and Andrew Classen combine to contribute 23 points, 10 rebounds and eight assists per game. This game should be a defensive battle, as both teams give up fewer than 50 points per game.
No. 6 South Albany (20-5) v. No. 3 Crater (19-6): South Albany won 20 games for only the second time in program history. The RedHawks accomplished the feat under dire circumstances, as a fire on campus early in December denied them access to the gym for 52 days. The team had to practice and play games around town and still started the season 8-0! Under first-year head coach Tim Matuszak, South Albany is averaging 12 steals and 10.5 assists per game. Junior guard Isaiah Gilliam is the team's leading scorer at 17.6 points per game. Senior post Ayden Foster contributes 14.3 points per contest while senior guard Kenyon McGlothan contributes 9.5 per. South Albany has lost to only three teams all season. Those teams, two of whom are in the state tournament, have a combined record of 62-13. Crater is making its third straight trip to the state tournament. The Comets finished fifth in 2018 and fourth last year. Crater's recent success began when Nate Bittle arrived on campus. The 6-11 junior center is considered one of the nation's elite players in the Class of 2021. Bittle averages 27 points, 10 rebounds, four blocks and three assists per game. Other Comets to watch include 6-6 senior Kruger Edwards (10 PPG; 6 RPG); and three guards, Hunter Chubb (9 PPG; 4 APG; 5 RPG); Jayden Vranes (8 PPG; 6 APG) and Brayden Ray (6 PPG; 3 APG; 3 SPG).
No. 7 Willamette (17-9) v. No. 2 Silverton (24-1): Willamette finished fifth at state a year ago and comes to Gill Coliseum battle tested playing in the Midwestern League against the likes of Crater and Churchill. The team has two standouts who can practically win any game by themselves, 6-3 junior guard Luke Smith, a prolific scorer; and ultra-athletic 6-5 senior Elisha Thompson. More than one coach has called Willamette the sleeper team of the tournament. Senior-strong Silverton finished third in 5A a year ago and comes to Gill riding a 20-game winning streak. The Foxes, who last won state in 2015, lead 5A both in scoring, averaging 72.2 points per game; and in fewest points allowed at 44.4. The team is shooting 50 percent from the field for the year, including 41 percent from beyond the arc. Senior guard David Gonzales is Silverton's go-to player. The two-time Mid-Willamette Conference POY averages 19 points and 5.8 assists per game. 6-6 senior Grant Dunn averages 14.1 points and 5.2 rebounds per game. Sophomore Jordan McCarty is averaging 10.2 points per game but has really come on of late and is averaging 14 points a game over the past 10. Seniors Owen Cote, Trysten Wertz and Nathan Brown and junior Lucas Roth also are big contributors and have carried the team at times.
5A girls quarterfinals, Tuesday, Gill Coliseum, Corvallis
No. 8 Ridgeview (18-7) v. No. 1 Silverton (22-3): Ridgeview won the Intermountain Conference and is headed to the state tournament for the first time in the school's nine-year history. The Ravens have a first-year coaching staff headed by Alicia Love and a young team that features only two seniors in the rotation. League MVP Paige Pentzer, a junior, is the team's top player. She averages 13 points and 7.6 rebounds a game. Pentzer and sophomore Jenna Albrecht, the team's second leading scorer and a First Team All-League performer, played on the Ridgeview volleyball team that won a state title in the fall. Senior Alaina Clark is another First Team All-League player. She averages 8.5 points and 6.5 rebounds a game. Junior Marley Sargent is one more to watch. She leads the team in assists and is its principal long-distance threat. Silverton is making its sixth straight trip to Gill. The Foxes were eliminated after two straight losses a year ago but won the title in 2016 and finished second one year later. Silverton comes to the state tournament having won 17 of its last 18 games. Coach Tal Wold has a strong shooting team led by 6-0 junior Truitt Riley, who averages 17 points and eight rebounds a game. Senior Riley Traeger contributes 11 points and seven rebounds per contest and Josslyn Ames averages 5.5 assists.
No. 5 Crater (22-3) v. No. 4 Churchill (22-4): Crater is 0-2 versus Churchill this year and 22-1 against everyone else. The Comets lost to Churchill by seven points each time, once in late January and again a couple of weeks ago. Crater coach Scott Dippel hopes the third time's a charm at the state tournament. The Comets are in the tournament for the fourth straight year and come to Gill having yielded the fewest points per game in all of 5A. The team averages 13.4 steals and 4.5 blocks per game. Dippel says it's a deep team. Twenty-one players have appeared in a varsity game this year. The top players are 5-10 sophomore McKenzie Hirsch, who averages 10.5 points and 5.2 rebounds per game; and 6-2 senior Averi Young, who averages 9 points and 5.5 rebounds. Churchill comes to the state tournament riding a 17-game winning streak. The Lancers, who finished fourth a year ago, were undefeated in league play and lost only to the top three 5A teams and to 6A No. 2 South Medford. Sophomore wing Danika Starr is the player to watch for Churchill. First Team All-State as a freshman, Starr averages 17.5 points and 5.6 rebounds per game. The team has only two seniors, Natalie and Sophia Elstone. Between them, the twins average 13.2 points, 5.5 assists, 5.0 rebounds and 3.3 steals per game. Tiara Bolden (9 PPG) and Stella Scott (5 PPG; 8 RPG) are two others to watch.
No. 6 Lebanon (18-6) v. No. 3 Wilsonville (23-3): Lebanon returns two starters from last year's state tournament team that was eliminated after two games. The Warriors are the only team in the field to defeat No. 1 Silverton. The team is led by First Team All-League point guard Mary Workman, a 5-4 senior who averages 15 points, five assists, four rebounds and two steals per game; and 6-2 post Ellie Croco, the 2019 Mid-Willamette Conference POY. The 6-2 senior was a First Team All-League pick in 2020 and averages 12 points and 6.5 rebounds per contest. Freshman Hallie Jo Miller, a Second Team All-League pick; and senior Taylor Edwards, juniors Hollie Johnson and Kylie Steiner and freshmen Haley Hargis and Kianna Guzon all are key contributors for Lebanon and played huge roles in its return trip to Gill. Wilsonville is 3-1 against the state tournament field as it looks to improve on last year's third-place finish. The team this year has lost only to two strong 6A programs and 2019 5A champion La Salle Prep, a team it also defeated. The Wildcats average 66 points per game while allowing just under 48 points a contest. They are led by two juniors, Northwest Oregon Conference POY Sydney Burns, a 5-9 guard who averages 13.4 points, 7.1 assists and 6.6 rebounds per game; and two-time First Team All-League pick Emilia Bishop, a 6-2 post, who averages 15.6 points and 10.2 rebounds per game. Renee Lee, the team's best perimeter shooter; three-year starter Kayla Hieb and Keira McNamee, a 5-9 junior guard, are others to watch on Justin Duke's team, which has won 20 or more games the past three seasons.
No. 7 Corvallis (17-8) v. No. 2 La Salle Prep (23-3): Corvallis is making a return to the state tournament for the first time since 2017 and its first trip to Gill under head coach Dan Brown. The Spartans had been to state the four years before Brown took over, finishing second in 2014, fifth in 2015 and third in 2016 and 2017. This year's team is young, with just one senior, and not very tall. Only senior Daniela Dursch-Smith, the team's rebounding leader, is taller than 5-10. Sophomore Elka Prechel, a First Team All-League pick, is Corvallis' leading scorer. She has more than 100 three-pointers on the year. Junior Ruby Krebs averages 4.5 assists per game and junior Anna Dazey is a top defender and averages 2.5 steals per game. Corvallis is 0-4 against the state tournament field but that doesn't faze Brown. "We are hopeful that our strong league opponents have prepared us for the high level of play that will occur here," he said, "and believe it is a great group of teams here at the tournament - all of whom are capable of making a deep run." La Salle Prep is making its eighth straight trip to the state tournament. The Falcons are the defending champions, have played in three straight state final games and have won three of the past five championships. This year's team comes to Gill Coliseum on a 12-game winning streak. It has lost just one time in Oregon, to Wilsonville in January, a loss it avenged one month later. The team is led by junior guard Addison Wedin, a prolific scorer who averages 20.5 points, 4.3 rebounds and 2.2 assists per game. Emily Niebergall (12.7 PPG; 4.1 RPG; 4.0 APG) and freshman Ella Wedin (8.6 PPG; 3.8 RPG; 2.7 APG) also are significant contributors and together average more than six three pointers per game. Mandy Sisul and Lindsay Drango are two other Falcons to watch.