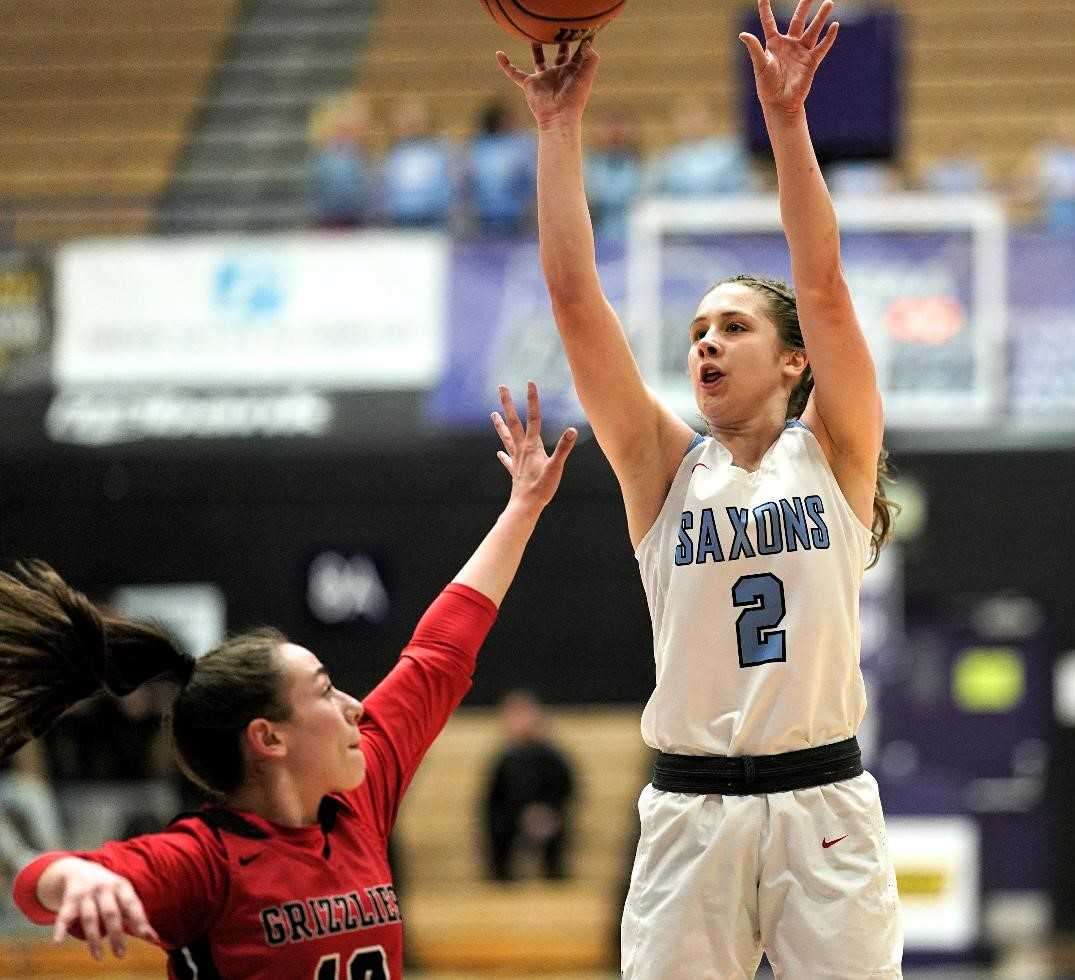 PORTLAND -- Junior point guard Hilary James scored 35 points to lead South Salem past McMinnville 59-45 in the quarterfinals of the OSAA/OnPoint Community Credit Union 6A girls basketball tournament Wednesday at the Chiles Center.
The 5-foot-5 James made 13 of 19 shots from the field, including 6 of 7 from three-point range, as the No. 6 seed Saxons (23-4) advanced to the semifinals for the first time since winning back-to-back titles in 2015 and 2016.
James, the two-time Mountain Valley Conference player of the year, also had seven rebounds, three assists and two steals in the win over the No. 14 seed Grizzlies (18-9). South Salem coach Adrian Lewis said that he believes James, who entered averaging 16.5 points, is the best point guard in the state.
"She's built for this moment," Lewis said. "There aren't many girls that can guard her one-on-one. She drives past anyone, she can shoot a three, she can finish at the rim, she can dime people up. Hopefully something like this, she gets recognition for, because she deserves everything she gets."
James scored 22 points in the first half as South Salem led 30-27, but McMinnville, coming off a playoff upset win over No. 3 West Linn, hung tough. Senior guard Grace Bliven hit a three-pointer to put the Grizzlies up 32-30 and made another from deep for a 39-38 lead after three quarters.
South Salem went on an 11-0 run to start the fourth quarter, getting three-pointers from sophomore Delaney Keith, senior Gretchen Olsen and James, to lead 49-39. Later, Keith hit a three-pointer and scored on a layup during a 7-0 run as the lead grew to 56-41 with 3:20 left.
Keith finished with 11 points and three steals, making three three-pointers. Victoria Stafford, a 6-0 senior post and a fourth-year starter, scored six points in 15 minutes before leaving with a leg injury.
"We were just resilient," James said. "Obviously, Victoria went down, and we were like, 'Hey guys, we've got to do this for her.' We really stepped up our defense. Hopefully, she's going to bounce back. If not, she's going to support us, and we're going to play for her."
South Salem beat McMinnville 64-45 on Dec. 20, but in that game, the Grizzlies were playing without Bliven and senior guard Emily Boggs, who were out with injuries. Both started Wednesday.
"I told the girls they were going to come battle," Lewis said.
Making its first quarterfinal appearance, McMinnville got 16 points and six rebounds from senior forward Gretchen Sorenson and 14 points, eight rebounds and three steals from junior forward Kylee Arzner, who shot 5 of 20 from the field, including 1 of 8 from three-point range.
"We didn't play our best defense in the first half, but we rallied, especially when Victoria went down," Lewis said. "I think that was a big changing moment for us. We rallied behind her."
South Salem, which will meet No. 2 South Medford in the semifinals Friday, is embracing the underdog role.
"It's always been, 'Oh, South Salem, no big deal,'" James said. "But we're coming at these teams, and we're ready to go."