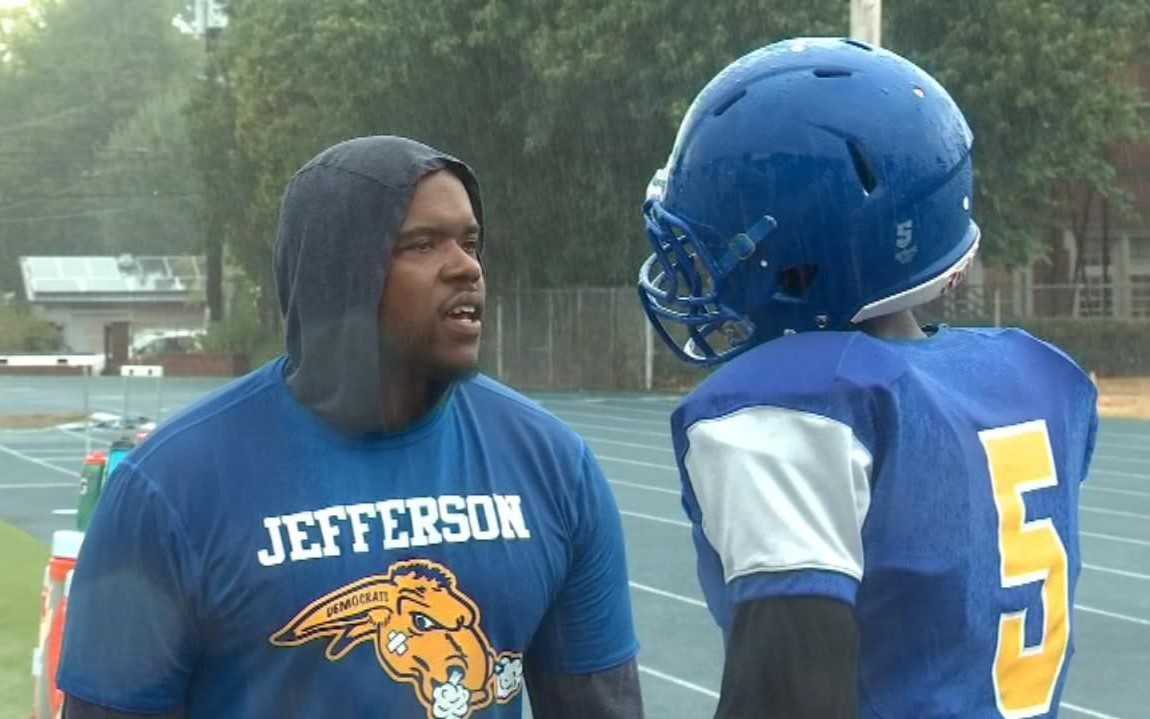 Coaching high school football wasn't high on the list for Houston Lillard.
After starting the Team Lillard 7-on-7 and skill development program in late 2016, he found plenty of fulfillment in helping players improve with offseason training.
But by the time Don Johnson took over as Jefferson's coach last summer and offered him a spot on the coaching staff, Lillard was starting to feel as if he had something to prove.
"As the years went on, I kind of wanted to get rid of the stigma of 7-on-7 guy," Lillard said. "People think 7-on-7 doesn't teach football. All those things that come with, you know, 'AAU football,' I found myself in a pickle because I didn't look at it like that."
Now Lillard, after a season of serving under Johnson as the team's offensive coordinator, finds himself as head coach of a 6A program stocked with some of the state's top talent. He was promoted last month to succeed Johnson, who is the director of high school relations for the University of Oregon.
Coaching at the north Portland school is a throwback for Lillard, who grew up in Oakland, Calif., and played quarterback at San Lorenzo High School, Laney College (Calif.) and Southeast Missouri State before a five-year stint in the Indoor Football League.
"It just feels like I'm looking at myself," Lillard said. "That's the type of environment I grew up in."
Lillard said he wants to provide the type of support system that was so important to him and his brother, Portland Trail Blazers all-star guard Damian Lillard.
"We had a lot of cousins and uncles and young kids who were different pieces, who made us stay guided and stay grounded and stay on the right path," Lillard said. "But a lot of these kids don't have that. I'm ready to help create more light at Jefferson so people can see what's going on and how great it is."
Lillard relished the chance to help Johnson revive the program at Jefferson. He considers Johnson, who was among those that encouraged him to start Team Lillard, as a mentor. Their relationship grew during Johnson's days as the coach at Madison (2015-17).
"I wanted to coach somewhere where I felt I could serve a big purpose," Lillard said. "When he got the job at Jefferson, I knew there wasn't a lot of great things people would say about it, so we could come in there and change the narrative."
The Democrats improved from 2-7 in 2018 to 6-4 last season, increasing their scoring average from 22.8 to 35.7. For Lillard, the season was a crash course on coaching.
"It was a big learning curve just because it was something new," Lillard said. "I think I was prepared for the situation just because of my experience and just my passion to make things better. I'm the type of person who isn't afraid to ask questions and I'm willing to listen. It wasn't as hard because I wasn't trying to make everything my responsibility."
Lillard initially was hesitant to apply for the head-coaching job when Johnson stepped down, even as his excitement about the direction of the program bubbled over in conversations.
"I would tell people that the job was available, and they were like, 'They've got to hire you,'" Lillard said. "And I was like, 'Nah, I've got to apply.' And they were like, 'What are you waiting on?' Everybody assured me, 'It's nothing new for you, don't be afraid of being who you are.'"
Lillard will be looking to put his own stamp on the program in 2020.
"Last year I was still kind of in the learning phases of offensive coordinator, so it was more of a dual thing with me and Coach Johnson," he said. "But I played quarterback, so I would like to throw the ball more. We still want to win the line of scrimmage and make sure that running the ball is a priority."
Lillard considered basketball his No. 1 sport through high school, saying he was "the best shooter in the family" up until Damian's third season in the NBA. Four years older than Damian, he said he believed he was the better basketball player until his brother's sophomore season at Weber State.
"That's when I could admit it to myself. Before that, I genuinely didn't feel like he was better than me," Lillard said. "But after his sophomore year, that was when I was like, 'OK.'"
Lillard was playing for an Indoor Football League team in Tri-Cities, Wash., when Damian was drafted by the Trail Blazers in 2012. He often took the train to Portland to visit Damian and began spending his offseasons in the city.
He moved to Portland in 2015 after a broken leg ended his playing career and has watched his brother blossom into a superstar.
"I felt like I've had one of the best seats in the house," Lillard said. "It's amazing to see, like a dream come true."
Adidas, which signed Damian to a shoe contract, has provided financial backing for Team Lillard.
"He supports us, but a lot of how he supports is just him being my brother," Lillard said. "Definitely with Jefferson, I plan on having some support from him and anybody that wants to help. But anytime he's around with the football stuff, it's just he's my little brother coming around to be around football."
Jefferson football cultivated a "deep sense of unity" last season, according to Lillard. The program more than doubled its turnout, attracting several first-time players from the state-contending basketball team.
Lillard said that "people would die for the opportunity" to coach the level of talent at Jefferson. College scouts are taking a longer look at the Democrats.
"Every day, it seems like there's a new head coach there," Lillard said. "It's created a high energy. We've got kids that want to get their work done and get their grades up."
He is eager to build on what the team started, and with most of the roster back – including two four-star recruits in 6-foot-7, 240-pound junior defensive end Nate Rawlins-Kibonge and electrifying junior tailback Damir Collins – the prospects are promising.
"It's a totally different situation," Lillard said. "A lot of the kids have bought in. The culture is different right away because we have leaders. We already have relationships. I don't have to go and win the program over because I'm a new coach. They already trust me and they know I have their best interest."