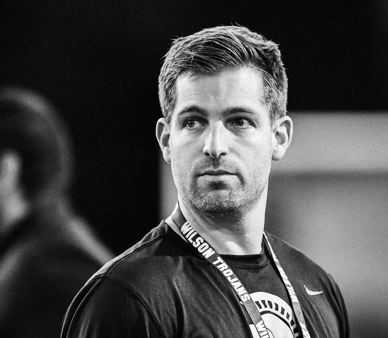 When David Kilpatrick-White resigned as Wilson's football coach in November, he had a two-step plan.
First, he would look for another head-coaching job. If that didn't pan out, he had agreed with Barlow coach Terry Summerfield about joining the Bruins' staff.
That plan took a dramatic turn, though, when Summerfield called in January to tell him that he was resigning as Barlow's coach after 22 seasons. The Bruins, coming off their first semifinal appearance in 28 years, needed a head coach.
"He told me that he thought I'd be a great fit to take his place," Kilpatrick-White said. "It kind of became a natural fit. And luckily, I was able to prove to the people in the interview panels that I was a good fit, as well."
Kilpatrick-White, 35, was hired to succeed Summerfield this month. It is the third head-coaching job for Kilpatrick-White, who went 7-13 in two seasons at Hazen (2014-15) of Renton, Wash., and 3-23 in three seasons at Wilson (2017-19).
After coaching at schools that struggled with turnout, he is eager to get back to a place more like his alma mater, Bothell (Wash.) High School, where he said football is "basically like a small slice of Texas."
"I told Terry I'd rather be an assistant somewhere where the football really mattered than a head coach someplace where it didn't," Kilpatrick-White said. "I've taken my lumps and earned my stripes, and now I'm fortunate enough to have an opportunity to coach someplace as special as Barlow."
It was a rough go for Kilpatrick-White at Wilson, which played in the 6A Portland Interscholastic League in his first season and switched to the 5A Northwest Oregon Conference in his last two seasons after meeting OSAA criteria to move down one classification.
After being hired in the spring of 2017, he was told that 12 players were committed to play that season. The Trojans found enough bodies to field a team, but by their final game had only 24 on their roster. They finished 0-9, averaging a 6A-low 5.7 points per game.
Wilson finished 3-6 in 2018 and 0-8 last season, averaging 27.1 points and 21.0 points, respectively. The team showed improvement, but losing took a toll on Kilpatrick-White.
"I don't really enjoy winning that much, but I really, really disdain losing," he said. "It had gotten to the point at Wilson where it felt like winning three games was the same level of coaching job that it would take to win the state title at another school. And that was not healthy for me."
On a positive note, Wilson increased its turnout to about 45 in 2018 and had 62 players involved in the program at some point last season, finishing with about 45 on the roster.
Still, it was a far cry from his days at Bothell, where he returned to assist in the program before taking the job at Hazen. In his final season at Bothell, he said, the program had 176 players.
Barlow expects to have about 80 in its program this season, which will allow Kilpatrick-White to turn his focus on things other than making sure he has enough players.
"The things to keep kids coming out, and to provide a quality football experience, I get to do more of that stuff now," he said.
Kilpatrick-White left Hazen when he and his wife Carrie, who is from Newberg, decided to move to the Portland area. He assisted at Mountain View of Vancouver in 2016 before getting the job at Wilson.
As he became acquainted with Oregon high school football, he admired Summerfield and the way he ran Barlow as a "community program."
"It's not like he's been having success because he's gotten a transfer here and there," Kilpatrick-White said. "He built it from within. He sees football the same way I do. It's much more than wins and losses, it's about the lessons we're teaching. The community is used to that approach, and has the same values I do."
Defensive coordinator Malcolm Johnson and much of the defensive staff will return in their roles. Kilpatrick-White is likely to be the offensive coordinator this season, but will be looking to hand off those duties at some point.
"I like to think of myself as the culture coordinator, and let the other guys take care of the schemes," he said.
His offense will be similar to Summerfield's, utilizing the pistol formation. He favors a no-huddle, up-tempo approach with run-pass options. Finding a new quarterback after the loss of Jaren Hunter, a three-year starter, is a high priority.
Kilpatrick-White has made it known that Summerfield is welcome to return as an assistant, if he wishes.
"I would absolutely love for him to be involved," Kilpatrick-White said. "This year, I don't think that's going to happen. For me, in a perfect world, I'd have him come back and be the O-line coach and offensive coordinator. But I think he's eager to kind of turn the page and tackle a new challenge."
Kilpatrick-White said he feels "a tremendous amount of responsibility" to build on the momentum that Summerfield created.
"I want to make sure we honor all the work he put in and the way he built the program," he said.