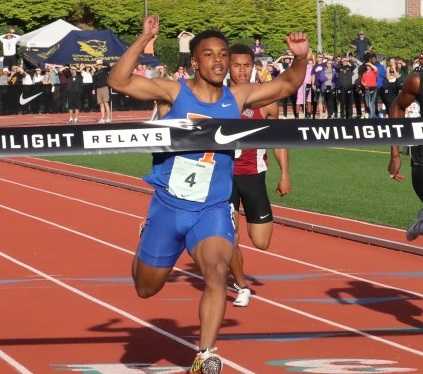 The 2020 track season was shaping up to be a monster year for Benson sprinter Micah Williams.
The University of Oregon-bound senior, who set state records in the 100 and 200 meters last year, was looking strong after clocking 6.68 seconds in the 60 meters at the University of Washington Indoor meet Jan. 18, the best high school time in the nation for the winter season.
Another record-breaking high school season seemed likely, and berths in the U.S. Olympic Trials in Eugene in June and the World Athletics U20 Championships in Kenya in July seemed possible, especially considering he excelled at Washington despite running with what he later found out was a broken toe.
"It basically messed up everything else at the race," Williams said. "If I was 100 percent healthy, I knew I would have ran 6.5 or something. So I would've been 10 times better than I was the year before."
Of course, that was all before the start of the season was scuttled due to health concerns about the coronavirus. Now Williams, like other athletes, sits in a holding pattern, wondering if the season will ever get off the ground.
"I've just got to go with it, live with it," Williams said. "You can't change it, can't do anything."
Last season, Williams ran the 100 in 10.21 and the 200 in 21.03, but did not compete in the 6A championships because of an ankle injury. He did not race for eight months before making his return at the UW Indoor, where he placed third in a three-way photo finish with college sprinters.
He began to feel pain in his left big toe during a preliminary heat, however.
"I just said, 'I can push through it,'" Williams said. "The last race it hurt really bad, but I got through it. After that, I came home and took an X-ray, and I realized my toe was broken. It healed up really quick, so I was all good. I rested up and it healed 100 percent."
Longtime Benson coach Leon McKenzie, who stepped down after last season but has remained on the staff in part to oversee Williams' training, said Williams pulled back on his workouts from Jan. 20 until late February.
"That was a long time," McKenzie said. "We were just on a stationary bike, swimming, doing all kinds of water exercises, a lot of core work and weight-room work, but we didn't do any weight-bearing things. As soon as he got the official word that he could continue to train, he was feeling good. He was just out of shape."
Williams is doing his best to keep in shape on his own, but he is staying off the track, for now.
"There's no point in me working out on the track and hurting my ankles on the track, because I can't run," he said. "I was fully healthy this season, and now I can't run."
First-year Benson coach Jay Miles, a former Techster who takes over the team after 14 seasons at Aloha, said Williams was "rusty, as we expected" at the UW Indoor but was ready to move forward full-bore.
"His mobility and all of his injuries that he had last year were tracking toward being a non-issue going into the season," Miles said. "Everything was looking good."
With Oregon schools closed through April 28, the OSAA has suspended the start of spring sports. Until then, Benson coaches are prohibited from working with Williams.
"It's a big difference when you're not being actively coached," McKenzie said. "Had I known this was going to happen, I would've stayed as a quasi-volunteer or something."
According to McKenzie, Williams was looking to run sub-10.1 in the 100 and sub-21.0 in the 200 this season. The qualifying standard for the Olympic Trials in the 100 is 10.5.
Without a full season, McKenzie said it is unlikely that Williams would make a jump.
"He could run fast and still beat kids, go out and run 10.5 or something, just off talent, but in terms of being at the top of his game, that takes a lot of work," McKenzie said. "You don't just jump out of bed and run 10.21.
"What we've got to realize is last year was a culmination of a lot of races. We ran UW a couple times, we ran at Simplot, we went to New York and ran, and at Arcadia. It kind of put us in that position to run that 10.21 at Jesuit, and we were ready to take off."
The injury to his left ankle robbed Williams of a chance to repeat as 6A champion in the 100 and 200.
"It hit hard, definitely, because I knew what I was capable of running after running the 10.21," Williams said. "But I just realized I had another year, so I was pretty much going for this year."
Now his senior season is in serious jeopardy. In a perfect world, Williams would have regained his titles in the state meet at the new Hayward Field, his future home. Even if the season happens, though, the 6A meet will be at Mt. Hood Community College due to construction timelines at Hayward Field.
"He was talking about, 'Just think, I'm going to be the first one on Hayward Field, and I get to break that in. I know that track is going to be lightning fast,'" McKenzie said of Williams.
"We'd like to be able to finish the season, even if we can't run the kind of times we were looking at running. If everything goes well, he'd like to come back and see if he can win his title back. When the level of expectation goes up, and he's feeling good, you'll see something. He loves the stage."
Williams is prepared for the possibility that the season is lost.
"I also have to realize that I have track next season, so in another year, I'll be at Oregon, better training, and I'll look at the 2021 Olympics," Williams said. "The main goal wasn't to run high school fully, it was to have a chance to run at the Olympic Trials or the World Championships."