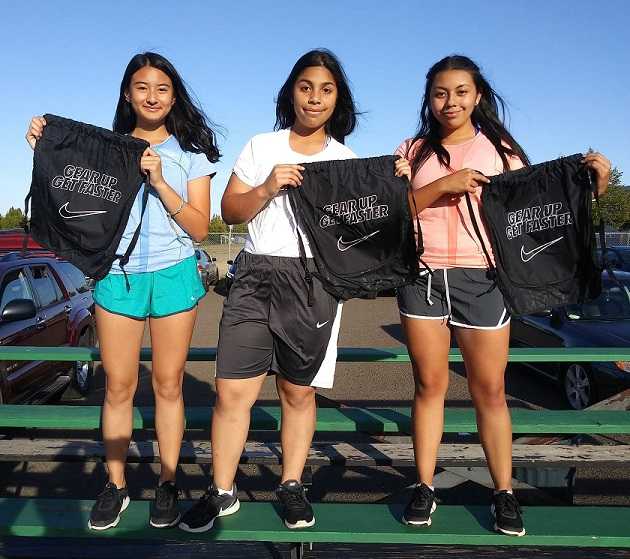 Parkrose athletic director Daunte Gouge has seen first-hand how the OSAA Foundation can benefit students.
Last year, a student wanted to join the school's girls track team but didn't have the necessary attire. Gouge showed her into a room stocked with an assortment of athletic apparel, provided to the school by the Foundation. She walked out with two spandex track jerseys, a pair of shorts and two sports bras.
"That hooked her up for the entire track season," Gouge said. "Here's a kid from a single-parent home. She probably wouldn't have done track if it wasn't for the clothes we got from the Foundation."
It's just one of the ways the Foundation, established in 2005, supports OSAA member schools. Through its Student Assistance Program and Participation Grant Program, it provides attire and gear for athletes in need and contributes to school projects that aim to increase student involvement.
Last week, the Foundation gave Nike shoe bags, shorts and shirts to the girls cross country team at Parkrose and the boys cross country team at North Salem.
"It's pretty awesome. The guys were pretty stoked about it," North Salem coach Michael Herrmann said. "To get some new stuff, I think it builds the efficacy of kids. They feel like, hey, a shiny new set of gear, and all of the sudden you've got a little bit more pep in your step."
The Foundation raises money through endowment contests, from which schools donate half of their gate receipts. It also receives donations of shoes, clothing and gear from Nike and Adidas.
"Those companies have the product to donate and we have the mechanisms in place to get it to the schools," OSAA executive director Peter Weber said. "So they give it to the Foundation, and we work through the schools to disburse those items to schools and students that need them."
Foundation donations have been responsible for stocking the Parkrose Provides Closet with a range of athletic equipment and apparel. The Foundation also provided about 20 duffel bags and backpacks that are used in the Parkrose Provides Pantry, a program in which the school packages food for about 30 students each weekend.
Nike and Adidas have been integral in the Foundation's efforts. Last year, they donated hundreds of pairs of football shoes, all in large sizes. The Foundation notified schools that the shoes were available and distributed them to those in need.
The Student Assistance Program has provided aid to about 175 schools. The Foundation asks schools to provide them with information on their six neediest students and identifies those with the greatest need. Through a partnership with Dick's Sporting Goods, it purchases apparel and gear for them.
"We'll spend about $100 to $120 on shoes, shirts and clothes," Weber said. "Sometimes we'll get a tennis racket or a glove. Typically we look for schools that have high free and reduced lunch, but to be honest, every school has a handful of kids that have need, as well."
In recent years, the Foundation has made a concerted effort to help schools with the highest percentage of students to qualify for a free or reduced-price lunch. It identified Chiloquin, Gilchrist and Prospect, and gave each of their students a pair of shorts and a shirt at all-school assemblies.
Through its Participation Grant Program, the Foundation donates about $40,000 to $50,000 each year to school projects in an effort to get more students involved in activities.
The Foundation receives grant applications from schools undertaking projects such as refurbishing tracks, installing fields and tennis courts and improving weight rooms. It recently contributed to Riddle's effort to convert an old building on its campus to a wrestling room.
"It's a good program to either jump-start or finish off some programs for some schools," Weber said.