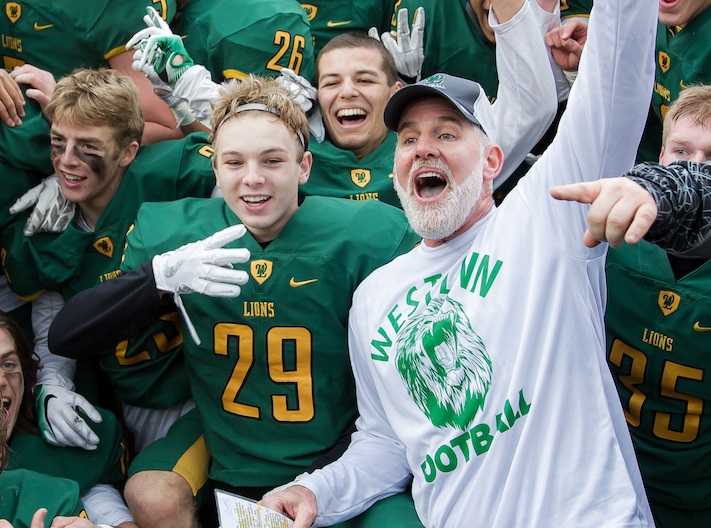 His highly successful coaching debut in the XFL cut short, former West Linn football coach Chris Miller has plenty of time to plot his next move from his home in Eugene.
"I've logged eight- and 10-hour shifts on the puzzle table," Miller said.
Shortly after West Linn's season ended in the 6A quarterfinals in November, Miller headed off to assist with the Houston Roughnecks in a rebirth of the XFL. He served as offensive coordinator for a team that led the league in scoring, yards and touchdown passes in winning its first five games.
That's when the XFL came to a screeching halt due to the coronavirus outbreak. The eight-team league suspended operations last week and filed for bankruptcy this week. It has no plans for a 2021 season.
"It ended too soon," Miller said. "It's too bad we couldn't chase a championship. It was fun while it lasted. It was disappointing, but we obviously understand the reason behind it."
The league paid its employees through Sunday, plus accrued vacation time. Contracts ran through May 31.
"We almost got fully paid," Miller said. "That was a blessing."
So what's next for Miller? He is open to possibilities.
"I've had a few coaches reach out to me since Friday, since they heard the XFL was shutting down," he said. "I've kind of been talking to people about open jobs, collegiate and high school.
"I'm just going to kind of wait and see what opportunities look good, and what kind of fits. I'm an open, plain, white board right now. This will be the first time in quite a long time that I don't have anything to do specifically in the summer and the fall."
Miller went 60-16 in six seasons at West Linn, winning the 6A title in 2016. The Lions made it at least as far as the quarterfinals in each season.
Miller wouldn't rule out a return to the high school sidelines. Several 6A programs filled head-coaching vacancies since the end of last season, but he could hook on somewhere as an assistant.
"I've had head coaches reach out to me and see if I'd be interested," Miller said. "Some, actually, have been reaching out to me all the way back to December since I shut it down at West Linn, and they knew I'd be done with the XFL in April. So we'll see. I'll find something to do."
Former Parkrose coach Keanon Lowe was hired to succeed Miller at West Linn. After it was announced, Miller congratulated Lowe via Twitter.
"I think it's good for me to be away from that and let him do his deal, build his program," said Miller, whose son, Dillon, will remain on the West Linn staff as the freshman head coach. "I may try to get up for a game or two. I'll be a fan. They've got a really good senior class there, and good sophomore-to-be and freshman-to-be classes. The shelves are definitely full. It'll be fun to watch those guys this year."
Miller could return to privately training high school athletes, but it might complicate any college coaching opportunities because of "undue influence" rules, and he wants to keep that door open for now.
He said he would prefer to work in Oregon.
"I'll probably give it a little bit more time and see what's out there, maybe decide here in the next few weeks," he said. "There's no need to rush anything right now."