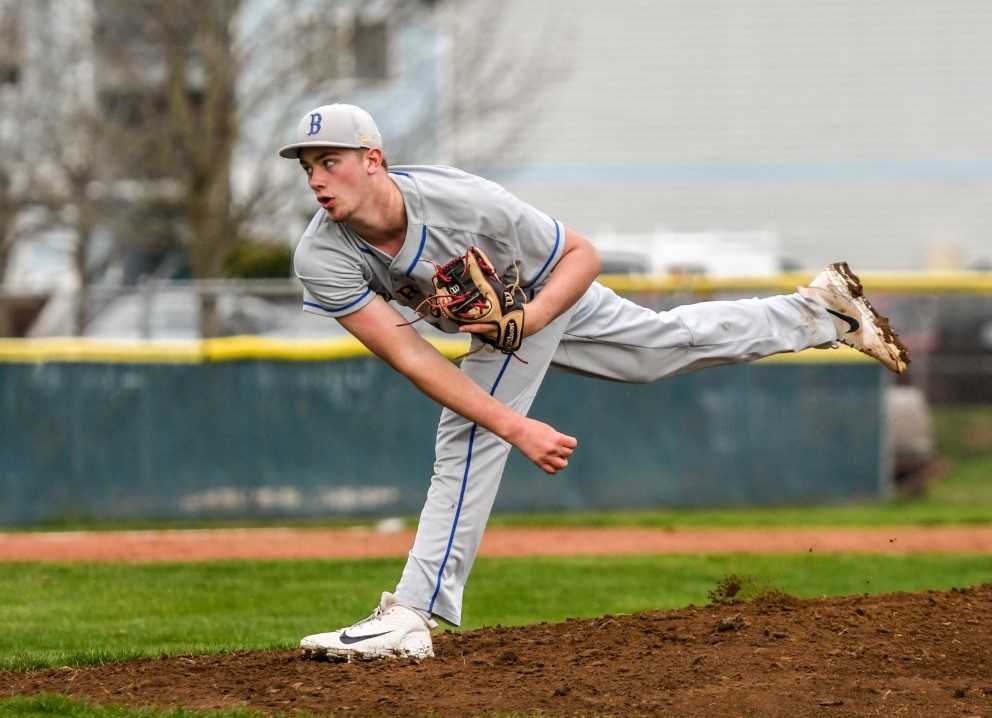 Since the third grade, it's been all sports, all the time for Jaren Hunter.
Not since the summer before his eighth-grade year, when he missed about six weeks with a broken thumb, has Hunter not been able to compete in football, basketball or baseball.
So perhaps no one is spinning their wheels more during the coronavirus shutdown than the Barlow senior, who has signed with Oregon State as a pitcher.
"It's been weird not playing a sport," Hunter said. "For all my high school, it's been sport after sport after sport. There's never been any off time for me.
"The one sport that hasn't been shut down is golf. So I've been going out with a couple buddies and just trying to do something that's competitive for me."
The 6-foot-2, 210-pound Hunter doesn't just play sports, he excels in them.
A three-year starter at quarterback, he led the Bruins into the semifinals for the first time in 28 years last fall. He was a two-year starter in basketball, part of a team that took a 15-game winning streak into the 6A quarterfinals before the state tournament was canceled. And in baseball, he was Barlow's ace the last two seasons.
Last month, though, his decorated high school career came to an abrupt halt.
"We were close to winning a state championship in basketball, and I know we had a good shot in baseball," Hunter said. "It just sucks not to be able to get that chance this year."
Hunter dominated on the mound as a junior. In 58 innings, the right-hander allowed 33 hits, struck out 88 and walked 13 and posted a 1.20 ERA and 0.789 WHIP.
During basketball season, he was throwing twice a week with former Oregon State pitcher Kevin Gunderson at The Bat Company facility in West Linn.
He was gearing up for a season-opening showdown against reigning 6A champion Jesuit and a duel with Crusaders senior pitcher Mick Abel, an Oregon State commit who is rated as the No. 2 high school prospect in the nation by MLB.com. Abel is Hunter's training partner with Gunderson.
"We've played together since 12-U, and we were definitely fired up," Hunter said. "It would've been the first time we matched up in high school. I was looking forward to going against him, and the reigning state champs, and get a good win hopefully for Barlow, and also get great competition the first game of the season."
Barlow coach Scott Hunter was eager to see Jaren compete against Abel.
"The best part about Jaren is he just thrives under the pressure of it all," Scott Hunter said. "It doesn't seem to ever faze him. He was ready to go."
The Bruins, who lost in the first round of the playoffs the last two years, had high hopes this season with 13 returning players. They had two big-time arms with Hunter and junior lefty Carson Jensen and a rising prospect at catcher in junior Wilson Weber, who has committed to Oregon State.
"That one-two punch of me and Carson would've given us a great chance to win a league title," said Jaren Hunter, who batted second in Barlow's order last season, hitting .346. "We had a really good chance to be a complete team and really make a run."
Hunter, who threw his fastball in the 87-90 mph range last season, was clocked at 92 mph in tryouts for the Area Code Games in the summer. Stronger this year, his goal was to sustain 90-92 for the duration of the game.
His change-up, though, has a chance to be special.
"I didn't throw it as much as I should in high school. It's a really good pitch, and usually it gets better in the summer," he said. "But a lot of the big showcases, that's my No. 1 pitch. It's a great complement to my fastball because it's got the same exact movement on it, slower with a lot more drop. It's just a real effective pitch for me."
Jaren's feel for the game is what puts him at another level, according to his coach.
"He doesn't seem like a high school pitcher," Scott Hunter said. "He looks at swing patterns, and he knows where he wants to throw a guy. 'The ump's giving me two inches this way or that way, so let's set up and work that.' He definitely processes all of that ahead of time. It's just been a joy to watch him pitch."
For now, Jaren is staying in shape by doing online workouts through ROKKE Performance Therapy in Tigard on weekdays. He was scheduled to begin a six-week training program at Oregon State in late June, but that has been pushed back to Aug. 10, which would give him a chance to pitch in summer games for Gunderson Baseball.
With no more football and basketball commitments, he finally has the time to fine-tune his arsenal.
"Now that he's baseball year-round, and he can get into the weightlifting program for baseball specifically, you'll really see him take off in the next couple years," Scott Hunter said. "I think it's going to be something pretty special as he progresses at Oregon State."