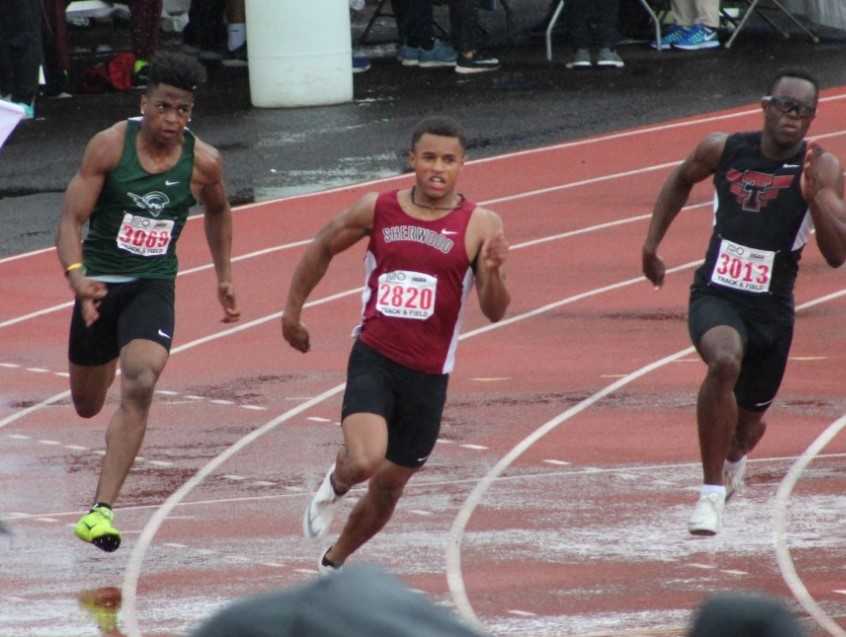 Last year, in his 35th season as Sherwood's track coach, Terrel Smith was so close to his first state championship, he could taste it.
The Bowmen boys finished second to Tualatin, their highest placing ever under Smith, and with all of their state scorers due to return in 2020, the deck was stacked in their favor.
"We worked pretty hard to get our kids to the point of being at the top of the pyramid," Smith said. "You look at the kids we had and were returning in prime form, we really did figure we could win it this year."
It seems almost cruel that Sherwood isn't getting that chance, due to the coronavirus crisis.
"Personally, it's disappointing," said Smith, who has been on Sherwood's staff for 40 years. "Things don't align for a championship like this very often. It just adds to the disappointment when we were so close. What could have been."
Sherwood had the reigning 6A champion in the 100 and 200 meters in senior Caleb Hagan, who has signed with Idaho. Hagan excelled in the winter season and was ready to face off with Benson senior Micah Williams, the state record-holder in both events who missed last year's state meet with an ankle injury.
"We would've loved to see him and Micah go at each other," Smith said. "That was something we missed last year. We set up a situation for them to have a few meets together, and we were looking forward to that."
In his only race against Williams last year at the Nike/Jesuit Twilight Relays, Hagan's starting blocks kicked out from under him and he settled for seventh place. Hagan finished the season with bests of 10.66 seconds in the 100 and 21.66 in the 200, both school records, but well behind Williams, who clocked 10.21 and 21.03.
"Caleb would push him, but Micah is Micah," Smith said. "We didn't have any dreams that Caleb could beat him on a regular basis, but Caleb was just continuing to improve."
Sherwood expected to rack up points this season with the throwing combination of juniors Bryan Cuthbertson and Noah Culbertson.
Cuthbertson set school records in the shot and discus last year, finishing second in both events at state. Culbertson was third in the shot and ninth in the discus. They had a good chance of taking the top two spots in both events at state.
"It would've taken a great thrower to break that one-two up in the shot-disc," Smith said.
Cuthbertson, who set a school record for tackles in football season and was a state runner-up in wrestling, also was a potential state contender in the javelin. He could make a push for three throwing titles next season.
"He's very capable of doing it," Smith said. "He can do everything. When Bryan's done, I don't know if you can say that there's been an athlete like him for the three sports."
The Bowmen also returned sophomore Ethan Sturdivant (sixth at state in the 800), junior Asher Krauel (seventh in javelin) and senior Samuel Findtner (12th in triple jump). Their much-improved crew of distance runners -- led by senior Thomas Osborne – took fifth at the 6A cross country championships.
Sherwood can take solace in that most of its lineup will be eligible to return in 2021. That promise, along with the opening of a new school with an upgraded track facility, gives the Bowmen hope for the future.
"We'll have a fresh reload after this disappointment," Smith said. "We can sell that to our kids, to keep their heads up, and look forward to something that's going to be very exciting and new and fresh. We'll make another run at it."