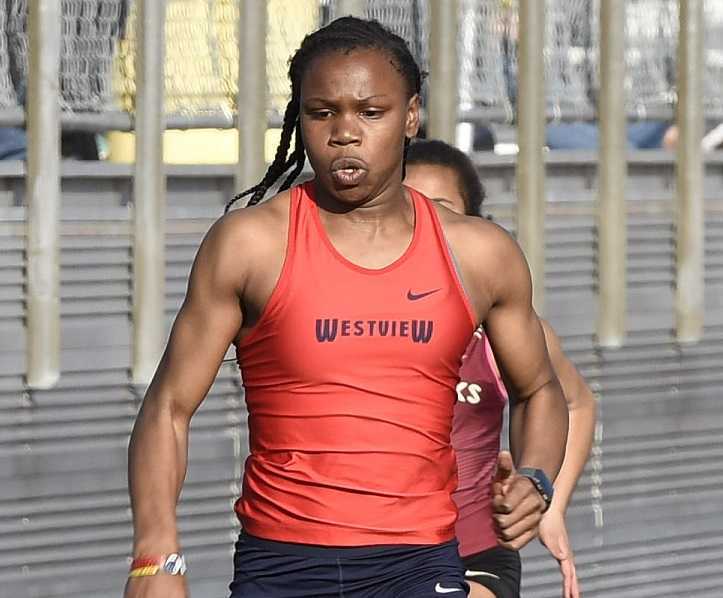 It looked as if Colleen Uzoekwe's path to an historic senior track season finally was clear.
The Westview star had jumped through all the hoops necessary to gain a fifth year of eligibility – surprise obstacles from taking community-college courses as an eighth-grader – and was poised for a tour de force at this year's 6A championships.
"I was so glad we were able to get that season for her," Westview coach Rebecca Martin said.
Then came the coronavirus crisis, and poof! it was all gone.
"We didn't even get to have our cake," Uzoekwe said.
The 2020 season was supposed to be the icing on a stellar high school career for Uzoekwe before she went off to compete in college at Oregon. After winning the 100, 200 and long jump and finishing second in the high jump at the 6A meet last year, she was bidding to become the second girl ever to win four events at the big-school meet, joining Benson's Sara Callier (2005).
With school records in three events, she was looking to add another in the 200.
"There's a lot I was hoping to accomplish," Uzoekwe said. "But life happens for a reason."
Last year, Uzoekwe won four events at the Metro League district meet and came within an eyelash of doing so in the 6A meet at Mt. Hood Community College.
But she finished second in the high jump by one inch, clearing 5 feet, 5 inches, well off her personal best of 5-8 ¼. It didn't help that she lost her high-jump spikes on the day of the meet and had to compete with a different pair.
"It hindered me a little bit, but was more that I was fatigued from the whole day, competing in the other three events and then coming to the high jump," she said. "And then it was pouring down rain and freezing cold.
"It sucked because most of the people there hadn't done more than two events that day, and I did three. I knew I could do better, because I've accomplished better, so it just fueled me."
Martin was eager to see how that motivation would propel Uzoekwe, who has made dramatic improvement each year at Westview.
"Colleen's the one. She's got it," Martin said. "She's got the physique. She's got the mental edge. She's young, and she still needs that mentoring and that help from the coaching staff to work on her confidence, but she's so coachable. She's there to win. She brings her game. She likes the big stage."
The 5-10 ½ Uzoekwe had a highly successful summer, punctuated by her performance at the USATF National Junior Olympic Championships in Sacramento in late July. In the 17-18 age group, she was runner-up in the high jump (5-7) and made the finals of the 100 and 200, placing eighth and sixth, respectively. She clocked 24.52 in the 200, improving on her previous best of 24.90.
Uzoekwe cranked up her training in the offseason and was aiming to improve on her school records in the 100 (11.86), high jump (5-8 ¼) and long jump (18-11 ¾) and break the school mark in the 200.
"I was really hoping to get like 11.6 in the 100 meters and get into the low 24s for the 200," said Uzoekwe, who continued working out on weekdays since the end of the summer season.
Uzoekwe signed with Oregon early last month, choosing the Ducks over offers from UCLA and Portland, where her former sprint coach at Westview, Vernell Warren, has joined the staff.
"It was definitely a good decision," Uzoekwe said. "I had been planning to do it for a while, but I just wanted to hear other offers from other schools."
Uzoekwe's size and versatility make her an ideal candidate for the heptathlon. She spent part of her offseason training in the throws and hurdles and developing arm strength. She has yet to compete in a heptathlon, but based on her numbers, is likely to score in the 5,000-point range, near the state record of 5,104, set by Gladstone's Ellannee Richardson two decades ago.
Uzoekwe said she will train for sprints and jumps at Oregon, "but in my extra time I'll be doing heptathlon, and if I become better, it could become my main event. It's definitely something that I would embrace completely, and definitely love to do."
She is the third of six children of Benson and Victoria Uzoekwe, who immigrated from Nigeria in the early 2000s. Colleen, who was born in the United States, attended a charter school in the district before going to Westview as a junior.
An outstanding student, she began taking classes at Portland Community College prior to her eighth-grade year and completed her Associate of Science degree as a sophomore.
"I really want to be a cardiothoracic surgeon," she said. "That's my biggest goal after going to the Olympics."
Uzoewke might have missed out on a chance at history this year, but Martin believes she has much bigger things in store.
"I'm hoping for a career for her past college. I think she's that talented," Martin said.