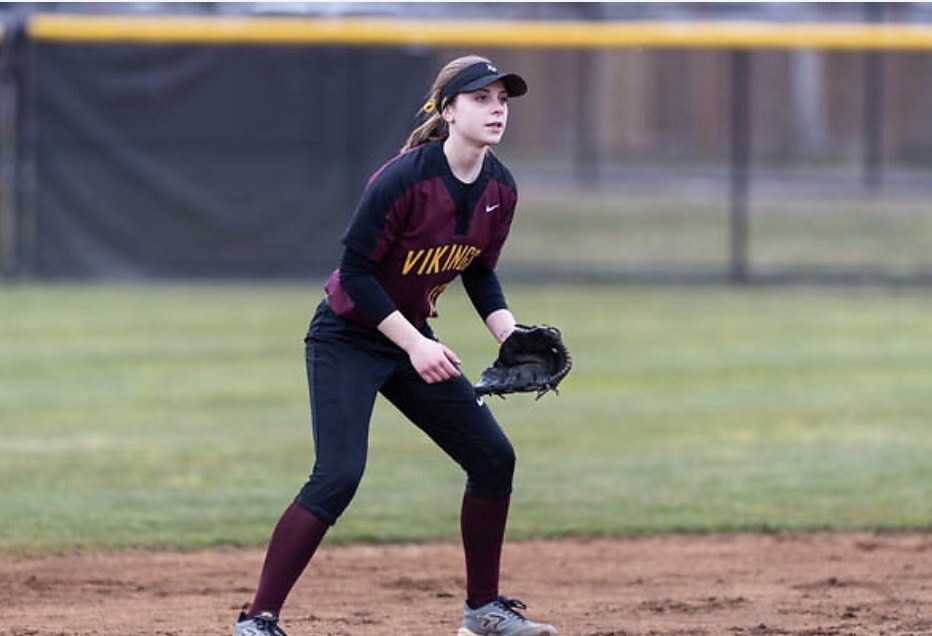 [Editor's note: "Take Five" is a recurring feature designed to offer a quick look at some of Oregon's most interesting high school sports standouts. This spring, Take Five will focus exclusively on seniors, whose final high school seasons have been canceled by the coronavirus. Today, we meet Forest Grove SS Ellie Kintz, a three-sport athlete for the Vikings who excels on the softball diamond. A starter since her freshman year, Kintz was named team MVP and Offensive POY following her junior year in 2019. Kintz answered five of the 25 questions we posed to her. Here's what she told us…]
OSAAtoday: What was your first big success as an athlete and how did it impact you?
Ellie Kintz: My first big success was getting a starting spot on the varsity team my freshman year. In the beginning, every spot in the starting lineup was filled. I knew I would have to battle for a spot. It was intimidating to be one of only two freshmen on varsity and to be playing with girls that had been there for four years. Every day at practice I had to work hard to try and secure a spot; any spot that the coach would give me. I had been a shortstop my whole life and was inexperienced at most other positions. When an opportunity came to play first base, I took it. I was unhappy at first knowing that it wasn't my position, but I learned that it isn't about your individual desires; it's about being whatever your team needs you to be. This is something I live by today. Every person on your team, whether she starts, plays a couple of innings or sits the bench, has an impact, and makes the team complete.
OSAAtoday: What is the wisest thing a coach has ever said to you?
Kintz: "We all believe in you, now you need to believe in yourself." I was super down after being in a hitting slump and felt like giving up. But my coach reminded me that my team is there for me and believes in me, and I owe it to them to believe in myself and step in the batter's box with confidence.
OSAAtoday: You can blink and be transported to any place in Oregon for a day. Where do you go and why?
Kintz: I would go to the Deschutes River and go kayaking. I have so many memories with my family going on kayaking trips there and finding new rapids and sections of the river to go down. It is my favorite place to go in the summer and spend weeks camping with my family.
OSAAtoday: If you find yourself stranded on a deserted island and can only have one movie that you're able to watch, what movie do you choose and why?
Kintz: I would choose High School Musical because I have every song memorized and it reminds me of being with my friends and singing to the soundtrack in the car. I grew up watching that movie and my favorite scene is when they play the baseball game and sing 'I Don't Dance.' I like the movie so much that I never get tired of it; so I could definitely only watch that if I was stranded.
OSAAtoday: What is your favorite class in school and why?
Kintz: My favorite class is called 'Gods and Heroes.' It's an English class and instead of reading books and writing essays about them we get to write our essays about movies we watch in class.
Read other Take Five articles published in connection with the 2020 spring season:
Monroe softball pitcher Tyler Warden
North Salem sprinter Maliyah Thompson
La Grande catcher Logan Paustian
Lake Oswego thrower Parker Williams
Lakeridge netter Nicole Rogers
Westside Christian sprinter Alvin Lai
Stayton softballer Emma Heuberger
Westview outfielder Maddie Curaming
Central Catholic utility Brianna Perkins
East Linn Christian hurdler Jacob Johns
La Salle Prep sprinter Mary Gach
Brookings-Harbor baseball player Jason Vanginderen
Lincoln softball OF Rachel Haughton
Lakeridge hurdler Luke Neville
North Salem CF Alexis Figueroa
Corvallis tennis player Sarah Forester