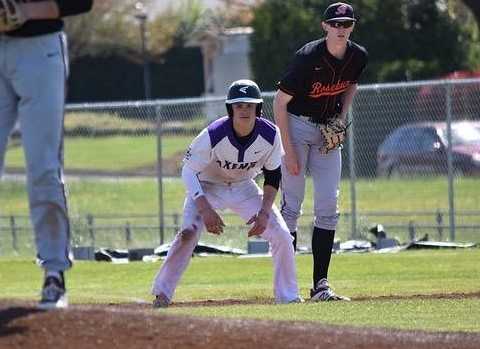 Before Bryce Boettcher could begin to narrow his college options, the South Eugene senior was stuck at a crossroads.
"A lot of people think choosing a college is hard. Choosing a sport for me was harder," he said.
The 6-foot-2, 190-pound Boettcher had caught the eye of baseball scouts since cracking the Axe's varsity lineup as a freshman. He broke out as a sophomore, hitting .434 and making the 6A second team as a shortstop.
But giving up football wasn't going to be easy. He became a starter at quarterback and linebacker as a sophomore and by last year was beginning to hear from major colleges, including Oregon State.
"There's just something about football. You can't match it," said Boettcher, whose father, Brett, played football at Roseburg under legendary coach Thurman Bell. "It's like the closest thing to war, in my opinion. Just the intensity. I'm just built for adrenaline, so I love it."
The picture became clearer for Boettcher last summer, however, and after deciding to pursue baseball, he chose Oregon over an offer from Utah and interest from Oregon State.
"I just figured that it's the best for my future, mentally," Boettcher said. "I just had a different passion for baseball that was unmatched. And I just felt like I had so much to prove when it came to baseball. It fits me the best."
When Boettcher was a seventh-grader, South Eugene baseball coach Danny Sales was impressed enough to invite him to scrimmage with a shorthanded varsity team. Boettcher didn't back down, rapping two hits.
"We were just like, 'Wow,'" Sales said. "He probably could've played for us when he was in seventh grade, to be honest with you."
Boettcher batted .360 as a freshman, making second-team all-league, and came on like gangbusters as a sophomore. In a five-game road trip to Las Vegas, he went 16 for 20, prompting a call from a Washington State scout to Sales.
"That's kind of where it all started," Sales said. "I think about 10 of those hits were in the 5-6 hole, you know, line drives."
Boettcher said he "wasn't satisfied whatsoever" with his junior season, in which his average dipped below .400 as teams pitched around him, but he made up for it with a strong performance in a Baseball Northwest camp last summer.
Before the camp, Boettcher's offers were from Northwest junior colleges. After the camp, he heard from Oregon State, Utah and Oregon. He received an offer from Utah and lined up a visit to Oregon State when Oregon came through with an offer in November.
"They called his mom, his dad, his sister,, just to kind of talk and show that they cared," Sales said. "And that really got him. I think they just said all the right things in the recruiting process."
Boettcher was close to pulling the trigger on Utah but couldn't pass up the Ducks. The hometown choice was met happily by his family, which includes his sister, Emily, the Southwest Conference girls soccer player of the year in 2017 who went on to a college career at Concordia.
"I was like, 'You know what, it's been a dream to play at Oregon. I'm going to make it happen,'" Boettcher said.
Boettcher said that "seven or eight" football programs – including Oregon State, Air Force, Yale, Northern Arizona and Eastern Washington – were talking to him last summer but that died out when he informed them that he had chosen baseball. He led South Eugene's football team to a 5-4 record last season, earning first-team all-league at safety and honorable mention at quarterback.
A three-year letterman in basketball, he became a full-time starter for the first time, playing small forward for a South Eugene team that won the Southwest Conference title before falling in the 6A playoff round of 16.
The stage was set for what he hoped would be a banner senior baseball season. The Axe were eager to make up for last season, when they dropped seven of their last eight games and finished 16-11, and with all but three players back – including five seniors headed to college careers – the outlook was promising before the season was nixed by the coronavirus pandemic.
"Junior year, I consider it a disappointment," said Boettcher, a first-team all-league infielder the last two seasons. "Definitely, I feel like we underachieved as a team. We didn't live up to our full potential, so there was a lot to improve on. It was only up from there. So we were all pumped for this year."
As a pitcher, Boettcher was ready to showcase an improved fastball. Last year, as the team's top reliever and No. 3 starter, he threw in the mid-80s mph. This year, he was hitting 88-89 mph.
"He was so good in our preseason before the whole corona thing that we were projecting him to be our No. 2," Sales said. "He made such a big jump from his junior to senior year on the mound."
At the plate, Boettcher is known for his discerning batting eye. He rarely strikes out.
"There's very few pitches I've been fooled on," Boettcher said. "I can see the ball out of the pitcher's hand pretty well."
Boettcher can make all the throws at shortstop, but has struggled at times with fielding. It's something he must improve if he wants to see the field at Oregon, as Ducks coach Mark Wasikowski bluntly informed him.
"He told me straight up, 'Yeah, I know you can hit the ball pretty well, man, but I hear your fielding is pretty mediocre,'" Boettcher said. "So I was like, 'All right, fair enough.' Afterwards he told me that it kind of depends on where he's at with other guys, but with my build and stuff, he could probably see me more as a third baseman."
Whatever role Boettcher plays, Sales is confident he will make an impact.
"All the physical tools are there, but one of the things people don't know is how mentally tough he is," Sales said.