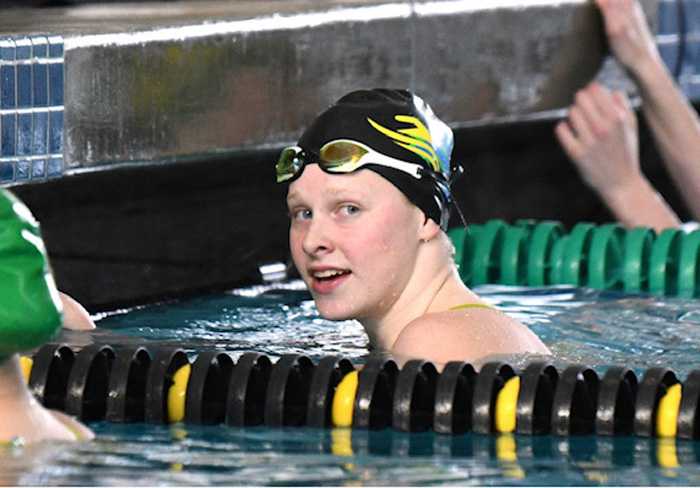 [Editor's note: "Take Five" is a recurring feature designed to offer a quick look at some of Oregon's most interesting high school sports standouts. This spring, Take Five focused exclusively on seniors, especially those whose final spring high school seasons were canceled by the coronavirus. Today, we complete our Take Five articles for the 2019-2020 season by getting to know Aloha senior swimmer Kaitlyn Dobler a little better. In her four years swimming for the Aloha Warriors, Dobler captured seven state titles. She also set a national HS record in the 100 breaststroke and won three medals (one Gold) at the Junior World Championships. The USC signee has qualified for the Olympic trials in five events! We gave Dobler a slate of 25 questions and asked her to answer five. Here is what she said!]
OSAAtoday: What Olympic sport do you think you'd be the worst at and why?
Kaitlyn Dobler: Any land sport. I often joke that I swim for a reason, because I am quite literally a fish out of water when doing any activity outside of the pool. My balance is terrible, so much so that I've broken four bones, two of which I broke while running backwards. Not at the same time, but on two separate occasions. If I had to pick one sport in particular, I would have to say gymnastics, simply because balance and general spatial awareness is necessary.
OSAAtoday: What was your first big success as an athlete and how did it impact you?
Dobler: It may not sound big compared to some of my achievements now, but I would have to say that my first big success that really had an impact on me was when I successfully completed my first 25 yard swim. It was nothing spectacular. The swim instructor had been right next to me the whole way, and I had to stop at the wall in the middle to catch my breath, but the important thing was I made it. Even though this happened almost 14 years ago, I still remember it in great detail, because it was the first time I felt the triumph of achieving a goal, and being proud of an accomplishment that you've worked so hard for, even if that accomplishment is seemingly insignificant. That same feeling is what drives me to be successful today.
OSAAtoday: You have to cook dinner for yourself and any three people in the world currently living. With whom do you dine and why and what are you serving?
Dobler: My swim team is convinced that I can't cook, but that really isn't the case. Sure, one time I might have burned the milk while making oatmeal, but that was a long time ago, and if you give me a recipe and enough time, it should turn out ok. So I would make an elaborate four-course meal and serve three of my teammates, it doesn't really matter what it is, as long as I prove to them that I can actually make decent food. On the plus side, they would all get a nice meal. It's a win-win situation.
OSAAtoday: Describe your scariest moment while learning how to drive.
Dobler: I would like to preface this by saying that I am, generally speaking, a good driver, and I have only made this mistake once, and therefore the roads are not any less safe when I am behind the wheel. Anyway… I was in the driver's seat of an ODOT car listening to my driver's ed instructor give me a quick overview of the things I should focus on while driving that day. When it came time for me to actually start the drive, I pressed my foot on the break and turned the car on. The only problem was, I had actually put my foot on the gas and floored it, so the engine revved very loudly, scaring both me and the instructor. I have to say I am incredibly grateful the car was in park; otherwise there would have been a car-sized hole in the driver's ed building.
OSAAtoday: If you could personalize your license plate, what would it say?
Dobler: I'm very grateful to have a car. It gets me from one place to another and it's got plenty of room to take some friends along with me. The only real problem it has is that it is not great at acceleration, and sometimes, when going up particularly steep hills, I have to floor it to go 10mph. So maybe, if I could get a license plate that said, 'SRY IM SLOW,' people would understand that when I'm chugging up the hill, I'm doing it as fast as I possibly can.
Read the Take Five articles published in connection with the 2020 spring season. We hope you have enjoyed them all!
Monroe softball pitcher Tyler Warden
North Salem sprinter Maliyah Thompson
La Grande catcher Logan Paustian
Lake Oswego thrower Parker Williams
Lakeridge netter Nicole Rogers
Westside Christian sprinter Alvin Lai
Stayton softballer Emma Heuberger
Westview outfielder Maddie Curaming
Central Catholic utility Brianna Perkins
East Linn Christian hurdler Jacob Johns
La Salle Prep sprinter Mary Gach
Brookings-Harbor baseball player Jason Vanginderen
Lincoln softball OF Rachel Haughton
Lakeridge hurdler Luke Neville
North Salem CF Alexis Figueroa
Corvallis tennis player Sarah Forester
Thurston softball's Olivia Jegtvig