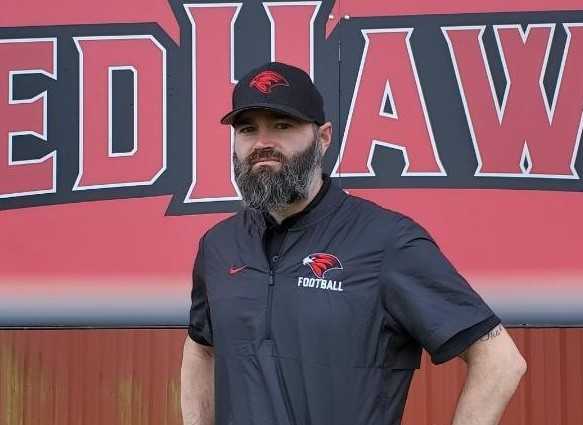 South Albany football runs deep for Jeff Louber.
He was a fullback and linebacker on South Albany's first state playoff team in 1996. And as an assistant coach for the RedHawks for the past six seasons, he was part of conference championship teams in 2015 and 2017, South Albany's first titles since 2000.
So when David Younger stepped down as coach after last season, Louber felt a sense of duty.
"I could not see anybody else taking over the program," he said.
Louber has been hired to replace Younger, who went 28-38 in seven seasons at South Albany, including 2-7 in each of the last two years. It is the first head-coaching job for Louber, who assisted at West Albany for 10 seasons before joining South Albany, where he has served as the team's defensive coordinator since 2015.
Louber said he "absolutely" had thought about being the RedHawks' head coach over the years, "but being with my friend, David, I didn't really ever think that was going to be a possibility. I thought we were going to be there together for quite a while. Maybe down the road a ways. It kind of got thrown into my lap. I was very ready for it."
Louber inherits a program that has been thin on numbers since making the 5A quarterfinals in 2017, the first and only final-eight appearance in school history. Due to injuries, the team was forced to start sophomores and a few freshmen.
Louber said that he and Younger – who developed a friendship as assistants at West Albany – were counting on the young players' experience to pay off soon.
"It felt like we were building for success this year and next year," Louber said. "It was one of those things where we were really looking forward to building this together. He stepped away, but we're in a great position to be successful down the road."
Louber said the team's struggles weren't due to a lack of commitment.
"Our kids' buy-in was amazing, but our physical size wasn't comparable to our opponents," he said. "They were really working their tails off the last few years, as far as the football part of it was concerned, but more importantly with weight training."
Louber said he has been influenced by many outstanding coaches.
He played at South Albany under Shane Hedrick, who went on to win 142 games in 19 seasons at Central. That South Albany staff also included current Sprague coach Jay Minyard as well as Damien Ramirez and Rich Hannan, who now assist at perennial 6A contenders West Salem and Sherwood, respectively.
After graduating from Oregon State in 2004, Louber coached at West Albany under Randy Nyquist, who guided the Bulldogs to three 5A titles. Louber began by coaching West Albany's freshman team, was the varsity linebackers coach for state-title teams in 2007 and 2008 and was defensive coordinator from 2009 to 2011.
Younger was the linebackers coach under Louber in 2011 before taking the head coaching job at 3A Harrisburg in 2012. The following year, Younger landed the job at South Albany.
"I kind of pressured him into taking it with the idea that one day I would come over and be the defensive coordinator for him," Louber said. "I had no problem just being his defensive coordinator and letting him be the captain of the ship."
Louber will continue to be the defensive coordinator and will retain Chad Peck as the offensive coordinator. But he plans to make some changes with the offense, scrapping the shotgun spread and utilizing the flexbone formation, which will feature the veer option. The team will switch from zone blocking to man-to-man.
"The man blocking works really well with my defensive mentality of being aggressive and beating people to the point, as opposed to stepping and reading and reacting," Louber said.
Louber said he saw the benefits of the veer in his first few seasons at West Albany, which evolved into a dominant power-running team.
"Year in and year out, we're going to be able to run some veer option, some mid-line option," Louber said. "And if we have the right type of personnel, we can run some other things. Regardless of who we have running the veer option, it gives you a really good opportunity to be successful."
Louber – whose son, Max, is a football and basketball player heading into his sophomore year – teaches science at the school. He also assists in the boys basketball program and is the girls track coach.
Louber has yet to meet with his players in person since being hired before the coronavirus shutdown. He said he is eager to begin working with them in July.
"Our No. 1 goal is to be a playoff team again," he said. "That's our first mission. Hopefully we can pick up a league title along the way.
"I have such high regard for South Albany and the history. When I was going there, we had a lot of success. I view South Albany as being a winning program with a rich tradition."