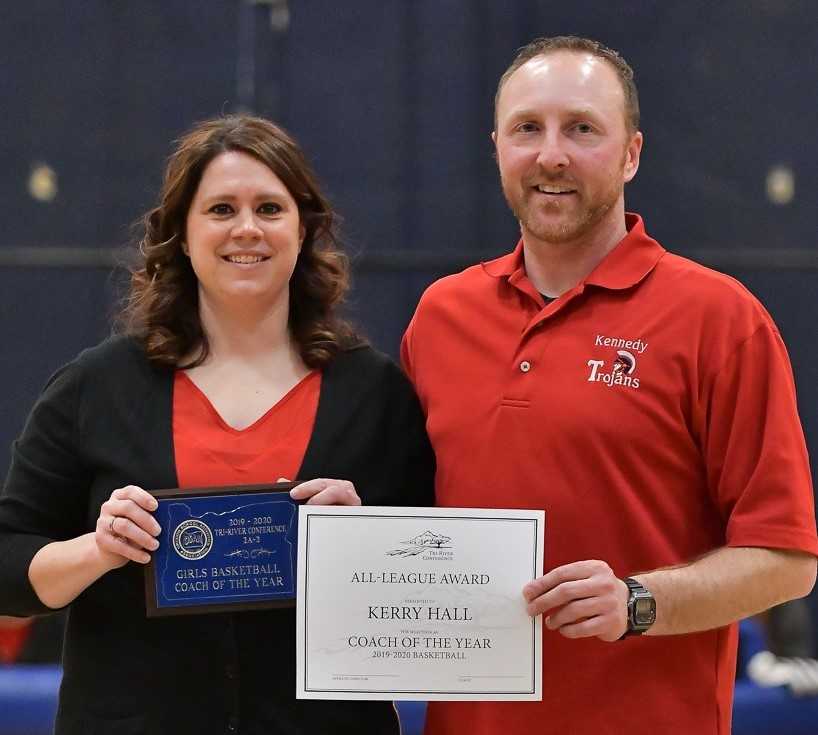 Peter Hall and his wife, Kerry, were met with skepticism when they agreed to serve as co-coaches for Kennedy's girls basketball team in 2008.
"One of the football coaches said, 'How is your marriage going to last if you're coaching together?'" Peter said. "I said, 'It's the best marriage counseling you could ever have because we have to work together or the team will fail.'"
Twelve seasons later, their wildly successful tenure as the Trojans' co-coaches has come to an end.
The Halls have announced that they are stepping down at Kennedy, where they built the team into a 2A powerhouse. Under their guidance, the Trojans went 243-93 and won state championships in 2016, 2018 and this year, the first titles in the program's history.
"It's just time for us. We've loved every minute," Peter said. "We're just stepping away. It doesn't mean we're gone forever. We don't know."
Peter, 41, is a contractor, and Kerry, 38, just earned her real estate broker license. They plan to focus on their careers and provide support for their oldest son, Luke, who will attempt to walk on as a freshman on the team at Oregon Tech this year.
"We would like to be able to go and watch him," Kerry said. "Life is getting busier, so we thought maybe this was just the time. It's been quite the run. We're very sad that it's over. We're going to miss it. We love the girls."
Peter, a Kennedy graduate who played at Western Oregon, broke into coaching as an assistant in Kennedy's boys program. Kerry, who played at Salem Academy, began assisting in the Kennedy girls program under Krissy Kukar in 2003.
When Joe Cho stepped down as the Trojans' girls coach in 2008, Peter encouraged Kerry to apply.
"I said, 'I don't know.' And he said, 'Why don't we do it together?'" Kerry said.
Peter recalled their pitch in the job interview.
"I just said, 'Listen, you're getting two-for-one, and you know both of us really well,'" he said. "I'm sure they took a chance on us."
It paid off big-time. After enjoying modest success in the Halls' first six seasons, Kennedy took off their last six seasons.
In 2015, the Trojans knocked off five-time reigning state champion Regis – their Tri-River Conference rival – in the state quarterfinals before falling to Burns in overtime in the semifinals.
"It gave us a lot of motivation to prepare for the next year because we had every single kid coming back," Peter said.
The following season, Kennedy won its first of five consecutive Tri-River Conference titles and defeated Burns in the state championship game. The Trojans added state titles in 2018 and 2020, beating Monroe in both finals.The 2018 title team finished 29-1.
"I told the kids early on, 'You look up at the walls and the banners, and you just daydream, and you're like, I want my year up on that wall,'" Peter said. "For many years, we all dreamed of that, and when it became a reality, it was just awesome to be a part of it."
The Trojans retooled to get back on top – twice.
"It's not like we just had this one group that kept doing it year after year, it was three different teams," Peter said. "That was pretty cool to build because they were quite different."
Kennedy's next coach will inherit another potential 2A contender.
"I think they've got a shot at taking another title," Kerry said. "They've got enough talent there. We wish nothing but the best. I absolutely think that there's enough talent left over for those girls to make a run. I think they can put it together."
The Halls won the title this year with their daughter Reese, who started at forward as a sophomore. Their youngest son, Gavin, is heading into his eighth-grade year.
As the seasons went by, the Halls settled into their roles as coaches. Peter coached the guards and Kerry coached the posts, their former positions in their playing days.
"It was the perfect 50-50 marriage," Kerry said of their working relationship.
Did coaching together strain their marriage?
"Peter is so busy all the time, it's actually our time to get a lot of time together, honestly," Kerry said. "We live and breathe basketball. Even when we were dating, we didn't go out on dates, we went to parks and played basketball. Basketball is in our blood. We just love it. Our kids grew up in the gym."
For now, they will take a step back from basketball, although they didn't rule out a return to the bench.
"We're just going to change our direction at the moment," Peter said. "But I'm never going to slam the door on it. I want the right situation in the future, just like we had at Kennedy."