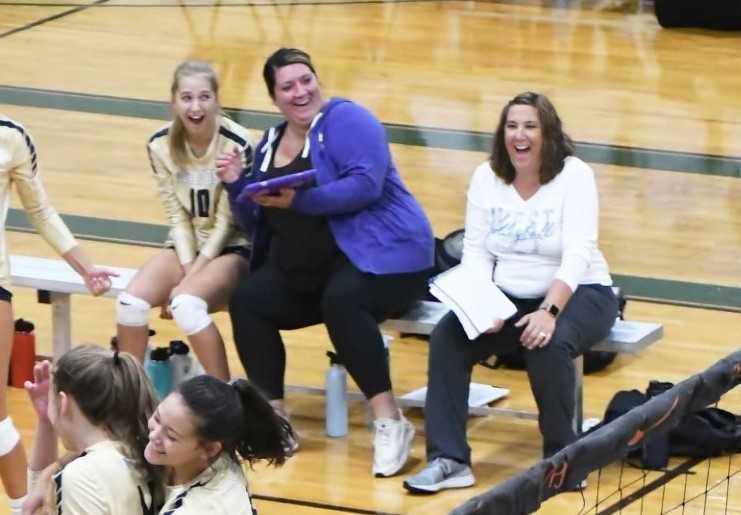 Clearly, new West Albany volleyball coach Megan Wallace picked up at least one valuable trait from her mentor, former Bulldogs coach Kelli Backer.
Wallace, who witnessed two state championships in six seasons as an assistant under Backer, won't back down from a challenge. Just ask her about the chances for West Albany's senior-led team this season.
"If we have the opportunity, I foresee a state championship," Wallace said. "I know that's a bold statement, but they are 100 percent capable."
Wallace, a 2005 West Albany graduate, will try to keep the team's winning tradition alive. She has big shoes to fill in Backer, who in 14 seasons posted a winning percentage of .770 and won 5A championships in 2012 and 2013.
"It's such an honor to take over the caliber of program that West Albany is," Wallace said. "Kelli Backer has been my mentor since I started coaching. Just the opportunity to continue the legacy that she has built and the tradition at West Albany is just awesome."
Wallace coached the freshmen in 2012 and the JV in 2013 before leaving for Oklahoma, where she was the interim coach for Bixby High School in 2014 and the director of the OKX Volleyball Club. She rejoined West Albany's staff in 2016 and became the varsity assistant in 2019.
"I just think she's a great fit," Backer told the Albany Democrat-Herald. "She's experienced the whole program. She knows what it's like at all three levels. I think she's ready. She's very calm, she's very competitive. She listens. She makes good connections with the athletes."
Wallace said that Backer, who resigned after leading West Albany to a co-title in the Mid-Willamette Conference and a fifth-place finish at state last year, has been a major influence on her.
"When I first started, she gave me the confidence just to be myself as a coach," Wallace said. "We were talking the other day, and she said, 'Just continue to be yourself and do what you feel is the best for your program.'"
What has she taken from Backer?
"She has a very unique ability, in the way she creates her program, to build relationships with her girls but also hold them to a high standard," Wallace said. "Immediately, when I came in as an assistant coach, that's what I gathered from her. My personality is similar to that anyways."
The Bulldogs graduated their outstanding libero in Sydney Backer, but three first-team all-conference players are eligible to return in right-side hitter Hannah Stadstad, outside hitter Madie Dowell and setter Elijah Sanders, all seniors. The team also features senior middle blocker Bella Marsh.
Wallace coached the seniors when they were freshmen.
"This group of seniors is special to me," she said. "They are so talented, and not just talented on the court, they have the mindset that will get them through the finish line. They lead with so much character. They just put a great spotlight on West Albany and what we stand for. I'm excited about what they're going to be able to do this season."
Wallace, who coached with the Salem-based Northern Valley Volleyball Club in the winter, began holding her first in-person workouts with the Bulldogs this week. Due to COVID-19 restrictions, they have focused on outdoor training, but hope to practice indoors next week.
West Albany will play its home matches at North Albany Middle School this season while its home gym is being renovated.
Corvallis hires Morrow: West Albany isn't the only Mid-Willamette Conference power that will have a new coach this season.
Corvallis, the 5A champion in 2018 and a semifinalist last year, has hired Kari Morrow to replace Steve Hyre. Morrow assisted last season under Hyre, who resigned after going 101-26 in five seasons.
"I felt really fortunate that I got to work with him and with the team this year," Morrow told the Corvallis Gazette-Times. "Just to see what he was doing with them and what was successful. To be able to take what he has done and add my touch, I think it's gonna be really good."
Morrow – who played at Roseburg, Lane Community College and Montana State Billings – broke into coaching as an assistant at Corvallis after graduating from Oregon State. She spent five seasons as an assistant at Roseburg (2013-17) before going back to Corvallis, where she is a science teacher.
"Steve raved about her, and I really trust Steve," Corvallis athletic director Salvador Munoz told the Gazette-Times. "He was great to our program. When someone like Steve is putting in a great word for her, it speaks volumes."
Brown to Hidden Valley: Another former Roseburg player has landed her first volleyball head coaching job.
Cali Brown (formerly Tovey), a second-team all-state libero on the Indians' 6A runner-up team as a senior in 2012, is the new coach at 4A Hidden Valley.
The Mustangs have won seven consecutive conference titles, the last two under Todd Lomica. They went 18-6 and lost in the state quarterfinals last season.
"I'm pretty excited," Brown told the Roseburg News-Review. "I think it's my time and I'm in a good place. I know they've won seven straight league titles, but haven't won a state championship in volleyball."
Brown played two seasons of volleyball at Snow College in Utah before transferring to Utah State, where she competed on the swim team for two seasons.
She coached freshman volleyball at Logan High School in Utah and served as the boys swim coach at Hermiston. She taught English at South Medford in 2019-20.