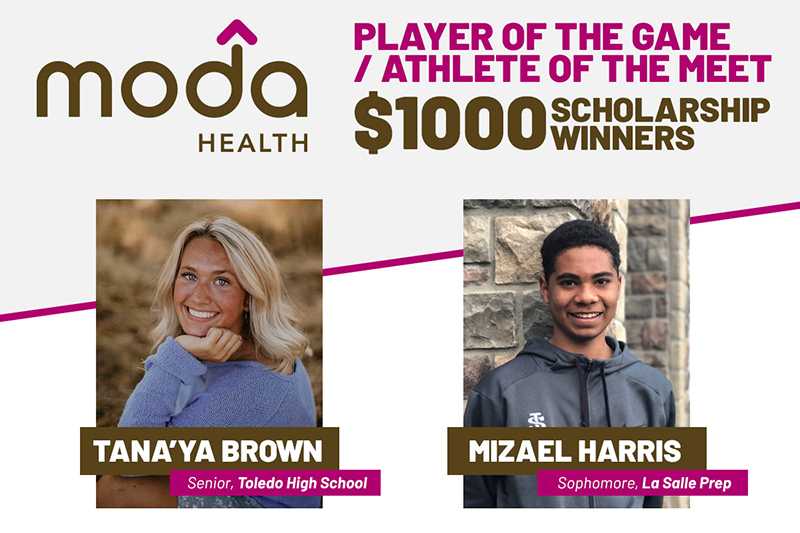 The Oregon School Activities Association (OSAA) and Moda Health announced today the winners of the 2019-2020 Moda Health Player of the Game / Athlete of the Meet Scholarships. Senior Tana'ya Brown of Toledo High School and sophomore Mizael Harris of La Salle Catholic College Preparatory each receive a $1,000 scholarship to the school, college, or university of their choice.
Moda Health has sponsored the Player of the Game / Athlete of the Meet program since the 2010-2011 school year. Students win recognition for their achievements in the following events:
Cross Country

Volleyball championship matches

Boys and Girls Soccer championship games

Football semifinal and championship games

Boys and Girls Basketball State Championships final site games

Swimming

Wrestling

Track & Field

Golf

Tennis

Baseball championship games

Softball championship games
In a typical school year, a total of 406 student-athletes receive recognition. All students that were recognized prior to the cancellation of activities received a commemorative coin and certificate of achievement from Moda Health.
All Players of the Game / Athletes of the Meet are eligible to apply for one of two $1,000 scholarships. Because of the coronavirus pandemic, the OSAA and Moda Health made the decision to immediately make all Spring 2020 student-athletes eligible to apply for a scholarship. To apply, a student must write a personal essay describing areas in which he or she has demonstrated leadership through involvement in academics, co-curricular activities and community organizations. Two letters of recommendation are also required.
Tana'ya Brown is a multi-sport athlete, participating in volleyball, basketball, and softball. She earned the recognition of being an Iron Boomer, which celebrates students participating in twelve different seasons while at Toledo High School. Tana'ya stands out due to her attitude in the face of adversity. During each of the last two years, she tore her Anterior Cruciate Ligament (ACL) playing basketball. Despite being unable to play, she still attended every practice and game to cheer on her teammates as they advanced to the State Championships. Tana'ya continued this practice into softball season, even knowing she was unable to step on the field. In the classroom and community, she also displays exemplary credentials. Tana'ya graduated as Valedictorian while earning a green cord, which recognizes over 100 hours of community service. Tana'ya has plans to attend Oregon Coast Community College in Newport.
Mizael Harris was selected Player of the Game in the 5A Boys Soccer State Championship game, leading his team with two goals in a 2-1 victory. Being just a sophomore, Mizael has drawn on former teammates and his father in order to establish an effective, compassionate, and determined leadership style for his team and school community. He participates in a program that welcomes and supports incoming La Salle freshmen. Mizael is also active in the school's Black Student Union, which uses organized events to speak on inequalities to make positive societal change. In addition, he volunteers at the St. Francis Dining Hall. When the pandemic hit, Mizael worked to encourage local middle school students to aspire to attend college. He also recorded himself reading children's books to provide programming for teachers at a local elementary school. Both schools serve a lower income population.
To see a full listing of all 2019-2020 Moda Health Players of the Game / Athletes of the Meet, please visit http://www.osaa.org/awards/player-of-the-game.