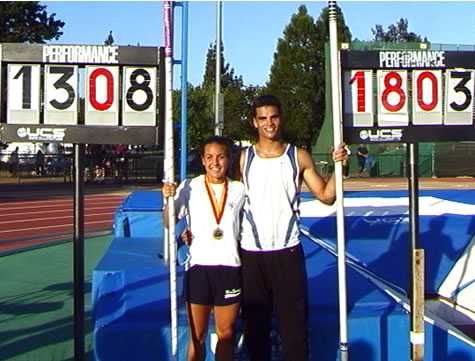 It was Father's Day, 2003, and Tommy Skipper was intent on honoring not only his father but the memory of his older brother, Art. The senior at Sandy High School stared up at the bar at the end of the pole vault runway. 18 feet, three inches. He'd failed to clear it in his first two attempts at the Golden West Invitational in Sacramento in the final meet of his storied high school career. But if he could find a way in his final try, not only would it be an Oregon state record; it would be a national record as well. Skipper was determined to get over that bar…
***
Tommy Skipper grew up in a large family in Sandy, Oregon. He idolized his much older brothers, Scott and Art Jr., and got his determination from his father, Art Sr., a firefighter who also worked three other jobs to make sure his family was provided for.
"He taught me what work looked like and to have a work ethic," Skipper said. "If you want something nothing is beyond your reach; that's what he instilled in all of us."
Skipper was a seventh grader growing up on the family airport outside of Sandy when he went to one of the hangars to work out. All of the implements for the decathlon were there. His brothers, 20 and 15 years his senior, had used them. Scott ended up playing football at Oregon. Art Jr., who went to Eugene for track & field, still held the national high school record in the javelin.
Skipper noticed the pole vaulting pole and was fascinated by it. His father had built a pit outdoors. He thought, "What the heck…"
"As a kid, I was curious, bored and wanted to explore," he said. "I grabbed it and gave it a shot. It was a way to connect with my older brothers."
Jumping on his own, he cleared six feet, then seven. He topped out at eight feet that day.
"I remember running up to the house to call to my brother, Art, and tell him what I did," Skipper said. "He said, 'Get back out there and raise it higher.'"
Art Skipper, Jr. died in a small plane crash in October, 2001. Tommy Skipper was a high school junior at the time and already established as a star pole vaulter on the national high school scene. At Sandy High, he was reigning state champion in the pole vault and a top hurdler and javelin thrower as well. But he wasn't a national record holder. Not yet at least.
Before his brother Art passed away, he'd often tell Tommy that, if he set a national pole vault record, they'd be the only two brothers in history to hold national records at the same time. After Art's death, breaking that record became Tommy Skipper's ultimate goal.
***
Tommy Skipper was sure he was going to set the national record at the Nike Indoor Classic in Maryland in March of his senior year, but he suffered a broken thumb when his pole snapped in two. Skipper wondered whether his quest to break the national high school record was over, but he proved a fast healer and got the pins out of his thumb four days before districts.
The Golden West Invitational was Skipper's fourth meet back. He felt good. He'd jumped there before, which gave him an advantage.
"I knew if I hit my marks and pushed in areas where I needed to push and relaxed in areas where I needed to relax that I was going to have a good day," he said.
He started at 16-8 and worked his way up, clearing the bar the first time every time. When he went over 17-8, he bested by an inch the height he cleared two weeks before at the state meet to set a new championship record and win his third straight title. When he went over 18-0, he became only the second high schooler ever to jump 18-0 or more.
"I was very calm that day," he said. "I remember trying to block out the noise and distraction and put my focus on what was important. My Superman was gone, but I tried to listen to his voice."
Skipper was the only vaulter left in the competition. The national record at the time was 18-2 1/4, set in 1999 by Texan Eric Eschbach. Without hesitation, he asked that the bar be set at 18-3.
He missed on his first two attempts but was undeterred.
"I had a real peace about me," he recalled. "I was on a mission to finish all the hard work I'd put in. I thought, 'I've got to do this; I've got to make it happen!"
Skipper cleared the bar with room to spare. He said on the way down that he was at a loss for words.
"It was a miracle that I did it," he said. "I was as surprised as anybody."
"There are only a few moments that really meant the world to me and that was one of them," he continued. "I felt like I'd accomplished something that was important to my brother and me. The reason I pole vaulted was to live out the dream for my brother, Art.
"It was so much bigger than a national record for me. It was a moment that my brother and I shared. After losing him that was the only thing that mattered. I wanted to complete the mission."
***
Is Tommy Skipper's 18-3 vault an unbreakable Oregon record. No Oregon athlete has come within a foot of his mark in 17 years!
Skipper thinks it will happen eventually.
"As time goes on and the sport evolves, my personal feeling is every record is meant to be broken," he explained. "We're going to see better performances. It takes the right combination of support and willingness to do it, fire and passion."
Skipper said the support he received from his family helped him over the bar every time.
Said Skipper: "My dad put into our ears continually, 'Don't let people tell you what you can't do. Nothing is impossible if you work for it.'"
Skipper added that seeing what his father went through made pole vaulting 18-3 "look like a joke."
"If it wasn't for my family putting me in position to be successful, no way I could have done it," he said. "It was a collective effort."
Sunset track coach Dan Neeway said that a couple of years ago he would have concluded that Tommy Skipper's mark was unbreakable. Then American-born Swede Mondo Duplantis, a Louisianan, came along and vaulted over 19-5 in 2018.
"I imagine that he has inspired many others to follow suit, kind of like the assault on the sub-4:00 mile that started at the beginning of the decade," Neeway explained. "I see a rising tide coming in the pole vault and Tommy Skipper's mark might not seem as invincible in a few years."
North Salem head coach Don Berger disagreed.
"This is as close to an unbreakable record as it can be!" he exclaimed. "The 18'3" mark made the Olympic Trials "B" standard, as he won both the Oregon and national titles. He led the Sandy Pioneers to the 2003 OSAA title, winning not only the pole vault but also the 100 meters. After high school, Tommy won five NCAA titles at the University of Oregon, and is now in the Ducks' Athletic Hall of Fame! For those of us who love track in Oregon, he was such a joy to watch! We have seen so many national caliber Oregon high school track athletes such as Steve Prefontaine and Ashton Eaton, and Tommy fits in as one of the finest athletes in Oregon prep history. Someone breaking the record? I don't think so!!!"
*This is part of a summer series…Mondays…
Read the other articles in the series…
The day Rainier terminator Breana Edwards shattered the single-match kill record
The night Aloha back Thomas Tyner ran wild!
The Taft pitcher who knew what it was like to be perfect
The wrestler who knew when it was time to raise his hand
The girl who ran faster than the wind
The lefty who was a hit when he wasn't giving up any