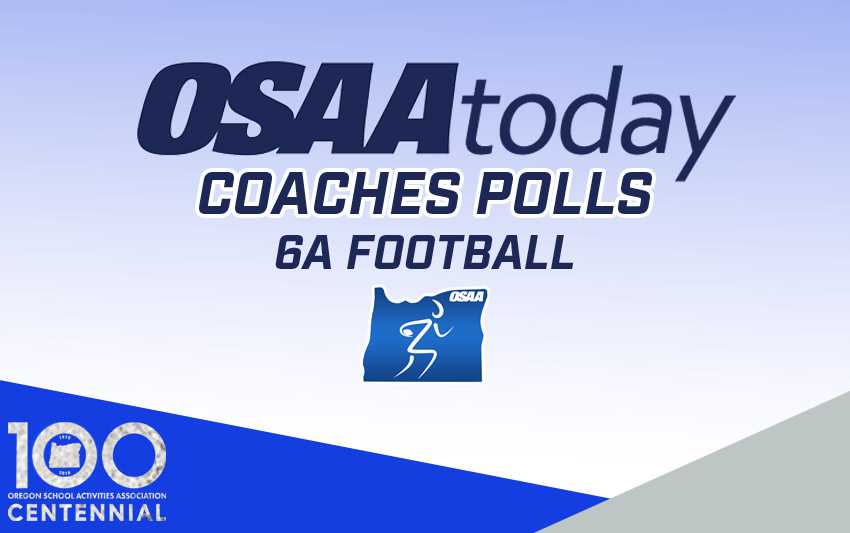 Week 5 Statewide Football Coaches Poll 6A
OSAAtoday presents its weekly 6A Football Coaches Poll. Thanks to all the coaches who took the time and had the expertise to contribute their opinions to this endeavor.
Please note: these polls are for generating interest and discussion only and have no impact on the OSAA's RPI and Colley ratings that form the basis of the OSAA's rankings for playoff purposes.
6A Football
1. Clackamas (9) [1] 5-0 133
2. Lake Oswego (2) [2] 4-1 124
3. Sheldon (2) [3] 4-1 103
4. Jesuit (1) [7] 4-1 86
5. Tigard [4] 5-0 83
6. Tualatin [6] 5-0 77
7. West Linn [5] 4-1 62
8. Central Catholic [8] 2-3 18
9. Oregon City [9] 2-3 11
9. Lakeridge [nr] 3-2 11
First-place votes in parentheses
Last ranking in brackets
Record listed is what's posted on www.osaa.org
Others receiving significant votes: Mountain View (8), South Medford (8), Liberty (7), McMinnville (6)
Notes: Richard Kennewell had two touchdown catches to help Clackamas get past Lincoln 35-21. … Jackson Laurent threw for 306 yards and four touchdown, two to Casey Filkins, in Lake Oswego's 45-13 win over Liberty. … Tigard dispatched Sprague 58-13 as Malcolm Stockdale ran for four touchdowns. … Brian McClanathan anchored a stout defense and Dawson Jolley rushed for his second short touchdown of the night in the second overtime as West Linn escaped host Sherwood's upset bid, 26-20. … Ted Atkinson rushed for 197 yards on 30 carries in Jesuit's 42-16 win over Central Catholic. … Sheldon converted two special teams mistakes into touchdowns and Michael Johnson Jr. threw two scoring passes to win at North Medford 35-6.