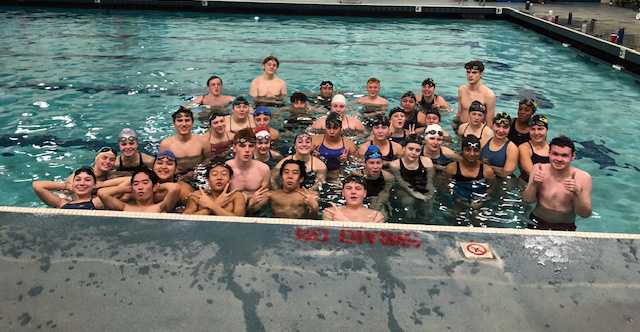 Midnight Madness
By Anna Killpack, Aloha, Class of 2023
A splash of water sprays your already soaked face, shocking you back into reality; the reality where one of your closest friends just intentionally splashed you and initiated an epic splash battle.
You smirk; they don't know what they just started.
You pull your hands back toward your chest and give them a mouthful of chlorinated water as payback.
They sputter and laugh. The joy in the air almost tangible.
You can't help but laugh with them, the splash battle all but forgotten as you both get swept up in the irresistible charm of the night.
The air is full of teasing, laughing, smiling, and pure joy; it's magical. Pure, unfiltered happiness oozes from every single person in the pool.
It's like our coaches somehow conjured up actual sunshine and molded it into the form of a midnight pool party.
My name is Anna Killpack and I just finished my freshman year at Aloha High School. I swam varsity on my school's swim team this last winter season and it was easily one of the best experiences I've had throughout my whole life.
The Aloha swim team is a wonderful group of people coming together to make something beautiful. We work hard, play hard, have skill, have fun, win some, and lose some. But on our swim team, the competition, along with all the negative emotions that come with it, don't occupy our minds.
I've seen other swimmers and teams fixate on winning so much that losing brings a slew of self-deprecation, guilt, and worthlessness. On our team, winning isn't a necessity; it's a perk to having a blast testing our skills against other swimmers.
The Aloha swim team has this warm, inviting, accepting, supporting environment that helps us to cultivate our skills in a healthy way.
Outside the pool, we go bowling, have potlucks, fundraisers, game night, and even a midnight pool party.
We call it "Midnight Madness."
We show up at the pool at midnight and set up a giant floaty obstacle course and enjoy a joyous evening together until 3 am.
It's truly magical how a pool, a bunch of friends, and an obstacle course can bring so much joy into our lives.
That wonderful night will always have a sweet spot in my memories and I can't wait to participate in all the festivities for the next three years.
I was so happy I got to be a part of the Aloha Swim Team this past season. Being on the swim team meant being welcomed into a loving support system that was always there for me; always there to push me to do better, to make me laugh and smile, to give me a break from my other responsibilities, and to be the light in my life when I needed it most.
For that, I am eternally grateful.