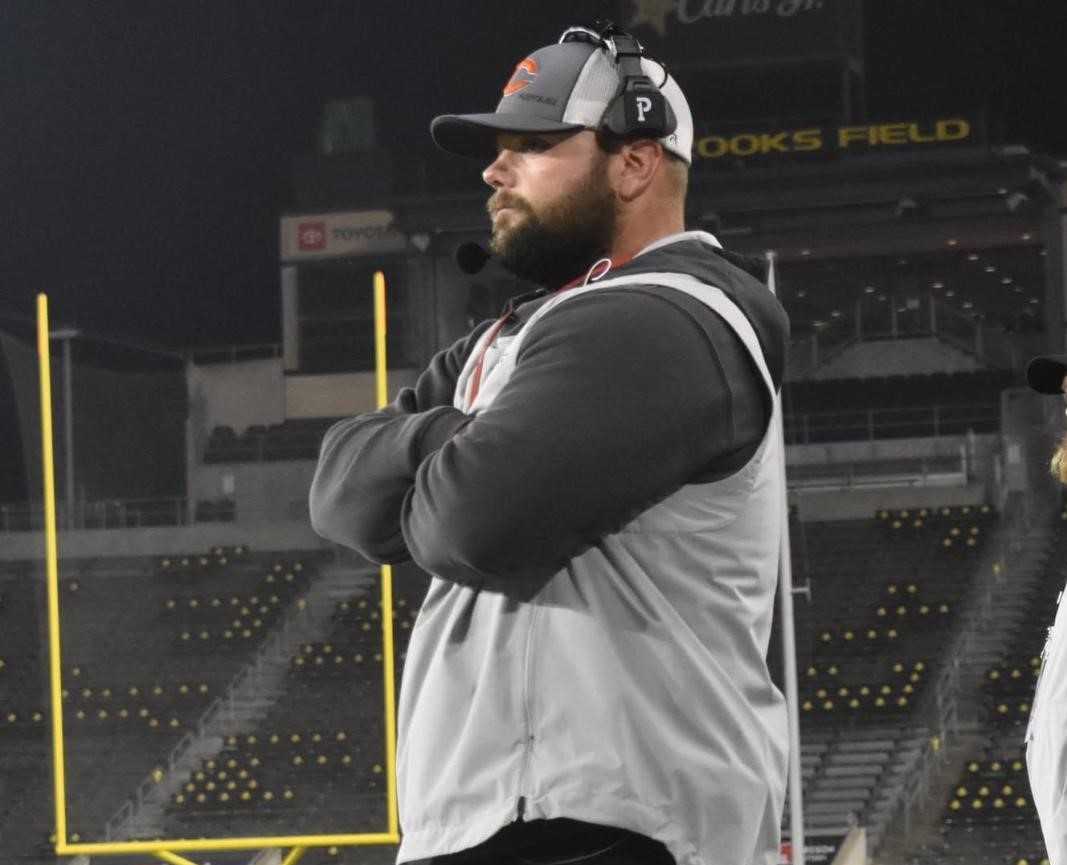 Three years ago, during interviews for the Crater football head coaching job, Randy Waite and Berk Brown made strong impressions on athletic director Dave Heard.
"I said, 'I want to get both of these guys,'" Heard said.
He got his wish, hiring Waite as head coach and Brown as defensive coordinator. They became part of a highly successful coaching staff that guided the Comets to their first state championship game last year.
Now, after Waite resigned to take an assistant principal position at 4A Phoenix, Crater has turned the team over to the 36-year-old Brown, a first-time head coach.
"We were lucky to get them both, and here we are … this is the advantage of doing that," Heard said. "If you have really good assistants, then you don't have to look far to get a head coach and have a smoother transition for everybody."
The loss of Waite was a blow to the Comets. In three seasons after coming over from coaching in Rigby, Idaho, he went 23-11, including 11-2 last year, the best season in school history.
But by hiring Brown, 5A Crater believes it can maintain continuity and momentum for the upcoming season, provided the team gets a chance to play in the midst of the coronavirus pandemic. Last season, Brown's defense registered six shutouts and held opponents to 11.0 points per game, No. 2 in 5A.
Brown said he has helped oversee 28 workouts this summer.
"I think the kids are having a real smooth transition with the move just because I've been there the whole time Coach Waite's been there," Brown said. "It's been seamless."
Brown was a lineman at Central Catholic of Modesto (Calif.), where he played for Crater graduate Mike Glines, one of the most successful coaches in California history and a member of the Crater hall of fame.
Brown played at Southern Oregon University and coached for 10 seasons at the school, the final three as defensive coordinator. He helped the Raiders win the NAIA national title in 2014.
He assisted at St. Mary's of Medford in 2016 and was a finalist for three head coaching jobs: Southern Oregon and Crater in 2017 and North Medford in 2018.
He believes he is in a "lot better spot" to coach the Comets now than he was in 2017.
"After spending three years in the Central Point School District, I've gotten to know a lot more people," he said. "Just making those connections has been huge. Now it's my job to get out there as the head coach, and get out community excited about what we're going to do on Friday nights."
Heard said that Waite developed a culture that will help Brown going forward.
"He not only put us in a place to be successful, but it was how he did it," Heard said of Waite. "Just his mannerisms and the way he dealt with things in a very calm and even-keeled way, it kind of went through our whole program. They just did it the right way.
"Berk is a little different, and that's what made for a good pairing. Berk is more outgoing, more of a rah-rah guy who really works with the kids hard. He's able to motivate."
Crater will go from having Waite, one of the state's brightest offensive minds, to the defensive-oriented Brown. Heard said that Brown "picked up a lot of things" from Waite, though, and it helps that offensive coordinator David Douglas will return in his role.
The Comets have a talented cast of skill players that features senior receivers Dawson Douglas and Trevor Jaasko and a stout line with seniors Dawson Davis and William Woitte and junior Jimmy Jordahl.
"We're excited for this year. We just need someone to play," Brown said. "We need all this stuff to blow over so we can have a season and give these kids something they can sink their teeth into."
Heard said the toughest part for Brown will be balancing the excitement of taking over a potential state power with the looming possibility of not having a season.
"That's a tough situation for Berk to come into," Heard said. "This year we were going to be real talented. It would've been a great way for Berk to step in and establish some instant credibility."