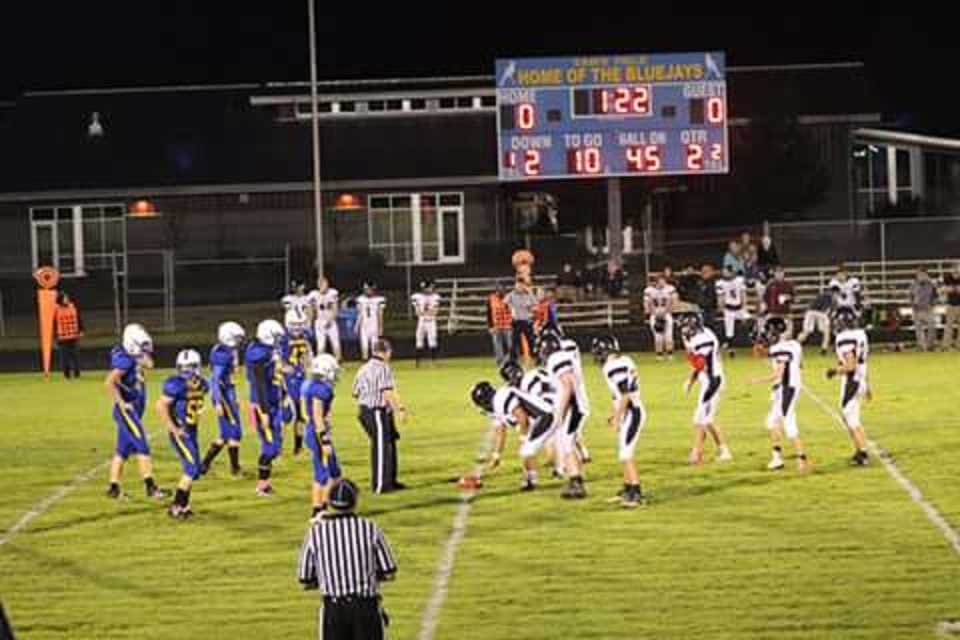 One thing became abundantly clear July 19 when Montana six-man high school football guru Rod Tweet schooled Oregon coaches on the finer points of the game during a clinic at Hermiston High School.
"The six-man game is basketball on grass," OSAA assistant executive director Brad Garrett said. "At the six-man level, you're not going to shut people out."
Starting this season, the OSAA is offering six-man football as a two-year pilot program to schools with adjusted enrollments of 89 or fewer to help keep the sport alive at the smallest classification. The teams, grouped in two Class 1A special districts, will not compete for a championship.
With each offensive player an eligible receiver, the playbook is wide open.
"There are little nuances that 11-man and eight-man don't have available to them," Huntington coach Noel Stark said. "There is just about any scenario you can do. You've got people going every which way."
The Hermiston clinic was one of the first major steps in implementing six-man football in Oregon. Coaches and officials are getting up to speed on the game, which last was played in the state from 1947 to 1959 before giving way to eight-man.
"I was a lineman, so I'm excited for the linemen," Echo coach Rick Thew said. "It opens it up for the type of people that small schools get, linemen that are 160 pounds. It kind of fits with all of that."
Jewell coach Joel Johnston believes the more wide-open style of six-man will lead to more fundamental tackling.
"The high chances of one missed tackle going for a touchdown in six-man should change the way kids view wrapping up instead of 'lighting up' the ball carrier," Johnston said.
Many of the 19 schools that have committed to play six-man this season have opted out of cooperative agreements with other schools, including Triangle Lake, which combined with Monroe to win the Class 2A 11-man title last season. Others, such as Alsea, are looking for a solution after low numbers forced them to shut down their programs.
Echo has had decent numbers in recent seasons but graduated 11 senior players this year, and with only three freshman players incoming, the team would have been stretched thin to play eight-man.
"We've been seeing this coming for a while," Thew said. "We didn't know what we were going to do coming into this year. We're just at a down time, and we thought, 'It's a pilot, let's give it a try and see what happens.'"
Huntington played a Class 1A independent schedule last year, but previously was in a co-op with Harper. The schools were about 90 minutes apart and in different time zones.
"The two schools got along great, it was just the dynamics of the time zones and the distance between us, it just made it really difficult to keep the co-op up," Stark said.
Huntington started last year's independent campaign with 14 players, including six exchange students. In its last game, with no reserves available, eight players went the distance.
The six-man game is a life-saver for Huntington.
"I've got about four returning players each year, so I can almost field an entire experienced team," Stark said. "I'm probably going to have only three or four kids that have ever played football in their life. I'm going to have probably six or seven exchange students who have never heard of football who think they're trying out for soccer."
Jewell will play six-man after being unable to field an eight-man team last year, when six players signed up.
"This pilot program is giving some kids who just simply love the game the opportunity to be on the field, and our community the opportunity to come together again on Friday nights," Johnston said.
Garrett said that the coaches "take a lot of pride in being able to bring football back to their community. It's an option for those schools to keep the game around, because my biggest fear is when you lose it, it's hard to get it back. You're lucky to get it back, actually."
Ten other states play six-man, including Texas, which has more than 260 teams. South Dakota is planning to offer six-man starting in 2019.
Other unique points of six-man include:
The offense begins 1st and 15
The offense must have at least three players on the line of scrimmage
The player who receives the direct snap can't advance the ball past the line of scrimmage without first pitching it, handing it off or throwing it
Field goals are worth four points
Teams get two points for a conversion kick, one point for a conversion run
The OSAA will follow NFHS six-man rules, with the only exception being in field size. The national federation calls for fields 80 yards long (not counting end zones) and 40 yards wide (shrunk from 53 yards); Oregon's fields will be 100x40 yards.
"Some of our six-man teams may have to play eight-man games, so we didn't want to go to an 80x40 field and have those teams move their goalposts, and then they'd never be able to play an eight-man team on their home field," Garrett said.
Garrett expects Oregon coaches to quickly adapt to the game.
"All of them are going from eight-man to six, so it isn't like they're not used to the short-sided game already," Garrett said.
The season promises to be a wild ride, even though it will come to an abrupt halt without playoffs.
"Obviously, it's not my favorite," Thew said of the lack of a postseason. "You want that incentive. It's disappointing, but it's a tradeoff. If we stayed in eight-man, we'd move back to the Big Sky with Dufur and Sherman County, and those big guns. So it would've been a struggle to make the playoffs anyway."
A de-facto championship could be in the works, though, in the form of east-west crossover games in the final week.
"As coaches, we've all talked about it," Stark said. "I think the kids need that."