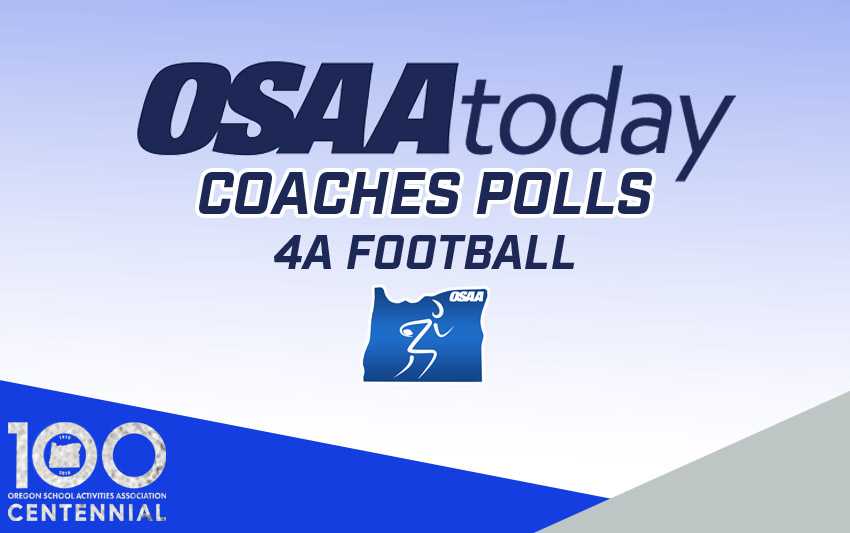 Week 5 Statewide Football Coaches Poll 4A
OSAAtoday presents its weekly 4A Football Coaches Poll. Thanks to all the coaches who took the time and had the expertise to contribute their opinions to this endeavor.
Please note: these polls are for generating interest and discussion only and have no impact on the OSAA's RPI and Colley ratings that form the basis of the OSAA's rankings for playoff purposes.
4A Football
1. Seaside (15) [1] 5-0 150
2. Marshfield [2] 4-1 121
3. Banks [3] 4-1 114
4. Mazama [4] 3-1 90
5. Gladstone [5] 3-2 71
6. Estacada [8] 4-1 56
7. Marist Catholic [9] 3-2 52
8. Newport [7] 5-0 44
9. Woodburn [6] 4-1 22
10. Sweet Home [nr] 3-2 16
First-place votes in parentheses
Last ranking in brackets
Record listed is what's posted on www.osaa.org
Others receiving significant votes: Elmira (14), Ontario (10)
Notes: Alexander Teubner rushed for 166 yards and three touchdowns and caught a scoring pass as Seaside amassed 496 yards – 413 on the ground -- in beating Valley Catholic 64-8. … Estacada stopped a two-point conversion inside the final minute to hand Woodburn its first loss, 14-12. The Rangers, who got 141 rushing yards and two touchdowns from Gabe Martinez, scored with 1:30 left to take a 14-6 lead. … Marist rolled up 442 yards in taking down Cottage Grove 32-22, getting 193 rushing yards from Lucas Patterson and three touchdown runs from Max Campbell. … Elmira improved to 4-1 by blitzing Junction City 50-6, getting 149 rushing yards and three touchdowns from Brady Nagel and two scoring runs from quarterback Rowdy Ramirez. The Falcons' defense allowed only 56 yards. … Marshfield got three touchdown runs from Josiah Niblett to defeat Henley 36-21. … A blocked extra-point attempt in the third quarter was the difference as Newport improved to 5-0 by edging Sisters 21-20.