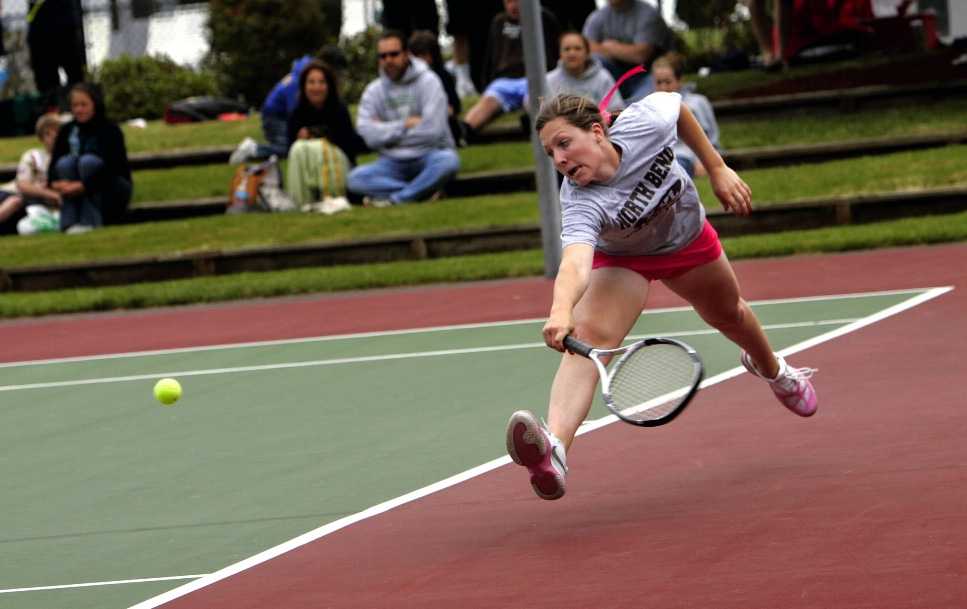 Kelcy McKenna lost the first set of her high school tennis career. The North Bend freshman was playing seasoned senior Suzanne Massie of Marshfield.
"I remember being so nervous and totally being frazzled," said McKenna.
McKenna won the next two sets to win the match. She never lost again; not a match, not even a set.
When McKenna graduated in 2007, she had won four straight state championships for the Bulldogs, 88 straight matches and 176 consecutive sets. There may be other Oregonians who also went undefeated for their careers – Jesuit's Erin Larner comes to mind – but no one did it the way McKenna did.
And get this: McKenna was not only dominant on the tennis court, she also was an outstanding volleyball player, a two-time 4A Player of the Year who led North Bend to the state title her senior season. It's no wonder that North Bend Athletic Director Mike Forrester said, "We have never had a more dominant athlete at North Bend."
***
In a day and age where tennis players work at the sport all year long, McKenna was an anomaly. She participated in four sports in sixth grade and competed in three through eighth grade. She reduced her workload to just two sports – volleyball and tennis – at North Bend, the same two sports her mother, Patti, excelled in.
"The sports complement each other," McKenna said. "Anticipation and movement are very similar for each and the strongest part of my tennis game, my overhead, came from being an outside hitter in volleyball."
McKenna entered North Bend as the top-rated 14 and under player in the Pacific Northwest, despite playing only 3-4 USTA tournaments a year and despite losing quite a bit. She routinely played girls two years older than she in order to compete against the best players in the area.
***
McKenna's long high school unbeaten streak isn't something she ever focused on, she said.
"Playing national tournaments, there's always someone better than you," she explained. "I used high school tournaments as a chance to get better and focus on things I needed to work on. I also was more interested in our team's success than my own."
McKenna didn't just win high school matches; she absolutely dominated. That first match against Massie was the most competitive of her entire career. She won high school matches, she said, by "taking away time," meaning she put so much pressure on her opponents that they didn't have time to plan and execute their best returns. When you win that easily, there's very little pressure, streak or no streak.
"I think high school tennis was fun," said McKenna. "You're playing for something bigger than yourself. I really enjoyed it more than feeling pressure."
North Bend's highest team finish in tennis was sixth during McKenna's time, but the Bulldogs did get that state title in volleyball with her in uniform, winning in 2006, one year after finishing as state runner up.
"Volleyball was so fun for me," McKenna admitted. "You're there with your teammates and to come so close before and then come back and win state…that was a different feeling for me than winning state in tennis."
McKenna, who is now the tennis coach at Wisconsin after earning All-America honors at Arizona State, said that she will never forget how well supported she felt while competing for North Bend.
"That speaks to the heart of the North Bend community and that continues to resonate with me," she said. "It's unprecedented in this day and age."
***
Is McKenna's unbeaten streak in tennis an unbreakable Oregon record? Obviously not, as it has been matched at least by Larner and maybe others. But there probably won't ever be another undefeated four-time individual tennis champion who also was a two-time state Player of the Year in a team sport. That's remarkable!
*This is part of a summer series…Mondays…
Read the other articles in the series…
The day Rainier terminator Breana Edwards shattered the single-match kill record
The night Aloha back Thomas Tyner ran wild!
The Taft pitcher who knew what it was like to be perfect
The wrestler who knew when it was time to raise his hand
The girl who ran faster than the wind
The lefty who was a hit when he wasn't giving up any
The leadoff batter whose hitting led to a run
The day Tommy Skipper's record vault also cleared a hurdle
The day Morgon Henderson-Kunz destroyed his own record in the 100 freestyle
The quarterback whose receivers found the end zone and got him a record