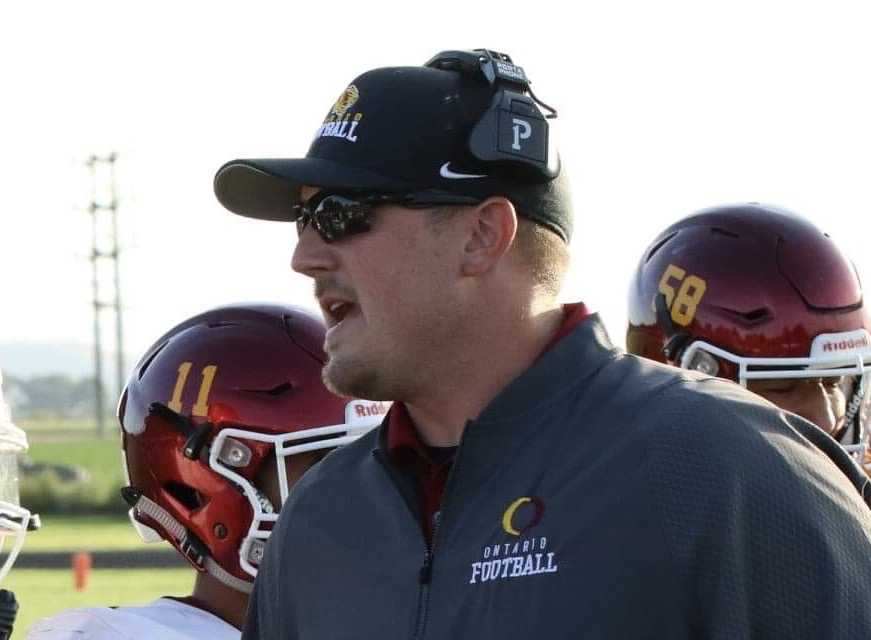 As an algebra teacher, Greg Simmons knows all about variables. And he could see how they all lined up against Ontario's football team last season.
The Tigers started the season with low turnout. They got buried under a wave of injuries. Their schedule, loaded with top teams, offered no reprieves. And if that wasn't enough, first-year coach Tony Cade was dismissed after the third game, forcing the coaching staff to reshuffle.
Add it all up, and Ontario finished 0-8, the worst on-field mark in the team's recorded history. For Simmons and Larry Nigro, assistants who became interim co-coaches after Cade's departure, getting the Tigers across the finish line was a feat in itself.
"It was challenging from the get-go," Simmons said. "It seemed like from Week 1 it was going to be a tough season."
The Tigers, who reached the 4A semifinals in 2017, are looking to put it all behind them in the upcoming season. And as the new head coach, Simmons is tasked with pointing them in the right direction.
It is the first head coaching job for Simmons.The 2006 Clackamas graduate has coached Ontario's lines since 2012, serving under Randy Waite for one season and Erik Johnson for six seasons before last year.
"Honestly, before this, I haven't ever really thought that this is where I wanted to end up," Simmons said of being a head coach. "At the time last year, I felt like it was more of a need. I definitely thought I was prepared. I kind of grew into it."
Simmons not only leaned on the expertise of Nigro last season, but also on Johnson, now the coach at 5A Eagle Point. Under Johnson, the Tigers won at least a share of the Greater Oregon League title for three years in a row before he left.
"There was a lot of confidence right there from him," Simmons said of Johnson. "At a certain point, I kind of thought, 'I know I want to be around Ontario, and I want to coach, so maybe this is the best thing for me, to give it a shot.'"
Simmons played football and baseball at Clackamas and went on to play baseball at Concordia University.. That's where he met his wife Kristia, who is from Ontario, and the couple settled in the eastern Oregon town. They have three children: Mya (5), Everett (2) and Stella (1).
Since becoming Ontario's line coach, Simmons has helped the Tigers build a dependable running game. He plans on installing a spread offense, but running will be the top priority.
"That's what I'm more comfortable with," he said. "Being a line guy, I'd love to see our rushing yards be at the top of the state. No matter if we can throw the ball or not, it's definitely going to be us running the ball first."
Simmons said that Scott Helmick, who coached in the program under Waite and Johnson but was not on the staff last year, will return to be offensive coordinator, and Matt Mejia will run the defense.
Nigro will not be on the high school staff, instead coaching at the middle school, where he teaches.
Ontario's program started last season with a turnout in the low 40s – about 10 below normal – and finished in the high 20s. The Tigers had nine seniors on the roster last year and expect to have about a half-dozen this season.
"There;s some experience with those seniors. A lot of them were starters as sophomores," Simmons said.
Like everywhere else, COVID-19 crisis threw a wrench in the team's summer development.
"We were able to get about six or seven days of workouts this summer before we had to shut down," Simmons said. "But we had a pretty good turnout considering everything that was going on. If I were to guess at potential numbers that we could have, I wouldn't be too concerned. Ton of potential there. Some really good athletes."
Another major plus – the incoming freshman class shows lots of promise.
"They're hungry," Simmons said. "You drive around town and see a group of kids throwing a football, or there are some cones out, and a lot of times it's the incoming freshmen. We probably wouldn't expect them to contribute on varsity yet, but they're hungry, which is a really good thing for our program in general."
Ontario will play in a new hybrid league that features the four GOL teams and three 3A teams in Vale, Nyssa and Burns. The delayed start to the season (March 16) means that scheduled games against strong Idaho teams Homedale and Fruitland were canceled.