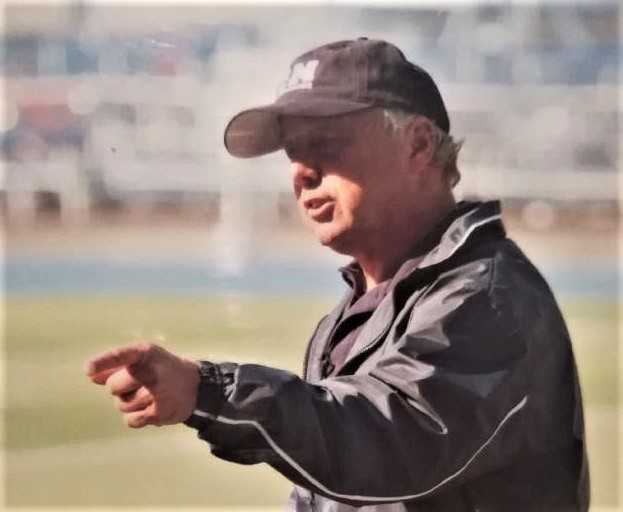 Dave Potter thought he knew how life after high school soccer would go when he retired as the girls coach at St. Mary's of Medford in 2018.
Potter, 70, would divide days between his duties as the junior club director for Rogue Valley Timbers and spending time with his grandchildren, who live on opposite coasts.
But that's not quite how it played out for Potter, who compiled a 235-47-9 record as the girls coach at South Medford (1992-97) and St. Mary's (2007-18) and guided South Medford's boys to a state title in 2003.
"Last year I missed high school soccer more than I ever would've thought," Potter said. "It was the longest high school soccer season I've ever spent because I wasn't involved in it and my heart wanted to be there."
So in June, when South Medford athletic director Donnie Frazier checked to see if Potter might be interested in filling in as the school's interim girls coach, he was ready to listen.
Frazier explained to Potter that the girls coach he had hired this year, John Case, was having visa issues in moving from England during the pandemic. Potter, who led St. Mary's to seven state semifinal appearances and a runner-up finish in 2010, would be the ideal caretaker.
"I put the phone on receiver and my wife said, 'You have my blessing.' She knew," Potter said of his wife of 47 years, Karen. "I was 50-50, and all of the sudden I was 60-40 in favor of it."
Potter took the job in mid-June and got to work right away. It wasn't long before he was spending seven days a week running workouts at the high school field.
Potter, who started coaching with wrestling in 1973 and switched over to soccer in the mid-1980s, said "it has been the most rewarding summer."
"Part of that is because I'm making up for a lost year," said Potter, who went 82-16 in his first stint as the Panthers' coach. "I'm coaching young ladies who have such an appetite for doing the things that are good for them."
He will be the Panthers' fourth coach in four seasons, following Chris Hollewijn (2011-17), Kendra McMillen (2018) and Katherine Watson (2019). South Medford finished 5-7-3 last season, its first losing record since 2011.
"We have a quality team, and they've had a lot of upheaval over the last couple of years," Frazier told the Medford Mail Tribune, "so I really wanted to get someone that was respected and experienced, and would be able to step in and really take our girls and get the potential out of them that I think they have."
Frazier told Potter that it was a special group of players.
"That is the understatement of the year," Potter said. "These girls swept me off my feet. They're so hungry for soccer, so dedicated to the game."
Potter said the players not only adapted nicely to the social-distancing requirements for workouts and mock scrimmages, but that the guidelines also had their advantages, especially in teaching spatial awareness on defense.
"A lot of players just want to overcommit defensively, so this summer has been great in teaching the girls how not to overcommit, how not to jump in, how to shuffle, how to back up and not get tangled, and not get beat," he said.
Under the OSAA's revised calendar for 2020-21, practice for fall sports won't begin until Feb. 22. The Panthers plan to stay busy in the fall by participating in a 7-v-7 league organized by Kevin Primerano, the executive director of Rogue Valley Timbers.
The OYSA-sanctioned league – expected to include schools from throughout southern Oregon – is in the process of scheduling weekly games for US Cellular Field in Medford. Play is set to begin Sept. 20.
"We're going to have two or three South Medford girls teams," Potter said.
Potter also is ramping up with Rogue Valley Timbers, which was known as Rogue Valley Soccer Club when he started there in 1984. On Saturday he conducted tryouts for premier teams that are forming for the fall.
The Wisconsin native is in his element on the soccer field.
"I'm well into my senior years, but I will not act 70," he said. "I still have it in my head that I'm in my 30s."
He said he is "rejuvenated" by coaching at South Medford and is open to continuing with the Panthers if he is needed.
"When John comes back, the plan is to turn the program over to him, give him the opportunity to pick up a coaching job," Potter said. "And we'll see what role I play, because I would dearly love to continue doing something with this group of young ladies."