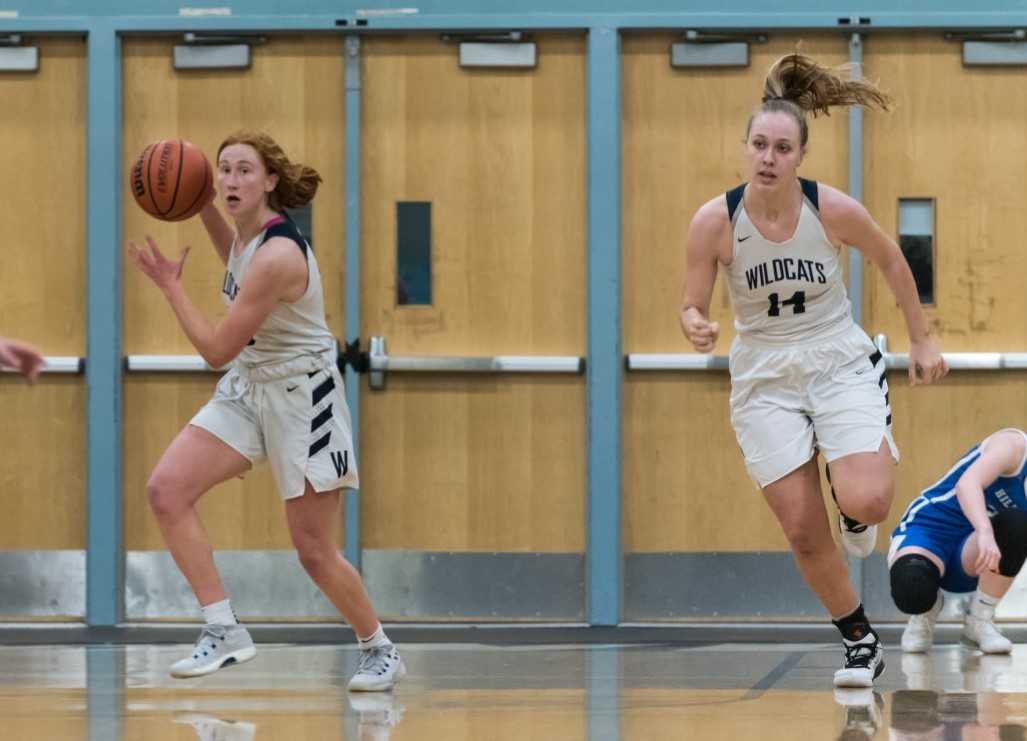 Like everyone else, Wilsonville coach Justin Duke doesn't know what to expect for Oregon high school girls basketball in 2020-21.
But he knows one thing for certain – if the season begins as scheduled in January, the Wildcats will be in prime position to contend behind senior point guard Sydney Burns and senior post Emilia Bishop.
"We'll feel as much pressure as anyone in the state," said Duke, who led Wilsonville to the 5A semifinals for the second year in a row before the state tournament was canceled in March. "But at the same time, if we're going to be in a situation like we are, with limited practice time and no summer league, what an advantage for us to have a couple players like that."
Burns and Bishop – going into their fourth varsity seasons – are hoping for one last run at a state title before beginning college careers at UC Davis and Northern Colorado, respectively.
"I haven't let myself think about the possibility of not having a season this year because it would be the hardest way to finish high school, without a senior season," Burns said. "My dream since watching the 5A state championships at Gill in elementary school has been to win a state championship for Wilsonville. It would mean so much to me to have a chance at it one more time."
Bishop said she just wants to play.
"My team is so special to me, and I just want to create our final memories together this year, and be able to bring glory to our school," Bishop said.
The 5-foot-9 Burns, the Northwest Oregon Conference player of the year last season, quietly became a hot prospect in the past year. She fielded more than 10 Division I scholarship offers before committing to UC Davis in May, according to Duke.
"She's always been so modest, sometimes to a fault," Duke said. "Throughout the recruiting process, you never would've known how many schools were interested in her based on how she carries herself. In terms of kids I've worked with, it's probably the most interest I've seen in a player."
Burns averaged 13.6 points, 6.2 assists, 4.8 rebounds and 3.7 steals per game as a junior, helping lead Wilsonville to a 24-3 record and a share of the NWOC title with La Salle Prep. She shot 38 percent from three-point range.
Duke said that just as West Linn boys coach Eric Viuhkola has talked about former star point guard Payton Pritchard as a "one-percenter" in terms of work ethic, the same applies to Burns.
"I've never seen someone want to be in the gym and find a way to improve more than her," Duke said. "Whether it's being best friends with a custodian at every school in Wilsonville, or taking her ball to the park, she just loves the game and is so determined to get better."
Burns showed how she can take over a game last season when she scored 12 points in the fourth quarter as Wilsonville rallied from a 13-point deficit to beat La Salle Prep 52-47.
"She's such a selfless teammate, but I think she's just cracking the surface of understanding what she can do to impact a game, when she wants to really impose her will on a game," Duke said. "Against La Salle, she just decided, 'We're not going to lose this one.'"
The 6-2 Bishop was a first-team NWOC selection last season, when she averaged 15.2 points, 10.3 rebounds and 2.6 blocks per game, shooting 54 percent from the floor. She took a big step forward after breaking out in the state tournament as a sophomore.
"She played well up to that point, but boy, she had an amazing state tournament," Duke said. "I think that grew her confidence. She certainly started to get a lot of college attention. She's really figuring out what it takes to play and be successful at the college level."
Bishop committed to Northern Colorado in July. She also had offers from Eastern Washington and California Baptist.
"I told every coach that Emilia's ceiling is so much higher than most kids her age," Duke said. "She's really coming into her own in terms of how she can utilize her body. I've never seen a kid that size run the floor as well as she does. That's just something that sets her apart from a lot of other post players."
Burns and Bishop also are club teammates with Oregon Elite. They played in two tournaments in Idaho this summer and leave Friday for an event in Indianapolis. Oregon Elite also plans to participate in an Adidas-sponsored club league in Phoenix and Las Vegas from October to December.
But more than anything, they want to wear their Wilsonville uniforms again. When the plugged got pulled last season, they were set to meet La Salle Prep in the semifinals.
"It was really weird finishing a season with no closure at the state tournament," Burns said. "We had a really good year and were hoping to finish with the state title. When the season ended with us not knowing if the work was going to pay out, it was very devastating. "