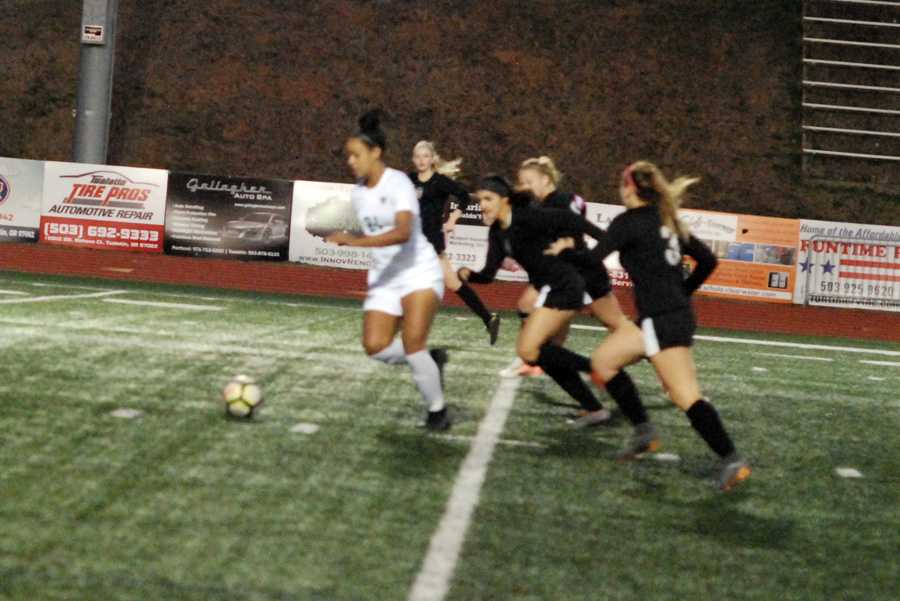 Tigard's girls soccer team won only three matches last season, but with a new coach and a new attitude, the Tigers are learning that anything is possible in 2018. On Tuesday, in their first Three Rivers League contest of the year, the Tigers (8-0) knocked off host Tualatin, 2-1, in a battle of teams ranked among the top 10 in this week's OSAAtoday 6A coaches poll.
The crowd was barely settling in on a cool autumn evening when Tigard struck first. Keeper Natalie Carlson corralled a ball in the third minute and punted it high and past the midfield stripe. A Tualatin header attempt went awry and the ball bounded in the direction of Tigard's star striker, Gabi Brown. The Nevada Reno pledge outmuscled the Tualatin defense for control, used a burst of speed to separate and, from 20 yards out, sent a powerful left-footed strike to the perfect spot in the upper right corner past the defenseless Tualatin goalie.
"We wanted to score early to make a statement and put them on their heels," said Brown, who came into the match having scored 20 goals in the team's first seven contests.
Thirteen minutes later, Brown struck again. A Tualatin foul gave Tigard a free kick from 37 yards out and Brown cranked on the ball with her right foot (from 37 yards!!!). Again, the Timberwolves goalie had no chance, as the ball sailed into the upper right corner with power and precision.
The rest of the half was played mostly in the midfield and featured Tigard's ultra-physical style versus Tualatin's faster and more athletic players.
In the 27th minute, nice work from Aden Lynch and Alyvia Embree created a corner kick for Tualatin, but nothing came of it. Tualatin had a couple of more chances late in the half, courtesy of its star forward, sophomore Cally Togiai. Togiai, a terrific athletic with impressive dribbling skills, made a couple of nice runs and produced two dangerous free kicks but could not get the ball past Carlson, who had yet to be scored upon in 2018.
At the break, Tigard's first-year coach, Duccio Tagliaferri, told his charges that Tualatin, No. 6 in the coaches poll, would press the attack in the second half. That proved true, as the Timberwolves (6-2) played the entire second half on Tigard's side of the field, creating chance after chance.
Eight minutes into the second half, Tualatin finally broke through, as Togiai used a burst of speed to beat a Tigard defender to the ball and tucked a left-footed shot from in close past Carlson.
The eighth-ranked Tigers were not fazed by allowing their first goal of the season and hunkered down, content to play defense the rest of the way. With Abby Borg playing well in the midfield and both Togiai and freshman Brook Burke dangerous up front, Tualatin kept the pressure on to the end. But Tigard's defense in front of Carlson – Riley White, Ava Damis and Sydney Leinberger – proved up to the task. Getting help from middies Logan Kennedy and Jordan Williams, the Tigers held on and, when Williams cleared the ball with 10 seconds left, all that remained was to celebrate.
Tagliaferri said he learned from this match that his Tigers were a team and could compete.
"This was our first really tough game and the first game we got scored on," he explained. "I think it was good. We contained a very good and strong team."
"It was a big statement," added Brown, who was limited in the second half by a tight hamstring. "It's a rival first and foremost. We proved to a lot of people that we're not just playing bad teams and winning."
Brown was part of last year's team that went 3-7-3 and seemed stunned to be 8-0 after Tuesday's win.
"It's crazy," she exclaimed. "I think it's coaching. We have a new mentality and a new want. We are all working for each other now."