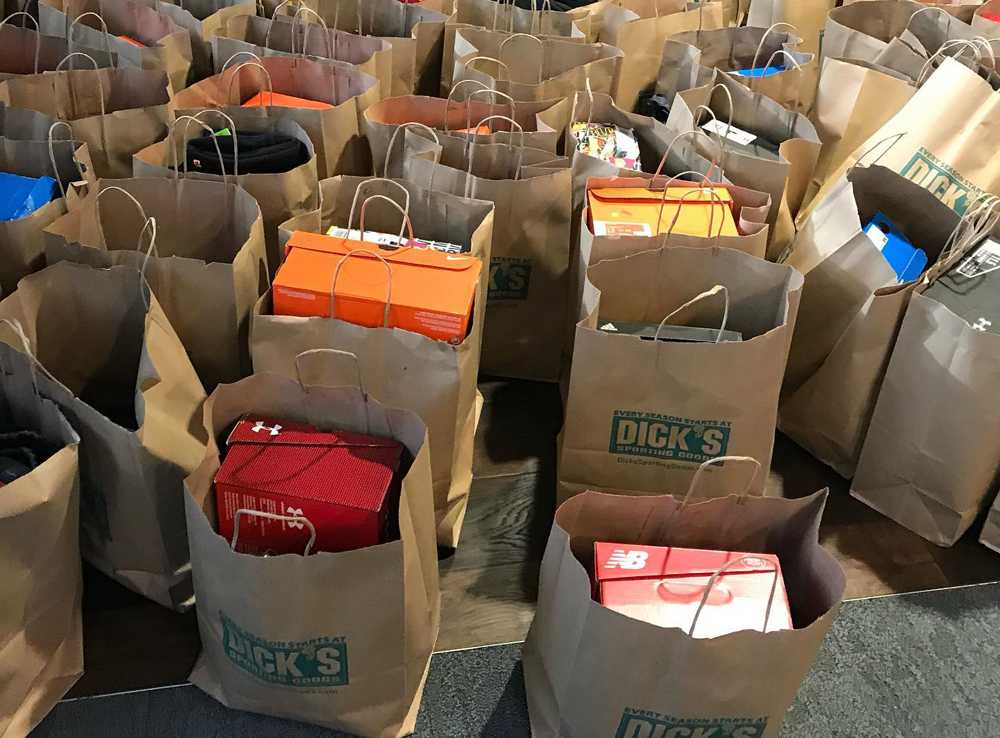 Fifteen years ago, the Oregon School Activities Association had a good idea.
Actually, it had a "for the good" idea.
In the business of coordinating and regulating high school interscholastic competition in Oregon since 1918, the OSAA added the business of philanthropy with the establishment of the OSAA Foundation. Deeming participation in athletics and activities valuable, the OSAA Foundation sought to lessen participation barriers through grants both to schools and individual students.
"It's a way to give back," said Kyle Stanfield, the Foundation's Secretary/Treasurer and also one of four Assistant Executive Directors of the OSAA. "There's so much need out there. We can never cover it all, but we can make some days brighter."
The OSAA seeded the Foundation with $10,000 back in 2005. Through gate receipts from Endowment Games as well as private donations, the Foundation's fund has grown. That growth means more opportunity to give back. Most recently, the OSAA Foundation has created the Equity and Diversity Fund, the Emergency Response Fund and a Cross Country and Track & Field Fund.
The Equity and Diversity Fund envisions up to $2,000 grants to help member schools with equity and diversity initiatives.
The Emergency Response Fund helps schools, communities and students that face emergency situations. The Foundation has set aside $20,000 per year to assist schools in restoring equipment, replace destroyed valuables and supporting students who might have lost valuables during an emergency.
The Cross Country and Track & Field Fund arose this spring after a generous donation from the Portland Marathon upon the dissolution of assets from that entity. It is designed to help support schools, organizations and events that promote high school running.
The Participation Grant, started in 2014, helps with school projects that are designed to increase participation in interscholastic athletics and activities. The OSAA Foundation gives up to five $10,000 grants every year. Schools apply for the assistance and their applications are voted on by a three-person panel that includes the OSAA Executive Board President, Vice President and Past President.
This past year for instance, the Foundation helped Clatskanie HS renovate land adjacent to the school for another playing field. It helped Central Christian with its gym. It helped Glide HS redo its track and it helped Blanchet Catholic update its weight room.
Stanfield said that by far the most rewarding thing the OSAA Foundation does is the Student Assistance Program. Through this program, the Foundation helps between 200-250 students annually by providing gifts around the holiday season of gear directly related to their athletics participation. Schools nominate needy kids and friends of the Foundation shop for them at sponsor Dick's Sporting Goods, picking out that perfect pair of cleats or a new, warm sweatshirt in the player's favorite color.
"The stories we hear every year make us smile," Stanfield said. "People always want to help kids. It helps boost self-esteem and keeps heads high."
The OSAA Foundation also uses the Student Assistance Program to hand out large contributions of athletic gear, from the likes of Nike and Friends of Baseball, through its "mass distribution" program.
OnPoint Community Credit Union, another OSAA sponsor, has been particularly active in the Student Assistance Program. Stanfield said OnPoint not only pays for gifts to students in need; its employees actually do the shopping. Stanfield said there are other opportunities for companies and individuals wanting to bring smiles to kids' faces to participate alongside the OSAA Foundation in this program.
Donations are needed now more than ever, as COVID-19 has caused the cancellation of Endowment Games this school year. They typically account for upwards of $75,000 to the Foundation.
"We have a donation link on the site [http://www.osaafoundation.org/donate]," said Stanfield, "but we always need more donations. We've been trying to get the word out more about all the good we do and how people can help."