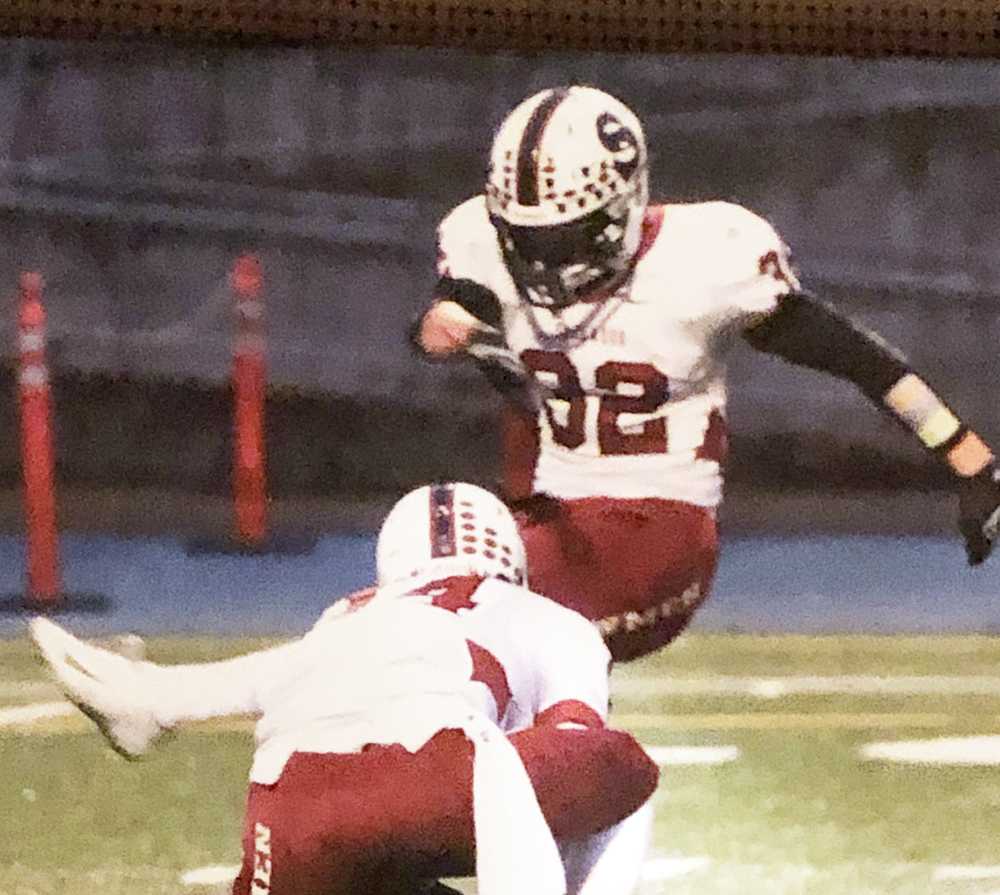 Adley Rutschman wasn't even going to dress for the Nov. 13, 2015 playoff football game against Tigard. But he did and made history by kicking a state-record 63-yard field goal for Sherwood in the Bowmen's 41-20 home win.
"Once the ball went through, the place just came unglued," said OSAAtoday's Jerry Ulmer, who was covering the game that night for The Oregonian. "It was incredible."
***
The Sherwood fullback/linebacker jammed his neck in a game the Friday before. Doctors said that the senior could play but advised that he sit out one week as a precaution. Rutschman was thinking sidelines and street clothes, but his father, Randy, convinced him to dress down in order to kick for his undefeated team. He could at least help the Bowmen that way.
There was a strong prevailing wind in Sherwood that night. With the wind at his back, Rutschman, who had made a 65-yarder in practice two weeks before, was drilling the ball through the uprights from 55 yards with ease in pre-game warmups. Sherwood coach Greg Lawrence told Rutschman before the game that the Bowmen would attempt a long field goal if given the opportunity.
"I was mentally preparing," Rutschman said. "I just tried to stay nice and loose."
Sherwood called on Rutschman in the first quarter to attempt a 41-yard field goal with the wind in his face. The kick was short. That's how hard the wind was blowing!
***
Most Oregonians know Rutschman as the standout Oregon State catcher who was the No. 1 overall pick by the Baltimore Orioles in the 2019 MLB Draft. But Rutschman also played football from grade school throughout high school.
Randy Rutschman said that his son always wanted to kick but wasn't very good as a youngster.
"During a 5th grade game at West Linn, he broke his hand," Randy Rutschman recalled. "He was unable to play for two weeks, so every day at practice he would kick. Nonstop. Pretty soon, the balls started going end over end. That is when he really became a kicker."
***
Sherwood was leading Tigard 35-7 in the closing seconds of the first half. The Bowmen ran the ball to their 47-yard line and Coach Lawrence called time out for one final play.
"My coaches on the head phones were yelling at me," Lawrence remembered. "Why was I calling a time out? I yelled back that we are kicking a field goal. They were all confused but I said Adley was hitting 55 yarders with the wind and clearing the goal posts by 5 yards. I had no idea what the field goal record was but we had that wind behind him so why not try and see what Adley could do?"
"I was in disbelief that they were going to kick," said Randy Rutschman.
Teams usually put the kicking pad seven yards behind the scrimmage line for field goals and extra points, but Rutschman put the pad one yard closer. He wanted to give himself a better shot of making it. The attempt would come from 63 yards away. Rutschman swung his left leg a couple of times to get ready and took his position.
***
Rutschman throws a baseball right handed. Always has. You'd think that he'd kick with his right also. But he writes with his left hand and, as a baseball switch hitter, his stronger side is from the left. So it makes sense that he kicks with his left foot.
***
Tigard coach Craig Ruecker called time out to freeze Rutschman. Lawrence said that Ruecker ran out to his defensive huddle and sent a long stare Rutschman's way. Coach Ruecker then started a discussion with the referees, prompting Lawrence to run onto the field to ask about the hold up. The refs made both coaches go to their sidelines.
"You could feel the excitement in the air," said Lawrence.
The snap skipped off the ground, but Adam Vasquez controlled it and made a good hold. Tigard rushed only five and Sherwood's nine blockers did a great job of denying penetration. Rutschman swung his leg and kicked the ball on its way.
"Once the ball got high enough, it just seemed to float in the wind," said Ulmer.
The kick, towards the concession stand side of the field, cleared the crossbar with yards to spare.
"At that distance it's hard to keep it straight," Rutschman said. "There's a little luck involved."
"When that ball went through the uprights, the whole place erupted!" Lawrence exclaimed. "You would have thought we won the state championship with a last second field goal. The players charged the field and surrounded Adley and the fans went crazy as we ran through our stadium tunnel."
***
The 63-yard field goal broke a 24-year-old Oregon record. Paul Burton of Sunset had kicked a 55 yarder in 1991. Rutschman's kick, eight yards further, remains the state record to this day. Burton's 55 yarder remains second.
"When I was told during halftime that it was a state record, I just smiled," said Lawrence. "I thought to myself that only someone with Adley's ability and calm head could have done that. No one was more deserving."
*This was part of a summer series…Mondays…
Read the other articles in the series…
The day Rainier terminator Breana Edwards shattered the single-match kill record
The night Aloha back Thomas Tyner ran wild!
The Taft pitcher who knew what it was like to be perfect
The wrestler who knew when it was time to raise his hand
The girl who ran faster than the wind
The lefty who was a hit when he wasn't giving up any
The leadoff batter whose hitting led to a run
The day Tommy Skipper's record vault also cleared a hurdle
The day Morgon Henderson-Kunz destroyed his own record in the 100 freestyle
The quarterback whose receivers found the end zone and got him a record
The Bulldog who pulled the strings on 88 straight wins during her North Bend tennis career
The year a "Swede" dominated the American game of basketball in Oregon
The Tiger who used both of his paws
The playoff night Jesuit's Mike Hass went for six seven times