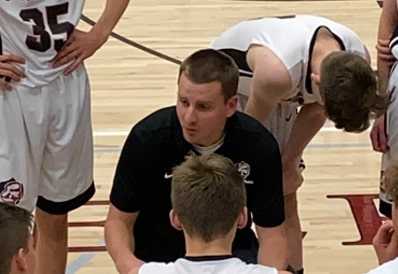 For the first time since 2008, Sandy's boys basketball team will be coached by someone other than Jason Maki.
Brock Mueller, Sandy's freshman coach the last two seasons, has been hired by replace Maki, who left to take the job at his alma mater, Sentinel High School in Missoula, Mont.
It is the first head coaching job for Mueller, 27. He assisted in the Corvallis girls program for three seasons before landing a job as a PE teacher at a Sandy elementary school in 2018.
Mueller said that Maki was a "pretty big" influence on him the last two years.
"Just seeing how he ran a program, how he interacted with players," Mueller said. "His coaching style was different than what I had previously seen at Corvallis. Corvallis was kind of a strict protocol, and Jason, he wanted to be competitive, but he wanted to have fun at the same time. He created that atmosphere with his players."
Maki went 32-40 as the head coach at Beaverton for three seasons before taking over at Sandy. During his 12-year tenure -- the longest in Sandy history – he went 157-148 to become the school's all-time leader in wins.
Maki was voted coach of the year in the 5A Northwest Oregon Conference in 2013 when the Pioneers finished 19-8, their most wins since 1963. They went 19-6 the following season.
He will coach and teach social studies at Sentinel.
"We just kind of started going through the steps and it led us to right here," Maki told MontanaSports.com. "We're very excited to become part of one community and I just loved growing up in Missoula, so I hope my kids can have the same experience that I did."
Maki's departure rocked the Pioneers.
"I was shocked, but I understood," Mueller said. "He did an awesome job building up the Sandy program and turning it into what it is today. I know as any coach, that would be tough to leave."
Mueller grew up in Vancouver and attended Skyline High School as a freshman before transferring to Columbia Christian. As a sophomore, he was the sixth man on a 1A title team that featured his senior brother Braden, who was named the 1A co-player of the year.
Mueller got into coaching at Corvallis while attending Oregon State. He assisted Greg Garrison for two seasons and was the lead assistant for Dan Miller in his final season.
Mueller is likely to bring a different style to the Pioneers, who under Maki had a read-and-react, open-court game that accented three-point shooting.
"I want to do more of a structured offense where it's not so much based off who has the ball in their hands," Mueller said. "It'll be a little bit of both, taking what he had and adding a little bit of structure to it.
"You always want to give your players freedom, but you have to have that line, because if you give too much freedom, then you can't take it back."
Sandy graduated four starters from a team that finished 12-14 overall, 5-9 in the 6A Mt. Hood Conference, and lost in the first round of the state playoffs. The only starter eligible to return is senior Tanner Brewster, a versatile 6-foot-5 wing.
"He's definitely a player," Mueller said. "He's going to be kind of our main guy for this next season. He's big and he's athletic. He can do it all. He can post up, he can shoot from the outside and he can attack you off the dribble."
Mueller said that Paul Hamilton, an Australian who teaches elementary school PE in the Sandy district, will join him on the coaching staff.