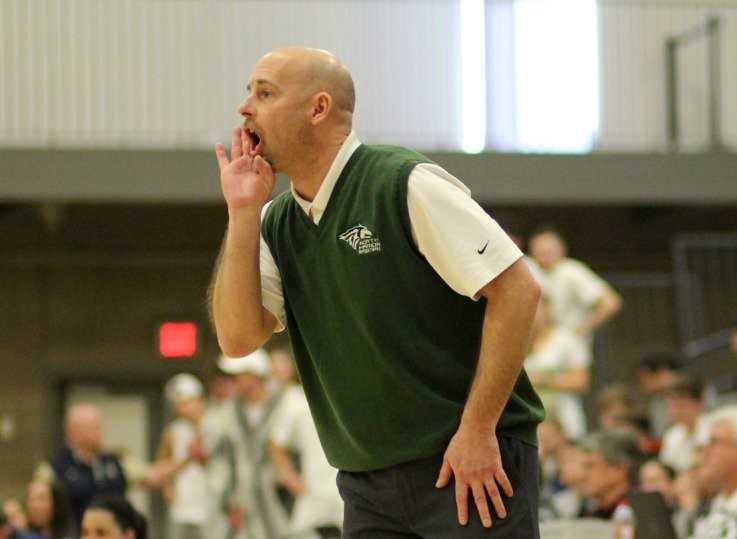 As an assistant coach for 6A girls basketball title teams at South Salem in 2015 and 2016, Trevor Bodine was puzzled by the struggles of league rival Sprague.
He said that he and Saxons coach Nick McWilliams "would just look at each other and scratch our heads and wonder why a school that size was struggling so bad, because they always had great crowd support, a very involved community, and their fans were awesome."
Now Bodine – coming off a highly successful four-year run as the coach at 4A North Marion, where he went 81-28 and won four state tournament trophies – will get a chance to reverse Sprague's fortunes.
He has been hired as coach of the Olympians, who haven't finished with a winning record since 2009, a stretch includes two winless seasons. He replaces Jami Morris, who went 0-24 and 4-21 in her two seasons.
"It's definitely going to be a challenge, a bit of a rebuild," Bodine said. "There's got to be girls walking the halls that can play, or are athletic enough to make a difference. I've just got to find those girls."
Bodine, 52, assisted in the South Salem program for five seasons, the last two as the varsity assistant to McWilliams. Bodine's daughter, Jenessa, was a senior on the 2014 quarterfinal team.
North Marion marked his first varsity head coaching job. During his tenure, the Huskies went 20-7, 20-9, 22-6 and 19-6, qualifying for the state tournament every year. Their highest finish was third place in 2018.
The Sprague job opened when Morris moved to Bend, and Bodine jumped on it. He said the main reason is that his son, Redic, is a freshman at Sprague, and he wanted to be able to see him play.
"It was pretty much a family decision," Bodine said. "Sprague is about four minutes from my house, as opposed to a 35-minute drive to North Marion. Just trying to find a better work-life balance. I've got a lot of things in the fire."
Bodine, a physical therapist, is working on earning a sports management degree online. He is about halfway through a 300-hour internship at North Marion, where he is working closely with athletic director Glenn Elliott. The internship is scheduled to finish Oct. 25.
"They've been gracious enough to let me do it there, which is kind of nice," Bodine said. "I'm looking at being an athletic director."
Bodine said it is "bittersweet" to leave North Marion. The Huskies nearly made the 2018 final, falling to Cascade 41-39 in the semifinals, and the following season they posted two wins over reigning champion Marshfield, the top seed in 4A.
"There's no negativity causing me to leave," Bodine said. "We had a pretty good run. We were really close a couple times. The girls learned how to be super competitive and kind of bought into my style. I thoroughly enjoyed it. I learned a lot from being the head guy at North Marion."
Bodine also has coached soccer, baseball, football and volleyball in the past two decades. Last year, Bodine agreed to take over as coach of North Marion's volleyball team – the eighth coach since 2008 – and led the Huskies to the 4A tournament.
"I was basically brought in to kind of stabilize the program," Bodine said. "I had a lot of fun. I learned a lot. The girls were great."
Bodine is eager to get started at Sprague, which in the last two years finished 52nd and 51st out of 53 teams in the OSAA 6A power rankings. He is encouraged that the Olympians have several experienced juniors returning.
"I watched film, and there are a lot of things I picked up on right away that could've been the difference between a win and a loss," Bodine said. "There are definitely some fixable things. I just have to teach them how to win. They don't know what it feels like. I feel like it's time for them to turn a corner."