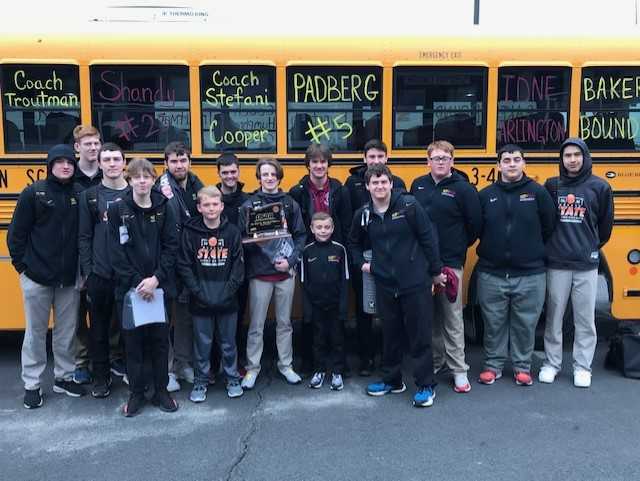 [Editor's note: The idea behind "Alphabet Stories" is to write one noteworthy athletics-related story about each OSAA-member school. We started with Adrian HS on Sept.18. Today's story is about Arlington HS. The goal will be to write two per week. While we will be relying upon athletic directors to furnish story ideas, anyone may offer suggestions by emailing [email protected]]
The 2018-2019 boys basketball season at Arlington High School was a successful one. The team compiled a record of 16-8. Two of those wins came versus Ione, a rival school located less than 40 miles to the south.
Once the season ended, Arlington took a hard look at its numbers for the 2019-2020 season. Participation in both boys and girls basketball was down. Arlington, with 41 students total in grades 9-12, proposed a co-op with Ione in basketball.
If you can beat them, why not join them?
Ione accepted and the two schools ultimately united for basketball as well as football and volleyball. Their combined numbers kept them in 1A.
The co-op worked especially well in boys basketball. Ione / Arlington went 23-7 and, headed by Ione coach Dennis Stefani, finished fourth at the 1A state tournament.
Six boys from Arlington, all with experience from the season before, played for the team last winter.
"Had we not co-opped with them, we would have forfeited several games due to injuries and illnesses we ran into during the season," said Arlington's Teren Humphrey, who had coached the Honkers along with Shawn Troutman the year before.
The Ione / Arlington merger was, in a sense, the perfect storm of success. Though Ione was only 3-19 the year before, the Cardinals graduated only one and returned a lot of experience.
"We had pieces that Ione had been missing in the guard position the last few years, and Ione had pieces in the post position that we had been missing in Arlington," Humphrey noted.
Ione and Arlington also had coaches who knew one another previously and were able to work well together.
"I already knew Dennis from when I played against his teams in high school," Humphrey explained. "He also knew Shawn Troutman very well from when Shawn used to coach in Arlington before I got there, and their older kids played little league baseball together growing up. With that being said, we all knew what each of us was bringing to the table and we all leaned on each other for different things when it came to practice plans, schedules, planning, traveling, etc. Dennis was the head coach, but we all kind of worked together to get the most out of the team. I think that we all brought different philosophies and backgrounds that, when we put it all together, was a big success."
Three Arlington students ended up starting for the combined squad: point guard Jacob Shandy and top scorers Wesley Goad and Jace Troutman.
"The nice thing was throughout the season we very rarely saw the same leading scorer two nights in a row because each night someone else would step up and do what we needed to win," said Humphrey.
"The cohesive unity and how well the students got along was commendable for a first year co-op," said Arlington athletic director Brandon Hammond.
Ione / Arlington won the Big Sky League and was seeded eighth heading into the state playoffs. The Cardinals edged Perrydale to make it to Baker. They lost to top-seeded Damascus Christian in the state quarterfinals before rebounding to defeat the fourth seed and the sixth seed to take fourth place overall.
"For me, this is my funnest year of coaching basketball," Stefani told a local paper. "They were hungry to learn. In a small community, when you are winning, the gym is full. It's been really exciting."