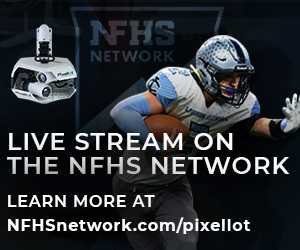 Earlier this summer the NFHS Network announced it's offering TWO FREE Pixellot camera systems to every NFHS Member School. These Pixellot cameras are automated systems that you can use in your athletic facilities (indoors or outdoors) to stream home events as you wish and the rationale of the offer is tied to the current pandemic as we look for creative solutions towards resuming activities and athletics in our schools.
Get 2 FREE Pixellot automated production units
Free Pixellot units are available for schools that do not currently have Pixellot Systems in their main gym and stadium. The school just pays a one-time installation fee.
Why Pixellot?
Everything is completely automated - Allows every event to be streamed live without requiring personnel to produce the games.

Fans can watch games from anywhere on any device.

Live stream sports, graduations, award ceremonies and other school events.

Increased revenue subscription sharing to help with reduced in-person attendance.
For more information on Pixellot Camera Systems CLICK HERE
Coaching Tools
Ready for another option in coaching tools that integrates directly with NFHS Network? Check out VidSwap and their Pay when you Play offer – get full access to VidSwap but pay nothing until your season starts! Find out more at https://www.nfhsnetwork.com/vidswap
Mark Koski, CMAA
Chief Marketing Officer
P: (317) 822-5716
A: PO Box 690 | Indianapolis, IN 46206
W: www.NFHS.org | www.NFHSLearn.com | www.NFHSNetwork.com