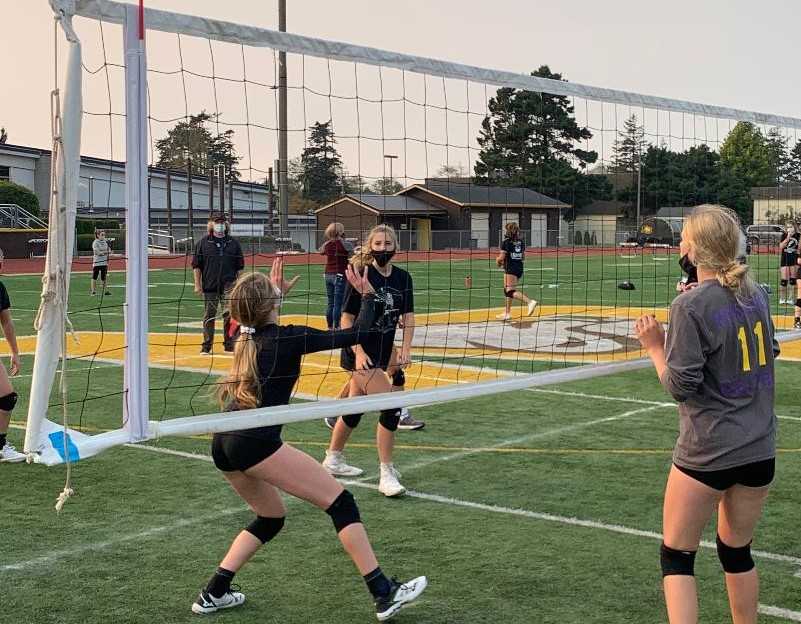 Under normal circumstances, any Civil War competition between Marshfield and North Bend would rise to a fever pitch.
"It's as intense as any rivalry in the state," North Bend athletic director Mike Forrester said. "It never gets boring when you're playing Marshfield."
Since last week, though, the archrivals have put their differences aside in an agreement to compete against each other throughout OSAA Season 1, which runs until Dec. 27. At least for now, the Civil War has reached an unprecedented level of civility.
"People haven't worried about scores, haven't worried about a bad line call," Forrester said. "It's very civil right now."
The schools have divided Season 1 into two seasons. The first season, which goes through Oct. 24, features outdoor volleyball, baseball, softball, track, cheer and marching band. The second season, which begins with practices Oct. 26, will have 7-on-7 football, soccer and modified basketball activities.
Last week, 5A North Bend, 4A Marshfield and 1A Powers began contests, and 2A Bandon will join them for a track meet Friday. The schools have been able to arrange the competition despite not having in-person learning.
"It's been a tremendous opportunity for us," Marshfield athletic director Greg Mulkey said. "A lot of it, obviously, is probably because of where we live in regards to COVID. But at the same time, what I really appreciate is the support that we've received from both school districts, the superintendents and our school board."
Participants, who are required to wear masks, undergo health screenings each day when they arrive for competition. In the event of a positive test, the sport will be shut down for two weeks.
Spectators are not allowed. A handful of parents help out as line judges and to keep scorebooks and operate scoreboards. Others watch from a safe distance outside venues.
With the state limiting gatherings to 250, and multiple schools participating at events, the schools realized that allowing spectators would make enforcing the rule too difficult.
"It's tough to tell parents and fans that they can't come in," Forrester said. "It's not like people have a lot of things to do right now. You could pull a crowd really, really easily right now. As much as we'd love to do it, we just can't right now."
Matt Jarvis, the radio voice for Marshfield, broadcasted a baseball game last week and a softball game this week. Forrester has live-streamed North Bend volleyball, baseball and softball contests on Facebook with his phone.
Forrester originally went to his school board to request that students be allowed to participate in activities when they come back to school. Board members were more than receptive.
"Their thought was we needed to get started sooner than when they could come back to classes," Forrester said. "So I put together a plan and talked to Greg Mulkey about it. Greg and I had talked about getting some stuff going."
The plan created a rare opportunity for volleyball teams, who are playing outside on football fields. Matches take place on three courts simultaneously.
In last week's volleyball competition at Marshfield's Pete Susick Stadium, high school teams played under the lights, following middle school matches.
"They were pretty stoked," Mulkey said. "I was down there a day or two early getting the nets set up, and I said, 'Girls, what do you think about playing under the lights?' And oh my gosh, you should've seen them. 'Play under the lights, Mr. Mulkey?' It was great. It was an awesome evening."
Powers volleyball coach Heather Shorb told the Coos Bay World that her players had been "begging" her for practices and they are "just happy to have something going on."
"Just being here – it's low-key and it's fun," Shorb said. "We talked about it being a learning experience today, and we learned some things."
Participation has been high. North Bend had more than 200 sign up for track, as well as about 40 for volleyball and 30 each for baseball and softball.
Students are adjusting to the protocols. It is especially challenging for track athletes, who must wear either face shields or masks and maintain a six-foot distance from one another.
"The kids have been great about it," Forrester said. "They're trying to follow the rules."
The schools are working on plans for the second season. They are mulling their options for basketball, which is not permitted because it is considered a contact sport.
"We're looking at maybe having a skills competition," Forrester said.
Mulkey said he believes it is "extremely important" for students to participate in activities for their mental and social well-being.
"We need that excitement," Mulkey said. "We need kids to be back playing, doing what they should be doing. It saddens me when I think of the possibility of these kids – and it already happened last spring – having a season stripped from them."