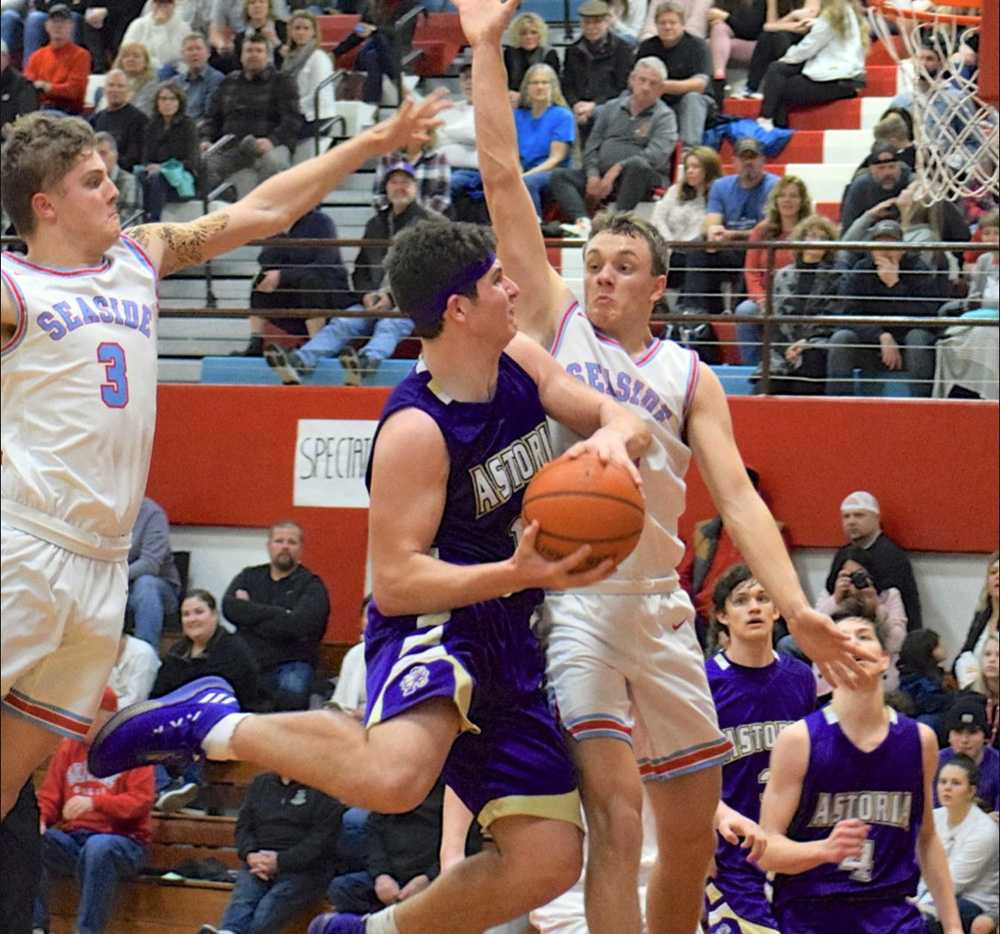 [Editor's note: The idea behind "Alphabet Stories" is to write one noteworthy athletics-related story about each OSAA-member school. We started with Adrian HS on Sept.18. Today's story is about Astoria HS. The goal will be to write two per week. While we will be relying upon athletic directors to furnish story ideas, anyone may offer suggestions by emailing [email protected]]
When the coronavirus pandemic hit, sending students home, many teenagers turned long days short by sleeping through them. Others found comfort in video games or fun on social media.
Colton McMaster went to work.
As a result, the Astoria junior and three-sport standout has a chance to be among the all-time greats the school has ever produced.
Limited by quarantine, McMaster used his alone time to get strong. He spent two hours a day lifting weights in his basement. Once described by throwing coach Bob Ellsberg as a "tall, gangly little kid," McMaster had grown into a man at 6-foot-3 and 225 pounds.
The physical maturity helped McMaster set school records in both the discus and shot put at virtual meets this past spring. Ellsberg said he sent McMaster videos on how to improve his throwing form and that McMaster made changes on his own that resulted in massive gains from the 141 feet in the discus he threw at the state meet his freshman year.
"He has that rare ability to watch someone and then duplicate their form," Ellsberg said. "He almost always knows when he makes a form error and how to correct it."
His success in the discus – his personal record of 173-6, set in June, is 10 feet better than anyone in Astoria's proud throwing history – is particularly problematic.
"We are looking at having to modify our facility because he keeps hitting the new track with his discus throws," said Howard Rub, Astoria's AD and head football coach.
"We need a safety monitor to warn people on the track that they need to vacate when he is throwing!" added Ellsberg. "Colton has thrown over 180 in practice and we are hoping for a top level at 200 feet by graduation. With his increase in size and strength, that may well be possible."
McMaster's athletic development has Rub dreaming of what the junior could do playing both sides of the ball on the Fishermen football team. McMaster went out for football for the first time as a sophomore "to stay in shape for basketball" and started at defensive end.
"He should be a two-way starter," said Rub. "He is strong enough for us to move him inside defensively. His quickness, good feet, and big strong hands make him ideal to play TE, H-Back or fullback. We are planning on utilizing a TE or H-Back as part of our regular offensive package for the first time in over 15 years due to what we think he will be able to do on the football field playing these positions."
McMaster also spent time out of school this spring playing basketball, his favorite sport.
A lot of basketball.
The team's leading scorer as a sophomore in his first year on varsity, McMaster should be a dominant force his last two years, said head coach Kevin Goin.
"He is extremely motivated and a hard worker," Goin said. "One of those kids that is always putting in time at home, the playground or gym, he has really added to his game each year. As a freshman, he was a post only guy. He developed a jumper for sophomore year out to three-point range and is now one of my best shooters. He really can finish with both hands and gets a ton of 'and ones.' I really think he could be one of the great all around athletes our school has produced. He is a great example of a kid who has improved with will and hard work."
McMaster hopes to continue playing a sport at the collegiate level, but the 4.0 student said that college is the goal.
"Whether I play a sport…the college gets to decide that," he added.
With his rapid development, McMaster is likely to have a say also.
"Colton is something special," said Ellsberg. "He has exceptional coordination and huge hands that span over a foot from little finger to extended thumb. He works like a dog, loves to practice and play almost any game."
"Colton is maturing physically and mentally in a manner that is going to allow him to have tremendous success as an upperclassman his final two years," said Rub. "Importantly, he wants to be great. He's willing to push himself physically to be a dominant competitor. I'm looking forward to seeing what the ceiling is for this young man."