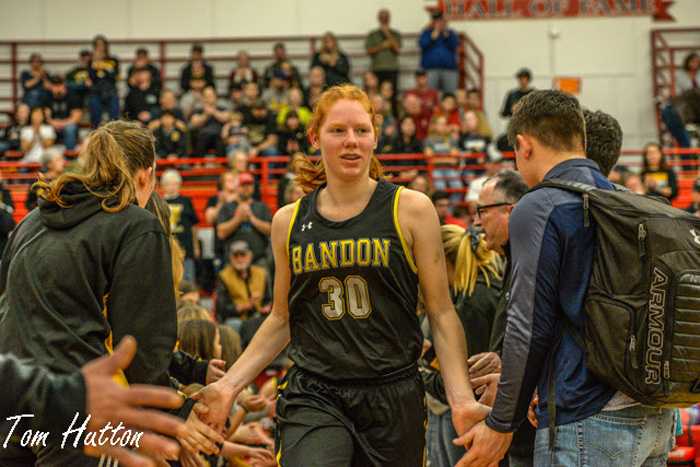 [Editor's note: The idea behind "Alphabet Stories" is to write one noteworthy athletics-related story about each OSAA-member school. We started with Adrian HS on Sept.18. Today's story is about Bandon HS. The goal will be to write two per week. While we will be relying upon athletic directors to furnish story ideas, anyone may offer suggestions by emailing [email protected]]
The girls basketball team at Bandon HS won 27 games last season after winning just 10 the previous two seasons combined. The Tigers were one of the great stories to emerge from the basketball season. They advanced past the first round of the state playoffs for the first time in 30 years and finished third overall at the 2A state tournament in Pendleton.
Hard off-season work set the tone for last year's success. Despite the challenges of trying to get ready for the upcoming season during the COVID pandemic, the same formula is being used currently in the coastal resort town as the Tigers look to build on last season's trophy run.
"Although this off season has been challenging, all the girls are excited and ready for the opportunity to play this winter," said fourth-year head coach Jordan Sammons. "This is a super dedicated group of girls that are working hard to get better each week. We are excited to see how it will all play out here in a few months."
The team will look very different than it did a year ago. Six seniors graduated, including Traylyn Arana, a dynamic, high-scoring point guard who received First Team All-State recognition; and forward Ashley Strain, a Third Team honoree. And athletic guard Eduarda Reolon, who joined the team midway through last season as a foreign exchange student from Brazil, will only be able to play in the first 6-7 games before graduating at the end of the semester. Even so, Sammons is excited to see how his solid returning core blends with a talented group of incoming freshmen as the Tigers look to continue building the foundation they established last season.
Two seniors, four-year starting post Kennedy Turner and shooting guard Sterling Williams, are key to Bandon's fortunes in 2021. They scored nine points apiece in the Tigers' decisive third-place win over Union last March.
"I know Sterling Williams and Kennedy Turner are more than ready and capable of stepping up into a bigger scoring role," said Sammons. "They have been in the gym almost every week consistently since facilities have opened back up, preparing to have a big senior year."
Sammons also said that, although she will play in only a few games, the influence of Reolon cannot be overstated.
"Eduarda has had a huge impact on our program, both on and off the court, and she will continue to do so once she leaves," the coach explained. "She's growing into a great leader and we are excited for our up-and-coming players to get a chance to play and learn from her for the few weeks she is here. Both her knowledge and understanding of the game, along with her relentless work ethic, is something that is rubbing off on a lot of our younger girls. I believe we will see the benefits of having Eduarda a part of our program, both this year and the years to come."
Sammons said that building on last year's 27-2 season requires maintaining "team culture, relationships and the family atmosphere" that are the program's priorities.
"Prior to last season we established the 'four cornerstones' of our program: Grateful, Relentless, Accountable, Hype," said Sammons. As a team, we believe if our actions on and off the court are falling into one of those categories, we are on the right track to be successful, as athletes, students, coaches, community members, etc. Our goal is to get the Bandon Girls' Basketball program into a consistent contender year in and year out."
COVID has shortened the 2021 season by several weeks. And the status of the state tournament remains in doubt. The OSAA has proclaimed that each sport will have a "culminating week," but has yet to define what it will look like. Despite the challenges, the Bandon team remains laser focused on making the best of things.
"We have a community that is willing to do whatever it takes to ensure our students have a chance to participate in co-curricular activities," Sammons explained. "Our coaches, families, staff, and student athletes continue to work together to provide a safe and welcoming environment for everyone to enjoy."
"Our goal this year is to be still playing the first week of March," Sammons added. "With the uncertainty of what culminating week will look like, whether it's a trip to Pendleton, a showcase game or even a regional tournament, a 'win' for us would still be playing that week. Ideally we are hoping there is a state tournament and we believe we have a good opportunity to make it back to Pendleton this year. So that would be our ultimate goal, but if we can qualify for culminating week and participate in whatever that will look like, we would feel like we had a successful season."