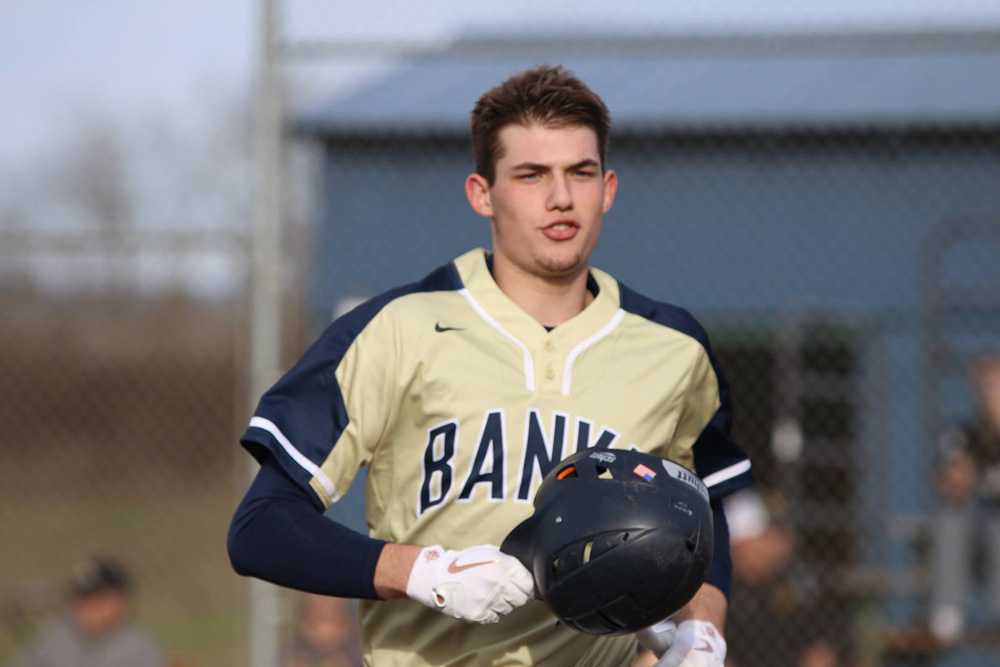 [Editor's note: The idea behind "Alphabet Stories" is to write one noteworthy athletics-related story about each OSAA-member school. We started with Adrian HS on Sept.18. Today's story is about Banks HS. The goal will be to write two per week. While we will be relying upon athletic directors to furnish story ideas, anyone may offer suggestions by emailing [email protected]]
The 2018 school year started at Banks HS and expectations were high. While the school had been competing for 98 years without a single team title in any boys' sport, the special senior class aimed to change that.
"Starting with no titles with the boys, we wanted to get one this year," Blake Gobel told KPTV Fox 12.
They got three!
Football first, then basketball, then baseball.
The Braves became only the second school in OSAA history to capture the major sport trifecta in the same school year.
"Getting all three…it's huge," Gobel added. "We decided to take them all."
Gobel was one of three players to start for all three teams and was instrumental in each championship.
An All-State tight end and impact player on both sides of the ball, the 6-6 Gobel caught six passes for 93 yards and a touchdown in the 31-20 4A football win over Seaside.
The Oregon 4A boys basketball Player of the Year, Gobel recorded 24 points and 13 rebounds in the 62-56 championship win over Seaside, ending the Seagulls' two-year title run.
An All-League first baseman and pitcher, Gobel's single up the middle plated the go-ahead run in Banks' 3-1 win over Henley for the 4A baseball title.
"Blake was a huge part of why we were able to win the triple crown," said athletic director Ben Buchanan.
Those three teams combined for a 65-7 record that magical year
"It's the same guys we've played with all of our lives and now we're here winning three titles…I mean, it's something I never could have dreamed of," said Gobel. "We figured we'd be good. But we never thought we'd pull this off."
And to think, it all started with a loss.
On Aug. 31, 2018, Banks traveled to Gladstone for its football season opener. Gobel scored a touchdown for the Braves but the team fell one touchdown short, losing 35-28. Gobel scored 13 more touchdowns for Banks, including four on four catches versus Valley Christian; as the Braves won their next 11 games to secure the title, their first title in 87 years of football competition.
The Banks boys' basketball team was 1-2 versus Seaside going into the state championship game. Gobel averaged 15 points, nine rebounds, three blocks and two steals per contest during the season but turned it up a notch in the final and helped the Braves rally from behind to win the title.
"Blake had a tremendous ability to rise to the occasion in the big games and really put his team on his shoulders," said basketball coach Marc Roche. "He played a huge role in raising the bar of expectations in our program and our success."
In baseball, Banks was 26-3 heading into the baseball championship game. Gobel had hit over. 300 and pitched to a sub-2.00 ERA for the Braves, who were facing a formidable opponent in Henley in their quest to turn the triple play. Two years before, the last time the teams had met, Henley blasted Banks, 16-7, in the state quarterfinals. Revenge was sweet for Banks, which fell behind in the top of the first only to rally with two, two-out runs in the bottom of the frame. Banks added one more run in the second inning and made the three runs hold up. Gobel squeezed the ball at first for the final out that completed Banks' historic year.
"Blake Gobel was a great leader on our state championship baseball team," said head coach Joe Baumgartner. "Despite baseball being his third favorite sport, Blake was so valuable to our team. He worked so hard to become an excellent power hitter and was a great defensive 1st baseman. He is just an outstanding young man!
Gobel became the first player from Banks to win the Johnny Carpenter 4A/3A/2A/1A Oregon Prep Athlete of the Year Award and he became the first in his family to attend college when he accepted a football scholarship to FCS power Eastern Washington. He carries a 3.68 GPA majoring in Management.
"Blake was a tremendous leader and one of the hardest working athletes we have ever witnessed at Banks," said Buchanan. "He was also an excellent role model for our younger players. He welcomed them and treated all of his teammates with a ton of respect. He garnered a ton of respect with other teams just because he was such a class act."