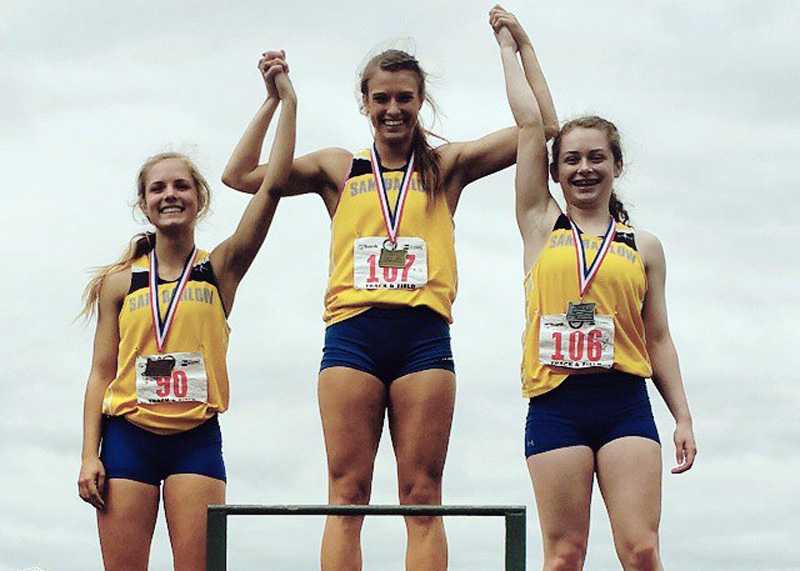 [Editor's note: The idea behind "Alphabet Stories" is to write one noteworthy athletics-related story about each OSAA-member school. We started with Adrian HS on Sept.18. Today's story is about Barlow HS. The goal will be to write two per week. While we will be relying upon athletic directors to furnish story ideas, anyone may offer suggestions by emailing [email protected]]
When Danelle Woodcock, Sara Turner and Macie Allen settled into the blocks before the start of the 100-meter dash Saturday afternoon at the OSAA Track & Field Championships back in 2015, they all knew one thing:
It was going to be close.
Every place translated to points and every point brought the girls track & field team at Barlow HS one step closer to a state title, in a tight race that also included Jesuit, Grant and Central Catholic. No Barlow girls team had won state in any sport since 1996, when the volleyball team reigned supreme.
Every place mattered.
Every point mattered.
Woodcock, a senior, had earned six points with a third-place finish in the long jump one day earlier, but the state team title would be determined in the sprints. Barlow's girls would have to run to their potential to hold off a Jesuit squad that had won three state titles since 2008 and would go on to win three in a row starting in 2016.
Barlow's great Saturday started with the 4x100 relay. Woodcock, Turner, Allen and Renick Meyer were flawless in their exchanges and blazed the oval in 46.72 seconds, the second-fastest time in state history. The win earned the Bruins 10 points. Jesuit, which took second more than a second behind, picked up eight points. Grant and Central Catholic added six and four points, respectively, to their totals.
Next up was the 100. A 1-2-3 Barlow finish not only was a goal; it was practically a necessity if the Bruins were going to hold off Jesuit.
It wasn't just talent that put three Barlow girls into the final. Allen said it also required hard work.
"We push and encourage each other," she told a local reporter. "Iron sharpens iron."
Woodcock said that Barlow's win in the relay gave the girls confidence that a podium sweep was possible. They were in lanes 4, 5 and 6 and would also be able to feed off of each other's energy.
Woodcock, who won state in the 100 as a sophomore but placed fourth a year later, got off to a strong start. So, too, did Allen, a junior.
"I knew Danelle and Macie had great starts," noted Turner, a sophomore. "I had to catch them."
Turner got by Allen to finish second in 12.14 seconds. Woodcock went wire-to-wire to win in a time of 12.01 seconds. Allen held off Jesuit freshman Lena Colson by one one-hundreth of a second to place third. Not only had the Barlow trio earned 24 points for the team; they'd achieved the first 1-2-3 sweep in a 100-meter state final -- boys or girls -- for the first and only time in OSAA history.
"It was one of our goals," said Woodcock. "Just achieving it was amazing!"
Woodcock and Turner would total 14 points in the 200-meter final later that day (Woodcock first, Turner fifth) and Meyer ran sixth in the 110-meter hurdles, picking up three points.
It added up to 57 points, five more than Jesuit's total. Barlow had done it! State champions! The Bruins needed every one of those places to make it happen!
Including the 1-2-3 finish that made state history.