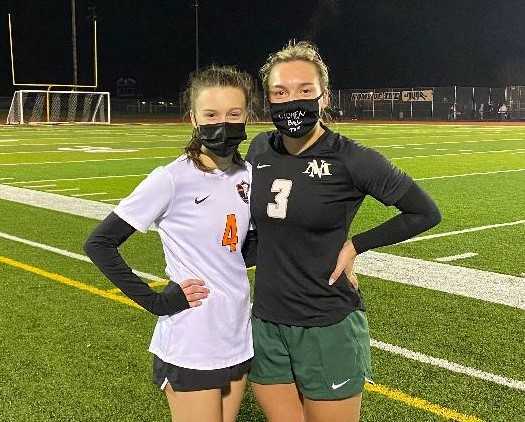 The North Marion-Gladstone home-and-home series last week turned into a showcase for two of the state's top 4A girls soccer players.
North Marion senior Mya Hammack, who has signed with New Mexico State, scored two goals March 9 to lift the Huskies to a 2-1 win at Gladstone, ending the Gladiators' Tri-Valley Conference unbeaten streak at 25 games.
Two days later, Gladstone senior Brianna Lewis – the two-time conference player of the year – recorded a hat trick to propel her team to a 4-0 win at North Marion.
"I'd say that Tuesday's game, we were pretty nervous, and I think that's what caused the results," Lewis said. "But Thursday's game, we all told each other, 'We're going to win,' and I think we just worked harder than the other team."
Gladstone had gone 24-0-1 in conference play since a 3-2 loss to Molalla in 2017, winning the last two Tri-Valley titles. The Gladiators (3-1), who graduated 12 players from a state quarterfinal team, were eager for the test against the Huskies (4-1).
Gladstone coach Tyler Lewis said that North Marion, which lost only one player from a state semifinalist, probably would have been the conference favorite if the season had been played as normal in the fall.
Last week's games were played with high intensity.
"They felt like playoff games," Tyler Lewis said. "I think both sides felt that way. I think North Marion is going to have an easy time through most of the games. But we both knew we were top-five teams probably in the state, and it was going to be our only chance to really measure up."
In the first meeting, Hammack's two goals were enough to overcome Gladstone, which got a goal from sophomore Rhyli Grim. Hammack's play impressed the Gladiators.
"She's an incredible soccer player," Tyler Lewis said. "She was bigger, stronger and faster than in years past."
Hammack has scored 72 goals in her high school career. She bounced back from missing most of her sophomore season due to injury to record school records of 31 goals and 10 assists as a junior.
"She really makes that team so much better the way she plays," Tyler Lewis said. "She distributes the ball really well. She's not necessarily a score-first type player, but when she decides that's what she wants to do, it's pretty hard to stop her."
Added Brianna Lewis of Hammack: "She's a beast. She has some muscles."
The Gladiators regrouped for the rematch. Brianna Lewis got behind the defense three times and converted, and Grim also found the net for the seventh time in four games this season.
"They still outshot us and had possession, but we made a few adjustments to give us some chances, and we took advantage of all our chances," Tyler Lewis said.
Despite the short season, Gladstone still can claim bragging rights in the Tri-Valley. Each of the six Tri-Valley teams are scheduled to play nine conference matches.
"We felt like we were a coin toss to win the conference again," Tyler Lewis said. "We felt really good about the season."
Brianna Lewis, who scored 18 goals as a sophomore and 22 as a junior, has six goals this season. She has not committed to a college but is looking at Oregon Tech, Pacific Lutheran, Corban and Southern Oregon.
Mavs top Barlow
Mountainside won at Barlow 2-0 on Saturday as two of the state's best 6A teams squared off.
The Mavericks (5-0-1), state runners-up in 2019, got second-half goals from seniors Ellie Smith and Izzie Carrington to beat the Bruins (2-1-1), state quarterfinalists last season.
"It was kind of a rough start for us," Mountainside coach Travis Schoonover said. "We didn't play that well from the start. Barlow had us under a fair amount of pressure. As the game wore on, we started to take control a little bit more."
The Mavericks return eight starters from 2019, although one of the players they lost was forward Nedya Sawan, the 2018 6A player of the year who is now on the team at the University of Portland. They are having to replace the offense of Sawan, who scored more than 20 goals in each of the last two seasons.
"Now it's just more by committee," Schoonover said. "We've probably had six or seven different goal-scorers."
One of them is junior midfielder Ella Rogers, who suffered a torn ACL before the Metro League season began in 2019. Her return has provided a boost.
"Last year that was a big loss for us going into league," Schoonover said.
Mountainside, which lost to Metro rival Jesuit in the 2019 state final, will get a rematch with the Crusaders in the final regular season game April 1 at Jesuit. Both teams have ties on their league records this season, Mountainside playing Beaverton to a 1-1 draw and Jesuit opening with a 0-0 deadlock against Southridge.
Schoonover said he was glad to see that the Jesuit match was at the end of the league schedule.
"It's nice for both of us," Schoonover said. "They ended up tying Southridge in their first game, which I don't think they were that sharp. And we're still working through some things, too. It should be nice. I would think both of us are probably in the top four or five teams in the state."
Look ahead
This week's schedule features a showdown of two reigning state champions as 5A Crescent Valley visits 4A Woodburn on Thursday night.
Crescent Valley, which won titles in 2018 and 2019, is off to a 3-0-1 start. The Raiders tied 2-2 last week at hometown rival Corvallis, a team they haven't beaten since 2017.
Woodburn, coming off its first state title, opened the season with 9-1 wins over South Albany and Central before tying Silverton 0-0 last week. The Bulldogs are members of the 4A Oregon West Conference but are playing a full schedule in the 5A Mid-Willamette Conference, where they last played in 2017.
Also Thursday, Scappoose (3-0) goes to Wilsonville (3-0) in a key 5A Northwest Oregon Conference game. Wilsonville has beaten Scappoose in each of the last two seasons in matches that ultimately decided the conference title.