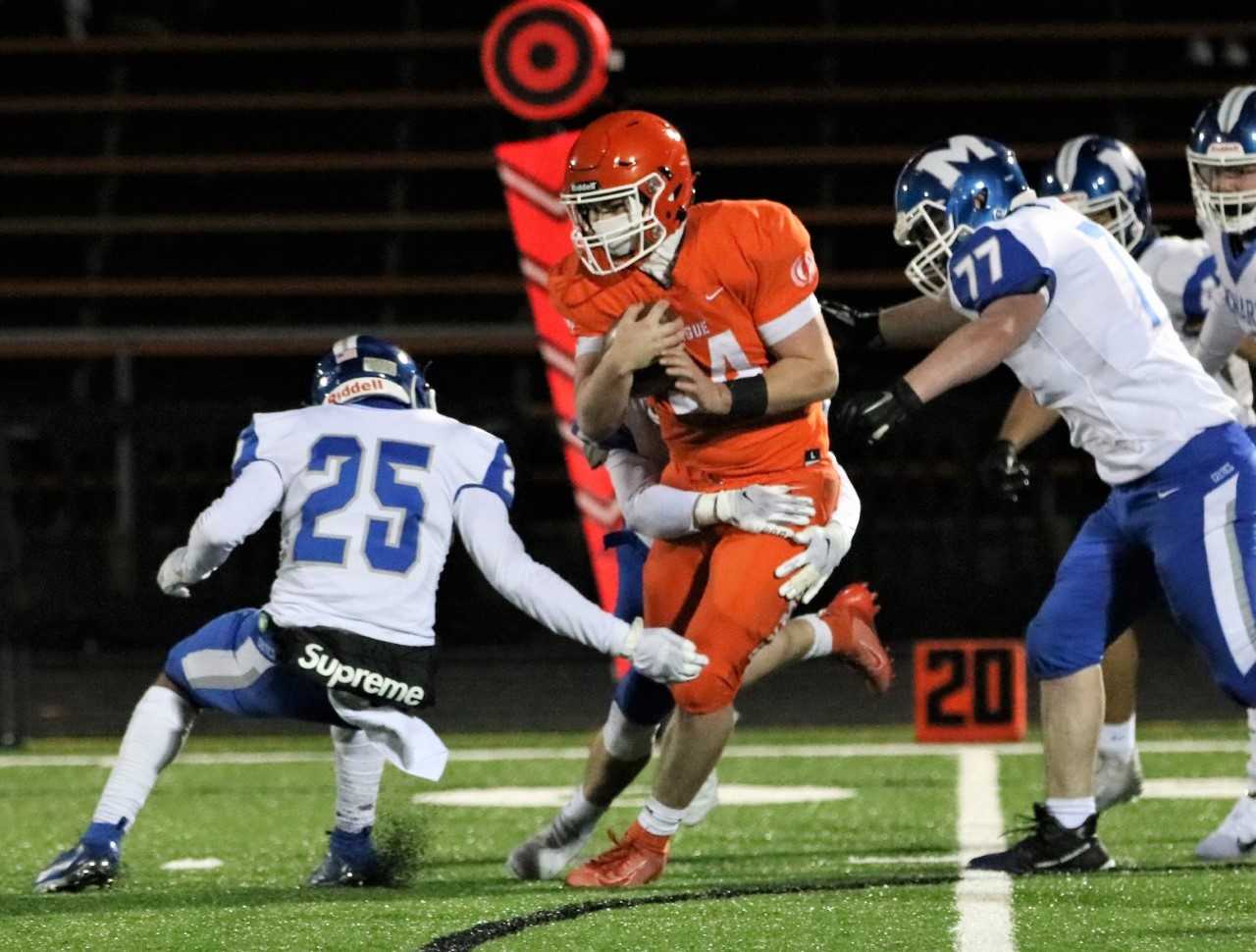 After a two-season slide, it appears that Sprague's football team is back to its usual spot as a conference-title contender.
The Olympians (3-0) not only surpassed their win total from each of the past two seasons Friday night, but they took down two-time reigning Mountain Valley Conference champion McNary in impressive fashion, rolling to a 28-0 victory.
"I think it was the one that can kind of get you over the hump, as far as truly believing," Sprague coach Jay Minyard said. "We played some pretty good teams, but not quite like them yet.
"For us to be able to run the rock the way we did, and kind of grind away at them, I think it was a huge confidence-booster for our kids."
Running back Ethan Bullock continued his sterling senior season by rushing for 152 yards and three touchdowns on 32 carries, junior quarterback Logan Smith threw a touchdown pass to junior Colton Herring and the defense smothered the Celtics (2-1), recording its first shutout since 2016.
Junior Cole Elmore led the way at middle linebacker, and the secondary, headed by senior free safety Carson VanKempen, threw a blanket over McNary's receivers. VanKempen and senior Roland Hare had interceptions.
"We knew we had a couple bigger, stronger kids up front that we were going to lean on, but our overall team speed is starting to stand out," Minyard said. "I really think that's what happened Friday night. We basically just played man coverage all night, and we were still able to stop the run with the guys up front, get to the quarterback."
Bullock, who has rushed for 555 yards this season, pounded away behind Sprague's big line, which features seniors Bryson Kievit (6-4, 275), Brett Hassoun (6-3, 230) and Sylvio Lety Moore (6-4, 280).
"He's a blue-collar, old-school workhorse," Minyard said of the 5-10, 190-pound Bullock. "He's downhill."
Sprague went 49-16 in its first six seasons under Minyard but finished 2-7 in each of the last two seasons. It didn't help that Sprague's nonleague schedule included state powers such as Central Catholic and Tigard in both seasons and Sherwood in 2019.
"When you're young and you go through a preseason like that, in our industry, you call that a 'coach killer,'" Minyard said with a laugh. "That's a rough deal. Going through that, it's hard to stay healthy, and injuries pile up. And mentally you were kind of beat up."
Minyard credited the senior class for its resilience.
"They've stuck it out," he said. "They're out there now, and I'm really happy for them because they're getting to see the fruits of their labor."
Spreading their wings
In his first season as Gladstone's coach in 2014, JJ Jedrykowski went undefeated and won a 4A championship by running the wing-T.
But Jedrykowski, who left the Gladiators after the 2015 season and returned in 2019, was ready to mix things up this season when he brought former Gladstone and Portland State standout Cam Sommer on board as the offensive coordinator.
Sommer enticed ex-Portland State quarterback Paris Penn – his coaching colleague at Grant – to go with him to Gladstone, and they have added an aerial element to the team's offense.
"I wanted to get away from the wing-T a little bit," said Jedrykowski, whose team improved to 3-0 on Friday with a 31-0 win over Crook County. "We ran the wing-T last year because the kids were used to it, and I was used to it.
"Cam and Paris are young guys that bring a lot of vitality to the staff and get the kids fired up. They've got new concepts and new ideas. They're doing a phenomenal job thus far. We've had an answer for things for defenses."
Gladstone still likes to run first, but has shown it can throw, too, as senior quarterback Mateo Burgos has five touchdown passes. He threw three touchdown passes to senior tight end Jude Ashpole as Gladstone beat Estacada 35-22 in its opener.
"We still have some wing-T principles, but I think the offense is a little bit more dynamic, especially the passing game," Jedrykowski said. "We haven't thrown the ball around Gladstone High School for years."
Burgos is adjusting to quarterback after not playing the position at all in 2019. It helps that he has a target like the 6-5 Ashpole, a standout basketball player.
"We can match him up on smaller defensive backs," Jedrykowski said. "That's the position Cam played at Portland State, and we're emphasizing using the tight end in our offense. So it's really worked out well for Jude."
Friday, senior running back Sabastian Peiffer rushed for three scores as the Gladiators rolled the visiting Cowboys to take over first place in the Tri-Valley Conference. The 6-1, 210-pound Peiffer has rushed for 559 yards and eight touchdowns this season.
Gladstone's defense, led by Peiffer at middle linebacker, sophomore Ethan Finnigan (seven tackles for loss, two sacks this season) at defensive end, Ashpole at outside linebacker and senior Ryan Lee at free safety, dominated a Crook County team that entered 2-0.
"Crook County's got tough kids – they're scrappy – but we kind of outplayed them," Jedrykowski said. "We just outphysicaled them. I was surprised at the score, but our kids just got better."
Last season, Gladstone was conference runner-up to North Marion and reached the 4A quarterfinals before falling to eventual champion La Grande 14-0. This year's team appears to have built on that.
"We've had a culture of winning at Gladstone, and they've grown up in it, and it's kind of their turn," Jedrykowski said.
Dragon streak
Monroe's 18-game conference winning streak was in jeopardy Thursday when it trailed by nine points in the third quarter at home against Oakland.
But the Dragons, 2A champions in 2017 and semifinalists the last two seasons, were able to right the ship and beat Oakland 35-22 to extend their streak to 19.
"We just went back to work," Monroe coach Bill Crowson said. "I think that's the sign of a good group of guys, that they don't push the panic button."
Junior quarterback Brody Ballard rushed for 186 yards and four touchdowns on 12 carries and senior fullback Dylan Irwin added 109 yards and one score on 10 carries to lead the Dragons (3-0) past the Oakers (1-1) in the Central Valley Conference battle.
Monroe led 13-7 at half but gave up two touchdowns in the third quarter – the second one following an onside kick – to fall behind 22-13 . The Oakers, who got 98 yards on 15 carries from Corban Picknell, had the Dragons on the ropes.
"We scored a little too easy on the first drive and kind of put it in neutral for a little while," Crowson said. "Oakland came out strong in the third quarter and we were scrambling defensively. Their kids were definitely fired up and excited."
But Ballard, a third-year starter at quarterback in the team's veer offense, showed the way by rushing for three touchdowns in the second half. He has rushed for eight touchdowns this season.
The Dragons improved to 34-5 in the last four seasons.
"They know how to win," Crowson said of his players. "You can't put that in a bottle."
Ballard has taken on more of a burden this season with the loss of all-state tailback Zach Young, who rushed for 7,253 yards and 86 touchdowns in four seasons before moving on to a college career at Linfield.
Ballard averaged 5.5 carries per game in his first two seasons but has had games of 13 and 12 carries this season, often lining up as a single back. He also rushed for 186 yards last week against Creswell.
"Brody plays one speed," Crowson said of the 5-foot-10, 180-pound Ballard, who added about 20 pounds from last season. "A lot of it is just mental. He's very competitive. He practices and plays at a pretty high rate."
Irwin, who rushed for 1,164 yards and 20 touchdowns in 2019, also bulked up in the offseason and has been impressive as a runner and blocker. He has five touchdown runs this season.
Mt. Mazama
Saturday's Banks-Mazama matchup at Cottage Grove – arranged late in the week due to their opponents canceling Friday games – was supposed to be a showdown between Banks' prolific offense and Mazama's elite defense.
It never materialized, though, as Mazama stuffed the Braves 38-0 to make a strong case as the leading contender in 4A. The Vikings (3-0) have shut out their first three opponents, 136-0.
Banks junior quarterback Cooper Gobel, who threw for 625 yards and 10 touchdowns without an interception as the Braves scored 97 points in winning their first two games, went 11 of 20 for 87 yards with two interceptions.
The Braves finished with 87 total yards (zero rushing) after averaging 413.0 yards in their first two games. Mazama senior defensive back Caleb Waits had an interception and a forced fumble, senior defensive back Alex Hayden had an interception and senior linebacker Peyton Wright had two sacks.
The Vikings led 16-0 at half and 30-0 after three quarters. Junior Zeke Heaton rushed for 110 yards on 24 carries and senior Aidan Kindt scored on runs of 18 and 51 yards. Senior Tristan Lee threw touchdown passes of 26 yards to Cole Brosterhous and 47 yards to Erik Hayden and ran for a score.
New man in West Linn
Anthony Newman was ready to take a break from coaching high school football after he helped Central Catholic win the 6A title in 2019 as the defensive coordinator.
"I was tired, and all my kids were out of there," said Newman, whose three children graduated from Central Catholic, where he was part of three state title teams in 13 seasons on the staff. "I just wanted to kind of kick back."
But when his former University of Oregon teammate, West Linn coach Chris Miller, called to gauge his interest in joining him with the Lions, he had to give it some thought.
"I've known him since I was 18 years old," Newman said. "He's been trying to get me over to West Linn for years, and every year I'd turn him down."
After cutting ties with Central Catholic, though, Newman saw the West Linn opportunity in a new light. He agreed to become the Lions' defensive coordinator, making him the third former Duck and NFL player on the staff, joining Miller and Alex Molden.
Newman and Miller were teammates in college and in the NFL. Molden came along later, but played two seasons with Newman on the New Orleans Saints.
Part of the reason Newman was enticed to join West Linn was his familiarity with players in the youth program, including Molden's son Josiah, a standout sixth-grader.
"I wanted to be a part of that whole group," Newman said. "Things connected. Since I've been here, it's been outstanding. I don't see myself going anywhere. I'm here. I really like the environment."
Newman is plenty familiar with West Linn. Since Miller took over the Lions, West Linn and Central Catholic have split six meetings. The Rams won in the quarterfinals in 2014 and 2019, but the Lions dominated in the 2016 final, winning 62-7.
Newman brought with him from Central Catholic the team's linebackers coach, Renny Rector, who was part of the Rams program for 15 seasons. Newman said it's more convenient for both of them considering he lives across the bridge in Oregon City and Rector lives in the Clackamas area.
"We had been driving a half-hour to Central for years," Newman said. "He's like my brother, to be honest. During the offseason, me and him used to travel a lot to go to football clinics and gather information. We learned a lot together."
West Linn's starting defense did not allow a point until Friday, when the Lions downed reigning Three Rivers League champion Tigard 35-15 to improve to 3-0.
Rallying for 'big dog'
If playing at traditional state power Jesuit wasn't a big enough challenge for Sherwood on Friday, the Bowmen also had to overcome the loss of standout senior linebacker Bryan Cuthbertson to an elbow injury in the second quarter.
But Sherwood (2-1) hung tough, pulling away for a 26-7 win over the Crusaders (1-2) in the first meeting between the two teams.
"The resiliency of these kids was just tremendous," Sherwood coach Greg Lawrence said. "At halftime, I could see it in their eyes. I just said, 'Hey, you lost your big dog, now you've got to go play like a big dog and play for your big dog.' They did. They were everywhere. I was proud of them, how they rallied together."
Sherwood rushed for 255 yards – led by seniors Tai Stormont (160 yards, two touchdowns) and Clay Peden (106 yards, one touchdown) – and senior Jacob Pollock caught an 81-yard touchdown pass, the Bowmen's only completion of the game. Pollock also had two of the team's three interceptions and blocked a punt.
Sherwood's defense stayed on task after Cuthbertson's departure as junior Seth Glenn filled the position and senior linebacker Jack Causey "was all over the place," according to Lawrence.
"It was like the lights went on," Lawrence said of his defense, which also had three fumble recoveries.
Sherwood was leading 14-0 in the second quarter when Cuthbertson was hit in the elbow by Causey as they both chased after Jesuit junior quarterback Tatum Lewis. Lawrence said the elbow was swollen Saturday but an x-ray revealed that there was no fracture. Cuthbertson will be examined Monday to determine if there is soft tissue damage.
"Hopefully we can get him back for the last game," Lawrence said.
The Bowmen took pride in beating the vaunted Crusaders.
"Probably don't want to schedule them again so then we can say, 'Hey, we never lost to Jesuit,'" Lawrence said.
Highlights from Week 3 games:
6A:
North Medford bounced back from an 18-0 deficit to beat Crater 25-18 behind Devin Bradd, who rushed for 181 yards and two touchdowns on 35 carries, including a 30-yard score in the fourth quarter to take the lead. … South Medford's Carson Joe ran for 174 yards and two touchdowns on 19 carries to lead his team past Eagle Point 34-7. … Grants Pass racked up 533 yards – 258 passing, 275 rushing – to dominate Roseburg 45-6 Hunter Gonzales threw two touchdown passes to Jayden Brown and one to Devik Chiang, who had three catches for 11 yards. … Clackamas had three interceptions in its 19-12 victory over Grant. …Jefferson's Trejon Williams put on a masterful performance in his team's 32-14 win over Roosevelt. The senior had three catches for 88 yards and one touchdown, returned a punt 72 yards for a score and had two sacks, an interception and a forced fumble. Damir Collins rushed for 101 yards and two touchdowns on six carries and DJ Jamison ran for 136 yards on 12 carries for the Democrats. ...
Mountainside bounced back from losing to Sunset with a 58-2 win over Southridge. Andrew Simpson caught two touchdown passes and returned an interception for a score. … Jackson Lowery threw three touchdown passes and Nate Garcia rushed for 135 yards for West Salem, which blanked North Salem 48-0. … Zachary Boehler ran for three touchdowns as Century downed Aloha 28-13. … Newberg improved to 3-0 by shutting out Glencoe 41-0. Price Pothier rushed for 156 yards and three touchdowns and Owen Hawley caught two scoring passes from Levi Durrell. … Sandy survived a late scoring flurry to outlast Reynolds 33-26. Each team scored two touchdowns in the last 3:18, with the Pioneers breaking a 26-26 tie on Teague Clemmer's touchdown pass to Austin Turin with 17 seconds left. It was Clemmer's fourth scoring pass of the game and second to Turin. … Preston Ginter's four touchdown runs carried McMinnville past Liberty 26-14. …
Lake Oswego, the 2019 state runner-up, opened its season with a 42-20 win over visiting Oregon City. Gabe Olvera ran for 139 yards and three touchdowns on 11 carries for the Lakers. Oregon City's Trey Martin threw for 267 yards and two scores, including a 53-yarder to Jahleel Heath, who had eight catches for 138 yards. … Sheldon also played its first game, outscoring Willamette 48-32. Sophomore quarterback Brock Thomas was outstanding for the Irish, passing for 220 yards and three touchdowns and running for 134 yards and three scores on 15 carries. Sophomore Grafton Robinson also had a big game for Sheldon, rushing for 149 yards and one touchdowns on 11 carries and catching a scoring pass. … Sunset's Caleb Kim rushed for three touchdowns and caught two scoring passes and Kaeden Ball returned a kickoff 82 yards for a touchdown to help beat Westview 49-10. …
Tualatin overcame a 27-7 deficit in the fourth quarter to escape with a 42-33 win over Lakeridge. The Timberwolves took the lead on a 23-yard touchdown pass from Jackson Jones to Cole Prusia, who had two scoring catches and two interceptions. Lakeridge's Ryan Oliver threw for 356 yards and three touchdowns. … Mountain View broke from a 21-21 halftime tie to dispatch rival Bend 33-21, the Cougars' fifth consecutive win in the series. Luke Roberts rushed for 121 yards and three touchdowns on 16 carries and had an interception in the end zone for Mountain View. Benjamin Martin ran for 159 yards and two scores for Bend, which was outscored 52-0 in its first two games. … Luke Johnson threw touchdown passes to Jordan King and Stryder Todd-Fields as Central Catholic held off Barlow 21-7. ... Juniors Brady Kopetz and Justius Lowe each ran for 102 yards and junior Gus Togni had 11 tackles and two fumble recoveries to lead Lincoln past Wilson 28-18.
Other classifications:
Camas Valley, playing its first night game under its new stadium lights, overran Myrtle Point/Powers 38-6 as junior Jared Standley rushed for three touchdowns and his freshman brother James ran for two more scores. … Cauy Jackson had a 58-yard touchdown catch and a one-yard scoring run in Days Creek/Riddle's 20-12 win over Yoncalla/North Douglas. … Trailing Glendale by two points, Gold Beach got a touchdown pass with five minutes left to win 28-22. … Madras shut out North Marion 21-0 behind four sacks from Tanner Saucedo. …
Heppner topped Grant Union 35-16 as Jayden Wilson completed 9 of 11 passes for 165 yards and one touchdown and ran for two scores. Jace Coe caught five passes for 89 yards and returned an interception for a touchdown for Heppner. … La Grande scored a touchdown with six minutes left for a 20-19 win over Vale, which got two touchdown catches from John Wolfe. … Isaiah Schaffer ran for 144 yards and three touchdowns to propel Estacada past Molalla 54-7. The Rangers had a 397-104 edge in total yards. … Jayce Knapp ran for two touchdowns and threw for another to lead Wilsonville past Forest Grove 59-22. … Trailing Cascade 27-20 in the second overtime, Canby emerged with a 28-27 win after Tyler Mead ran for a 25-yard touchdown and a two-point conversion. …
Thurston held Springfield to 59 total yards to win 47-6. Gavin Knights ran for 137 yards and three touchdowns on 11 carries for the reigning 5A champion Colts. … Wallowa outgained Cove 438-164 in a 50-6 win. Zeb Ramsden ran for two touchdowns, caught two scoring passes, returned a kickoff 95 yards for a touchdown and had an interception. … Conley Martin rushed for 333 yards and six touchdowns and completed 6 of 15 passes for 105 yards and one score to lead Adrian/Jordan Valley to a 58-16 win over Crane. The Antelopes got interceptions from Blaise Warn, Birch Eiguren and Gavin Bayes. …Henley held North Valley to 65 total yards to win 42-0. Tim Orr completed 17 of 21 passes for 179 yards and three touchdowns and Tulson Higgins ran for two scores. ...
Austin Smith ran for 145 yards and five touchdowns, as well as a two-point conversion, as Lowell thumped Reedsport 35-0. … Powder Valley handled Elgin 44-12 behind quarterback Reece Dixon, who rushed for 122 yards and threw two touchdown passes. … Weston-McEwen's Blane Peal threw three touchdown passes to help beat Riverside 33-6 in a nine-man game. … Zack Cehrs ran for 219 yards and four touchdowns in West Albany's 42-7 rout of Central. … Dufur stopped Ione/Arlington 52-14 as Cooper Bales threw two touchdown passes and returned a kickoff 78 yards for a score. … Pilot Rock held off Imbler 30-24. Tanner Corwin threw two touchdown passes to freshman Austin Ford for the Rockets. …
Enrique Arellano rushed for 149 yards and two touchdowns and blocked a punt as Stanfield defeated Umatilla 20-0. … Churchill beat North Eugene 18-12 in overtime. Camdyn Stiegeler passed for 251 yards and three scores – two to Ty Weiskind – in the win. ...Silverton hung on to edge Marist Catholic 35-33 as Caden Smith rushed for three touchdowns. Marist Catholic's Joey Laing threw three touchdown passes, two to Hagan Stephenson, including a 20-yarder with 1:25 left to pull the Spartans within two points. But the ensuing two-point pass attempt failed when Laing threw high to Stephenson in the end zone. …
Nathan Gettman ran for a 38-yard touchdown in the fourth quarter to seal Klamath Union's 20-9 win over Phoenix. … Cascade Christian throttled Douglas 54-8 behind Kristian Fralich (two touchdown runs), Sam Martin (two touchdown passes) and Cody Reece (34-yard interception return for a score). … Eli Haynes threw two touchdown passes to Jonah Hadley and Will Heycke rushed for 96 yards and two scores to lead St. Mary's past Brookings-Harbor 28-6. … North Bend's Coleman Compton ran for three touchdowns and threw for a score and Jake Posey had touchdown runs of 24 and 68 yards as the Bulldogs ousted Elmira 48-6. … Luke McNabb threw four touchdown passes, two each to Logan Johnson and Dom Lite, to lead Scappoose past Hillsboro 47-18.