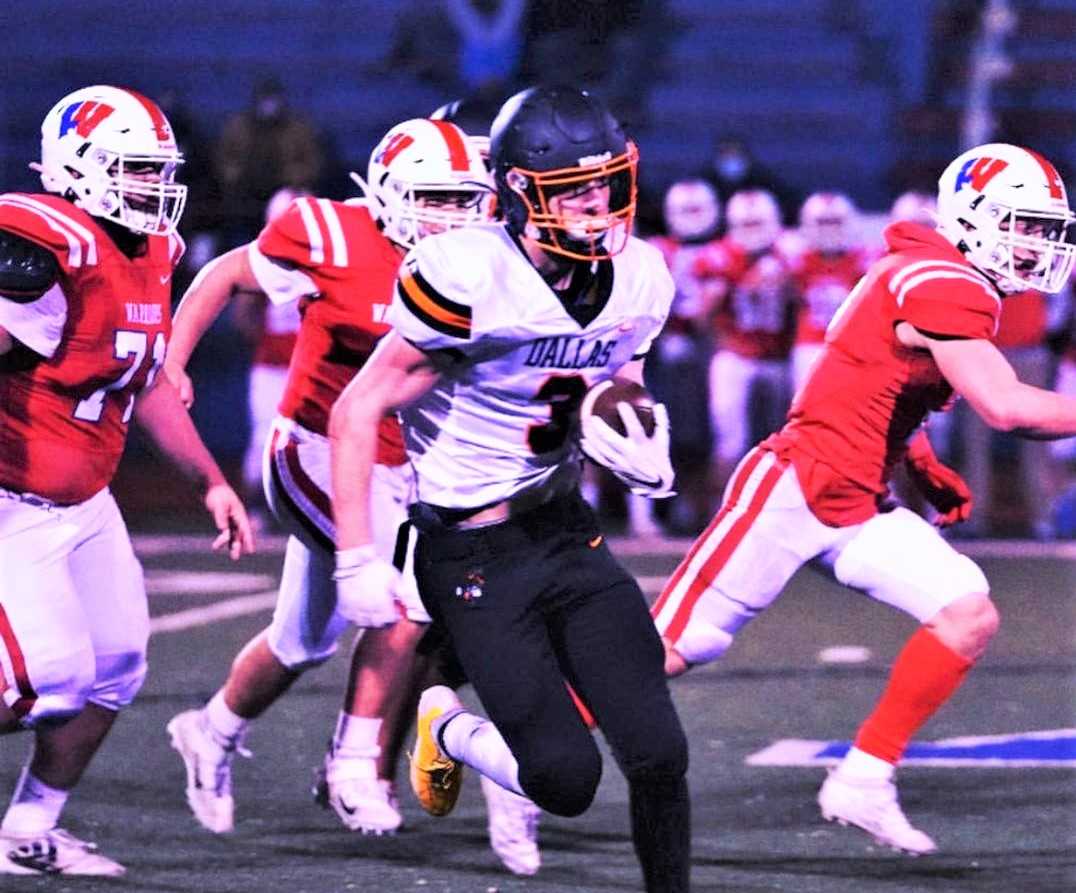 No question, the Dallas football team is feeling good about the giant strides it has made this season, moving to 5-0 for the first time since 2000 by beating South Albany 50-6 on Friday.
Despite their dominance, though, the Dragons' thirst for a signature win is unquenched. They have outscored their opponents 216-60, but those teams have a combined record of 6-17. Their Week 6 foe, Central, is 1-4.
In a perfect world, Dallas would have gotten a crack at West Albany (3-1) and Silverton (3-1) to make an argument for supremacy in the 5A Mid-Willamette Conference.
"I think everybody here wants to play those guys," Dragons coach Andy Jackson said. "The reason why I want to play them is I want to know, when this is all said and done, that we played the best people.
"I feel like we've got a pretty good ballclub, and we would love to play those games, and I think they would love to play us. But for whatever reason, it just didn't end up coming out that way. It is what it is. We have no control over it."
Jackson, who set a Portland Interscholastic League record by rushing for 1,700 yards as a senior at Madison in 2005, played at Western Oregon and joined Dallas in 2012 as the defensive coordinator under his father, Tracy.
Tracy Jackson went 28-32 in six years at Dallas before stepping down after the 2017 season. Andy took over as coach in 2018 and his staff includes his father and brother, Matt, the offensive coordinator.
Andy went away from the team's traditional double-wing offense in favor of a multiple-formation, run-blocking game with wing-T concepts. Dallas also has expanded its passing attack, throwing about 15 times per game.
The Dragons graduated 25 players from a team that went 6-4 in 2019, but filled the holes with a talented junior class that was the foundation for an unbeaten JV team.
Dallas starts eight juniors on offense, including the entire line, quarterback Ashton Foster and running back Logan Person. Foster has thrown eight touchdown passes and Person has rushed for five scores and is perfect as the team's placekicker.
"Logan Person is the real deal," Andy Jackson said. "He has a great way of seeing the field and making cuts."
Seniors lead the defense: Conner Nash at middle linebacker, Luke Hess at outside linebacker, Linfield-bound John Hofenbredl in the secondary, and DeShawn Martin and Colton Richardson on the line.
The future is promising for Dallas.
"I'm very hesitant to get too high," Andy Jackson said. "We're going to have to re-establish ourselves. We're never going to have it made. We're always going to be kind of on the edge."
Apollo mission
For Sunset coach Damien Merrick to gauge the scope of his team's 31-14 win over visiting Jesuit on Thursday, he needed only to look into the eyes of defensive backs coach Floyd Halvorsen Jr.
Halvorsen was an assistant with the Apollos the last time they beat the Crusaders in 1993, and took over as head coach in 1994, the year Westview opened and dipped into Sunset's talent pool.
Halvorsen was the team's head coach for 10 seasons and was on the staff to witness 26 consecutive losses to the Crusaders, many of them lopsided. So when Merrick walked off the field with him on Thursday, it magnified his appreciation for the win.
"That's when it really registered for me," Merrick said. "He was kind of holding back the emotion. You could see it on his face, just how much it meant to him to finally get over on those guys, and finally take care of business against them. It certainly was a long time coming, that's for sure."
Sunset (5-0) built a 21-0 lead at half and held off the Crusaders (2-3). The Apollos will take on reigning 6A champion Central Catholic (5-0) in their season finale on Friday, but for them, beating Jesuit felt like a championship in its own. They posed for a photo in front of the scoreboard after the game.
"Jesuit is Jesuit for a reason," Merrick said. "They do things the right way. So anytime you can beat those guys, whether it's a shortened season or not, that's a huge accomplishment. I'll take this over a long playoff run any day of the week right now. It's pretty special for these guys, for sure."
Merrick said his players were "not in the least bit" intimidated by the Crusaders.
"You could just sense it all week in practice, they knew they could compete with them," Merrick said. "They knew they were every bit as good as them. They had no doubt at all.
"This group, specifically, I really don't think they were surprised. They're not arrogant, they're not cocky, but they're just such a confident group, and they just love playing with each other."
Sunset senior quarterback Kyle Jaekel completed 15 of 18 passes for 263 yards and three touchdowns: 35 yards to senior Nic Janati and 48 and 54 yards to junior Chase Limbocker. Jaekel has thrown 14 touchdown passes without an interception this season.
"I can't tell you how impressed with him I was," Merrick said of Jaekel. "He got flushed out of the pocket and kept his eyes downfield and made some really big throws on the move. He's taken such good care of the football."
Unfortunately for the Apollos, who won their only state titles in 1975 and 1976, they won't get a chance to make history this season.
"I'm sure in the back of their minds they're probably playing the what-if game," Merrick said. "But I've never heard them say it out loud, or had any negativity about things they're missing out on."
Cardiac kids
No team has provided more drama of late than South Medford.
One week after going three overtimes on the road to beat Grants Pass, the Panthers orchestrated one of the best comebacks of the season Friday, rallying from a 20-point, third-quarter deficit to stun rival North Medford 35-34 in the 35th Black & Blue Bowl.
"It was a rough first half but in the second half we came out with it," South Medford senior tight end Carson Cota told the Medford Mail-Tribune. "I'm just so proud of my teammates, so proud of my brothers."
The Panthers (4-1) overcame a tour-de-force by North Medford senior Devin Bradd, who rushed for a series-record 306 yards and four touchdowns on 38 carries.
Down 27-7 in the third quarter, South Medford got a 32-yard touchdown pass from Deacon Edgar to Cota and a two-yard touchdown run by Carson Joe to make it 27-21. The Black Tornado (3-2) appeared to restore order, though, when Bradd cut loose for a 58-yard score for a 34-21 lead with 6:05 left.
But Edgar scored on a two-yard run – set up by a 60-yard pass to Cota – to pull within 34-28 with 1:53 remaining, and South Medford recovered the ensuing onside kick. Edgar ran for a seven-yard touchdown with 29 seconds to go, and Jude Pannell booted the go-ahead extra point.
"These kids just kept playing and that's the battle cry," South Medford head coach Bill Singler told the Mail-Tribune. "Just keep playing and good things will happen."
Edgar completed 13 of 24 passes for 224 yards, with 138 going to Cota. Pannell, who made all eight of his extra-point attempts in the 56-55 win over Grants Pass, was perfect on his five tries Friday and executed the successful onside kick.
With the victory, South Medford cut North Medford's edge in the series to 18-17.
"This is just huge," Cota told the Mail-Tribune. "It's the last game for most of us in a South Medford uniform and we just went out there and played with all of our hearts in the second half."
Going Greyhound
Gaston finished a surprisingly dominant season in style Friday with a 70-14 win at Vernonia.
The 2A Greyhounds, who hadn't posted a winning record since 2012, finished 5-0 and outscored their opponents 176-36. It marked the first time they won their first five games since 2011.
They made dramatic improvement from 2019, when they went 3-6. A season ago, they gave up a combined 139 points in losses to Knappa, Nestucca and Colton. This season, they shut out all three.
"My juniors and seniors have been starting since they were freshmen and sophomores," third-year coach Gary Hedin said. "We knew they were going to be competitive. We didn't know we'd be quite as good as we are."
The 14-0 home win over Knappa on March 22 was especially satisfying considering the senior class had never beaten the Loggers in any varsity sport. Last season, Gaston lost at Knappa 54-0.
Hedin installed a single-wing offense in 2019 and it began to blossom this season. Junior Jaden Dolan rushed for a team-high 538 yards and six touchdowns. Junior wing Brandon Clowdus, who scored on two long runs and two punt returns Friday, finished the season with nine touchdowns.
"They're getting more and more comfortable understanding how it works," Hedin said. "Our offensive line has come together and given us a chance to run the ball. It's 1950s football. We rotate a bunch of guys through at running back, and they just keep going at it."
The offensive line isn't massive but is athletic. It features senior center Geoffrey Heisler, junior guards Jaden Clark and Ian Cooper, junior tackle John Michael Garner and sophomore tackle Gary Bell. Cooper is the biggest of the lot at 230 pounds.
"The thing about our offensive line, I call the play but they decide how they're going to block it," Hedin said.
The linebackers – juniors Dylan Tallent and Austin Liesegang and senior Ben Oliver – led a swarming defense.
Hedin said the team talked about playing a sixth game but decided against it.
"At our school, our kids play every sport," said Hedin, 1987 Gaston graduate. "They didn't get to play baseball last year, and we wanted to make sure the baseball team got a shot at playing this year. They're starting baseball and track practice Monday afternoon."
The Greyhounds will try to carry their momentum into the offseason. All but three starters on each side of the ball are eligible to return.
"They were all excited about how they got to be a part of turning our program around," Hedin said. "They're excited about next fall, what we're going to be able to do."
4A showcase set
Representatives of 4A leagues voted on the final BCS-style rankings Saturday night, setting up showcase matchups for Week 6.
The April 10 schedule will feature No. 1 Mazama (5-0) vs. No. 2 Marist Catholic (4-1) and No. 3 Marshfield (4-1) vs. No. 4 Gladstone (5-0).
Mazama secured the top spot with a 60-6 win over Klamath Union in the Canal Bowl rivalry game Friday. Zeke Heaton and Colby Anderson each ran for two touchdowns for the Vikings.
Marist Catholic and Marshfield traded spots in the rankings after the Spartans defeated the visiting Pirates 39-21 on Saturday.
Marist Catholic led 18-13 after three quarters and pulled ahead 32-13 on touchdown runs by Lucas Tuski and Luke Patterson. It was a big day for Patterson, who ran for two touchdowns and caught two scoring passes from Joey Laing. Marshfield's Dom Montiel threw touchdown passes to DJ Daugherty, Pierce Davidson and Noah Niblett.
Gladstone beat Madras 32-6 on Friday as Jude Ashpole caught three touchdown passes from Brayde Owen.
The final rankings: 1. Mazama 80; 2. Marist Catholic 72; 3. Marshfield 59; 4. Gladstone 51; 5. Banks and Cascade (tie) 48; 7. Hidden Valley 23; 8. Estacada 22; 9. La Grande 15; 10. Henley 10.
The committee recommends No. 5 vs. No. 6, No. 7 vs. No. 8, and No. 9 vs. No. 10, but beyond the top four, teams are open to schedule their Week 6 opponents.
Ranger revenge
In 2019, Adrian/Jordan Valley unseated Dufur as the kingpin of 1A football.
The Antelopes not only snapped Dufur's 33-game winning streak by rolling the Rangers 66-8 in the season opener, but they went on to win the state title, ending Dufur's four-year reign at the top.
The Rangers got a measure of payback Saturday, though, outlasting the Antelopes 40-38 in a clash of titans at Dufur. Cooper Bales threw a 32-yard touchdown pass to Benjamin Schanno with 57 seconds left for the go-ahead score.
Dufur improved to 5-0 and Adrian/Jordan Valley fell to 4-1, suffering its first loss in 17 games.
"It was one of those games where it's a shame anybody had to lose," Dufur coach Jack Henderson said. "It was a battle from beginning to end. This was the best game on the Dufur football field since 1995. Kids were making great plays on both sides of the ball.
"It really seemed like Adrian and Dufur were the two best teams in the state today."
Led by dual-threat quarterback Conley Martin, the Antelopes outgained the Rangers 520-353. They trailed Dufur 22-12 early in the third quarter but came back to take a 38-34 lead on a 51-yard run by Martin with nine minutes left.
Bales rushed for 217 yards and four touchdowns and completed 9 of 15 passes for 89 yards and two touchdowns, both to Schanno.
It was a much different game than last year for the Rangers.
"That was a long time ago," Henderson said. "We had a bunch of inexperienced kids at the beginning of the season last year. Our kids have grown a lot."
Highlights from Week 5 games:
6A:
Sherwood rushed for 477 yards – getting 213 yards and five touchdowns on 10 carries from Clay Peden – to overwhelm Liberty 62-20. … Newberg remained unbeaten by holding off Mountainside 34-28. Price Pothier rushed for 299 yards and three touchdowns for the Tigers, who got a game-clinching interception from Owen Hawley with 1:15 left. Brian Mannion threw for 331 yards and four touchdowns for the Mavericks, including a 99-yard strike to Andrew Simpson. … Glencoe raced past McMinnville 42-7 as Jackson Kind rushed for 157 yards and two touchdowns and Royce Fasel threw three touchdown passes and ran for a score. …Logan Going completed 10 of 11 passes for 149 yards and four touchdowns, two to Luke Borchardt, in Grant's 41-12 win over Jefferson. ...
Grants Pass downed Eagle Point 49-24 as Hunter Gonzales completed 18 of 21 passes for 330 yards and five touchdowns. Three of the scores went to Devik Chiang who had eight catches for 196 yards. … Lake Oswego defeated rival Lakeridge 35-21 in the Battle for the Lake behind Gabe Olvera, who rushed for 126 yards and two touchdowns, and Jack Layne, who completed 15 of 24 passes for 224 yards and two scores. Lakeridge freshman Joey Olsen caught seven passes for 175 yards and three touchdowns. … McNary got four touchdown passes from Jack McCarty in routing North Salem 47-0. …Lincoln rushed for 364 yards to beat Roosevelt 33-19 behind Justius Lowe (136 yards, one touchdown), Jack Franzen (121 yards, three touchdowns) and Brady Kopetz (96 yards, one touchdown). ...
Adrian Mashia Jr. caught touchdown passes of 57 and 89 yards and returned a punt 70 yards for a score in Aloha's 40-20 win over Franklin. Tanner Volk threw three touchdown passes and ran for a score for the Warriors. … Southridge raced to a 21-0 lead in the first quarter on its way to beating David Douglas 34-7. Robert Marquez ran for two touchdowns for the Skyhawks. … Jackson Jones threw three touchdown passes, two to Cole Prusia, in Tualatin's 34-10 win over Tigard. … Logan Smith threw four touchdown passes as Sprague remained unbeaten, topping South Salem 63-28. … Mountain View improved to 5-0 by dominating Ridgeview 48-16. Jakoby Moss completed 17 of 26 passes for 368 yards and four touchdowns for the Cougars. …
Zachary Boehler ran for two touchdowns and threw for a score in Century's 48-6 win over Madison. … Blake DeBisschop threw three touchdown passes, two to Gavin Haines, and Thomas McNamara returned an interception for a score as West Linn blew past Oregon City 40-13 in the 100th Battle for the Bridge. … Beaverton edged Westview 14-7 as Hunter Borter threw two touchdown passes. … Jackson Lowery completed 13 of 21 passes for 230 yards and three touchdowns and ran for a score in West Salem's 49-6 win over McKay. Nate Garcia returned a kickoff 93 yards for a touchdown for the Titans. ... Reigning 6A champion Central Catholic held off host Clackamas 14-7 on Saturday for its 14th win in a row. Luke Johnson threw an 11-yard touchdown pass to Stryder Todd-Fields with 2:10 left to break a 7-7 tie. Clackamas' Luke Ash rushed for 203 yards and one score on 32 carries.
Other classifications:
The West Albany-Silverton game was canceled due to positive COVID-19 tests in the Silverton program. … Isaiah Schaffer ran for 172 yards and two touchdowns and threw for a score to lead Estacada past Crook County 46-19. … Vale beat Nyssa 29-8 as John Wolfe returned a punt for a touchdown and caught eight passes for 104 yards and Nathan Kimball rushed for 124 yards on 21 carries. … Scappoose blanked St. Helens 48-0 in the 7-Mile War, getting three touchdown passes and a scoring run from Luke McNabb. Deacon Smith caught a touchdown pass and returned an interception for a score. … Corvallis upended Central 28-22 as Connor Steeves threw fou touchdown passes, three to Solomon Wolfe, who had five catches for 122 yards. …
Warrenton defeated Yamhill-Carlton for the second time in six days, rolling 46-12. Hordie Bodden Bodden rushed for 110 yards and one touchdown and threw three scoring passes to Ethan Caldwell, who had five catches for 108 yards. Josh Earls collected his fifth interception of the season for Warrenton. … Ely Kennel threw three touchdown passes in the first half as Santiam Christian opened a 44-0 lead and cruised past Pleasant Hill 58-7. … Gavin Knights rushed for 288 yards and three touchdowns in Thurston's 45-31 win over Sheldon. Knights scored twice in the fourth quarter to help erase a 24-17 deficit. … Spencer Fisk kicked a 42-yard field goal as time expired to give Hidden Valley a 17-16 win over Henley. …
Trent Bateman had three catches for 131 yards and two touchdowns and Dylan Irwin rushed for 115 yards and two scores on four carries as Monroe downed Central Linn 43-0. … Oakland trailed Reedsport 7-6 at half before pulling away for a 36-7 win behind Corbin Picknell, who rushed for 237 yards and four touchdowns on 18 carries. … Freshman James Standley rushed for 118 yards and one touchdown on eight carries before leaving with a knee injury in Camas Valley's 60-22 win over Gold Beach. … Yoncalla/North Douglas dropped Myrtle Point/Powers 32-14 as Jordan Aguilar rushed for 219 yards and two touchdowns. … Elmira had five interceptions in overcoming Woodburn 29-21. … Lute Ramsden completed 13 of 17 passes for 159 yards and four touchdowns, two to Zeb Hermens, as Wallowa beat Powder Valley 30-20. ...
Blake Eaton threw for 386 yards and five touchdowns – two each to Dawson Douglas and Payton Anhorn – to propel Crater past Roseburg 42-7. … Cooper Peters rushed for 244 yards and five touchdowns and caught a 53-yard scoring pass for Elkton, which dispatched Siletz Valley 45-26. … North Valley got touchdown runs from Jaydon Twedell, Leo Freedman and Chris Currier to stop Phoenix 21-7. … Trailing Lebanon 34-32, North Bend's Coleman Compton threw a five-yard touchdown pass to Bridger Holmes with 28 seconds left for a 40-34 win. Compton ran for two touchdowns and threw for three scores, all to Holmes. … Astoria shut down Seaside 8-0 behind a touchdown run by Luke Cummings and a safety. …Bryce Indell lifted Willamette over Churchill 21-7 by rushing for 116 yards and two touchdowns and recording 20 tackles and a fumble recovery. ...
Gunner Yates had an 86-yard touchdown catch and 14-yard scoring run in Coquille's 22-14 win over Bandon. … Pendleton turned back Baker 49-26 behind Brogan Biggerstaff, who threw for 297 yards and four touchdowns and ran for a score. Tyasin Burns had five catches for 128 yards and one touchdown and rushed for 79 yards and one score for the Buckaroos. … Stanfield's Enrique Arellano rushed for 185 yards and two touchdowns to lead a 60-6 win over Riverside. Ryan Elizares added 160 rushing yards and two scores. … Weston-McEwen built a 26-0 halftime lead and cruised past McLoughlin 38-12. Taylor McGill returned an onside kick for a touchdown in the win. … North Marion's Marcus Ledesma ran for 120 yards and four touchdowns as the Huskies drilled Molalla 41-0. …
Isaac Herron rushed for 191 yards and three touchdowns on seven carries as Imbler overran Ione/Arlington 46-6. Imbler scored six touchdowns on 12 plays in the first half to lead 38-6. … Pilot Rock topped Union 38-0 as Tanner Corwin threw for two touchdowns and ran for two scores and freshman Austin Ford caught four passes for 93 yards and two touchdowns. … Jayden Wilson rushed for 83 yards and three touchdowns on six carries and threw a 49-yard scoring pass to Kason Cimmyotti as Heppner pulled away in the second half to beat Toledo 46-6. … Hillsboro defeated Forest Grove 28-16 behind Slade Shufelt's three touchdown runs. … Cooper Gobel completed 17 of 21 passes for 293 yards and three touchdowns to lead Banks past Tillamook 49-8.