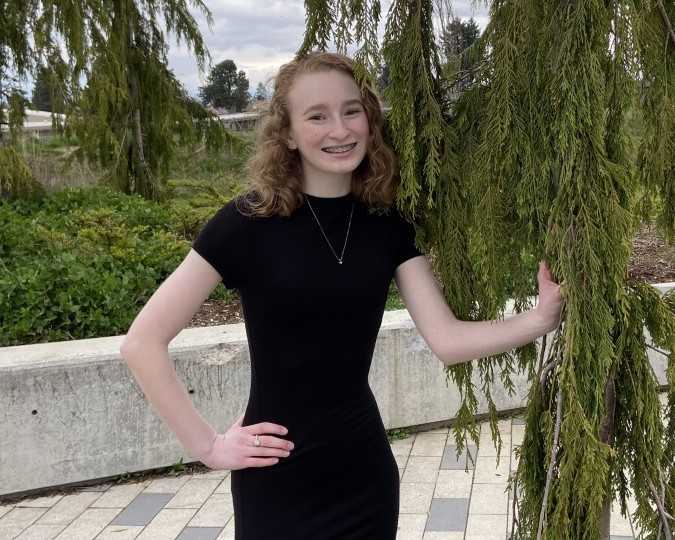 [Author's note: "Senior Spotlight" is a miniseries offering a quick look at some of Oregon's dance standouts. Today, we are getting to know Parkrose dancer DeLaney Fischer. Fischer is a four-year varsity dance team member and four-year member of the Bronco Band. She's a captain on the dance team and is the Band's percussion section leader. She was slated to be the Bass Drum Captain prior to COVID cancelling the 20-21 marching season. As a junior, she was named to the NWOC All League Dance Team. We provided Fischer with a series of questions answer, and here is what she shared!]
OSAAtoday: Why did you decided to join your high school dance team?
DeLaney Fischer: I had participated in ballet for many years prior, and I loved to dance so I knew I wanted to continue. What really convinced me though was two incoming seniors on the dance team who I met at band night where the incoming freshman met their sections. As part of a getting to know each other exercise, they asked about extracurricular activities. When I said I danced they told me to tryout for dance team and later they handed out fliers. I figured I'd tryout with a friend and low and behold it was one of the best decisions I made in my high school career.
OSAAtoday: What style of dance do you enjoy performing most?
Fischer: I have always loved contemporary. Due to only having past experience in ballet, hip-hop and other styles were much outside of my comfort zone. Through the years I have learned to love many different styles. A new favorite of mine I didn't expect turns out to be jazz.
OSAAtoday: If you could create a routine to any song what would it be? And why?
Fischer: I have given this much thought for the past four years! I have a hard time choosing just one song as there are many I'd pick for different styles, however overall, I would choose A Moment Apart by Odesza. The routine could go in so many different directions, but I love the idea of an emotional piece and expressing the breaths in the music through our movements. I think it would make such an amazing state routine.
OSAAtoday: What is your most memorable high school experience?
Fischer: Wow! I can't even begin to think about picking just one, however a big moment for me was being able to go to Disneyland with the band my freshman year. It was the first time I had been to Disneyland, so it was already super exciting, but besides that I was able to become close with lifelong friends. I will always love and cherish that trip.
OSAAtoday: What's next for you after graduation? Will you pursue dance after high school?
Fischer: I will be attending George Fox University in the fall to study psychology. George Fox has dance team that is a club program, which I plan to be a part of. They don't have a competitive dance team but any chance I get to dance I absolutely plan to take it.