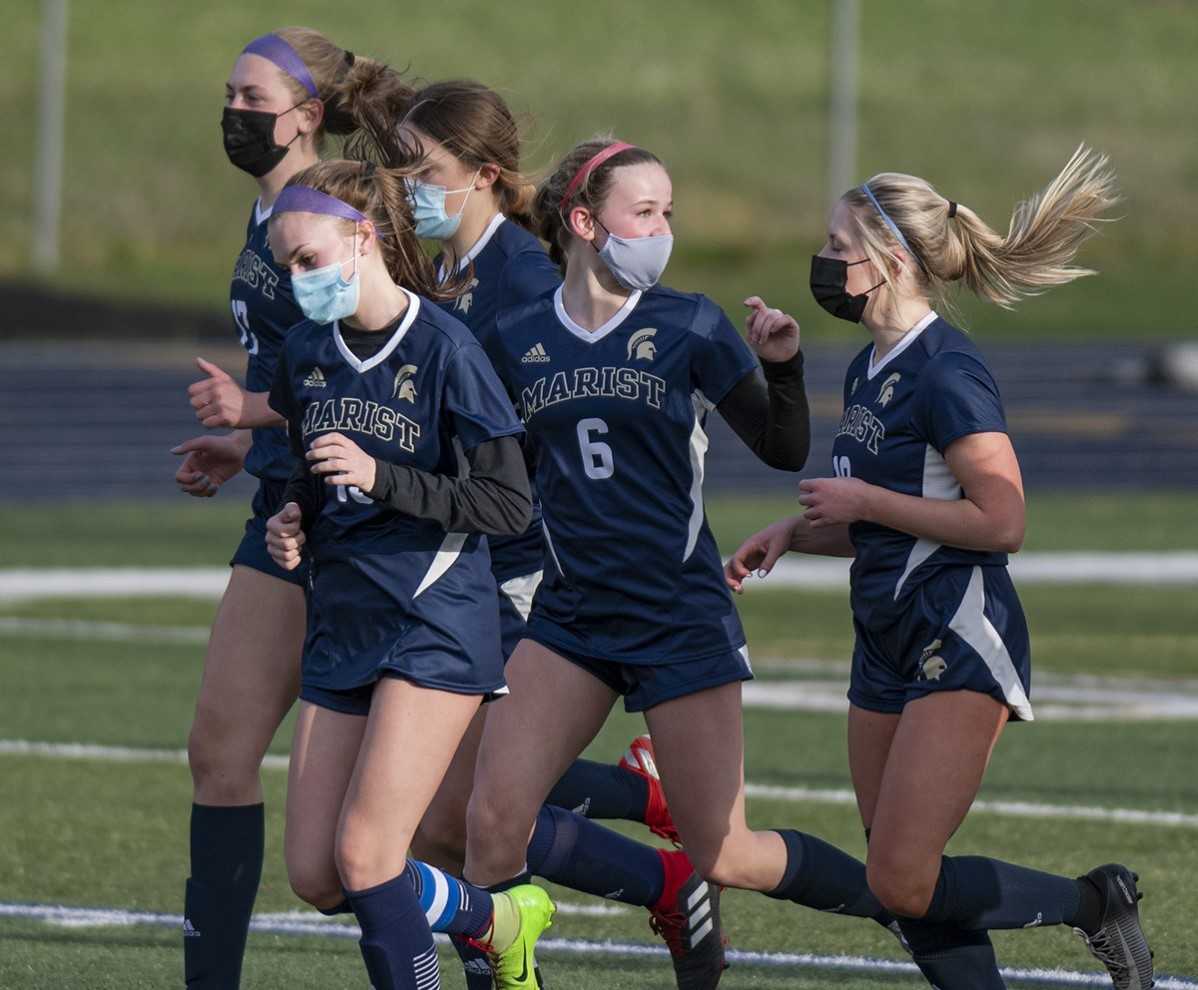 The Stayton boys and Marist Catholic girls have been on parallel paths since the 2019 soccer season.
Both teams lost 1-0 in the 4A championship games. Both teams, with much of their lineup intact, had high hopes for 2020. And both were left not knowing if they would ever get a shot at redemption.
Now, after impressive regular seasons, they will get that chance. Both will take No. 1 seeds into the season-ending 4A Elite 8 Showcase tournament this week.
"We're pretty blessed to have the opportunity to play in some type of postseason," Stayton coach Chris Shields said. "In my opinion, the eight teams represented are the eight strongest teams that could be. I feel like everybody is in this because they earned the opportunity.."
The first round is Tuesday with the semifinals Thursday and the finals Saturday. Matches will be played at home sites, but if a team must make a round trip of at least 360 miles, the game will move to a neutral field.
The tournaments were organized by 4A representatives. Each of the six leagues submitted No. 1 and No. 2 teams, with the No. 1s earning berths along with the top two No. 2s, as ranked by a committee.
They aren't official state championships, but the winners will have some serious bragging rights.
"Looking at the bracket, it's the best of the best in 4A," Marist Catholic girls coach Stefan Schroffner said. "We're really excited to compete for it. It's very unique, three games in five days. It's going to be grueling, but it's going to be exciting."
Marist Catholic (7-2) plays No. 8 seed Astoria (7-2) at Stayton High School in a first-round game Tuesday. The Spartans have not played any of the teams in the bracket.
"That was one of the unique things about this season," Schroffner said. "We usually like to really stack up our nonleague games. With five weeks and only nine games, it only gave us the opportunity to really play in our league."
Since dropping from 5A to 4A in 2018, Marist Catholic has lost only two matches to 4A teams, falling to Hidden Valley in the 2018 semifinals and Woodburn in the 2019 final. The Spartans' losses this year came against 5A teams: 1-0 to Scappoose on March 6 and 4-1 to Wilsonville on March 27.
Marist Catholic graduated four first-team all-league players from last season, including state player of the year Ella Koulombe, but returned seven players who received all-league recognition and added senior Sawyer Weybright, who was all-league for Cottage Grove in 2019.
Senior forward Abbie Chambers, who had 23 goals and six assists in 2019, has a team-high 11 goals this season. The Spartans also are getting good production from freshman midfielder Cloe Chase (10 goals, four assists).
Marist Catholic has outscored its foes 39-5 as its defense has been outstanding in front of junior goalkeeper Tessa Woodrum. Schroffner said that junior Anna Watts is "probably the best center back in the state," and sophomore Paige Meador has helped lead on the back line.
Reigning 4A champion Woodburn (4-3-2), which played a 5A Mid-Willamette Conference schedule this season, is the No. 6 seed and will open at No. 3 North Marion (8-1) on the opposite side of the bracket. The loss to the Bulldogs in the 2019 final has motivated Marist Catholic.
"That does hang in our minds," Schroffner said. "The score didn't come out our way over 80 minutes. We understand that, we've digested that and we remember that."
In 2019, Stayton's boys beat Woodburn in both Oregon West Conference matches but fell to the Bulldogs in the state final. It was a crushing defeat, but it hasn't been a rallying cry for the Eagles this season, according to Shields.
"I don't think we've actually discussed that as a team," Shields said. "It's been more about this is this year's group of kids, this is their year. This is their opportunity to make the best of the situation."
Shields said that the 2019 season "seems like a million years ago" considering everything that has transpired in the meantime.
"Guys put on weight. Their focuses changed. We've got kids who are working a little bit more now," Shields said. "It's been juggling all the different things coming at us. It's hard to compare seasons. We didn't have nearly the obstacles in 2019 than we currently have."
The Eagles (9-0), who play at home Tuesday against No. 8 seed Marshfield (7-1-1), returned seven starters from last season. They have outscored their opponents 50-3, their closest match a 1-0 decision over Philomath on March 27.
Senior Julian Flores leads Stayton with 16 goals. Freshman Ishmel Esparza and junior Jayden Esparza have added 10 and eight goals, respectively.
Marist Catholic, which lost to Stayton in the semifinals last season, is the No. 2 seed. The Spartans open at home against No. 7 Henley (6-1-1), which is coming off a 1-0 win over previously unbeaten Phoenix (8-1), the No. 3 seed.
Reigning 4A champion Woodburn (5-1-3), which played in the 5A Mid-Willamette this season, is not in the field.
4A Elite 8 Showcase
First round, Tuesday
Girls
No. 8 Astoria vs. No. 1 Marist Catholic at Stayton HS
No. 5 La Grande vs. No. 4 Hidden Valley at Gladstone HS
No. 6 Woodburn at No. 3 North Marion
No. 7 Gladstone vs. No. 2 Philomath at Crescent Valley HS
Boys
No. 8 Marshfield at No. 1 Stayton
No. 5 Seaside vs. No. 4 Ontario at Sisters HS
No. 6 North Marion vs. No. 3 Phoenix at Sutherlin HS
No. 7 Henley at No. 2 Marist Catholic