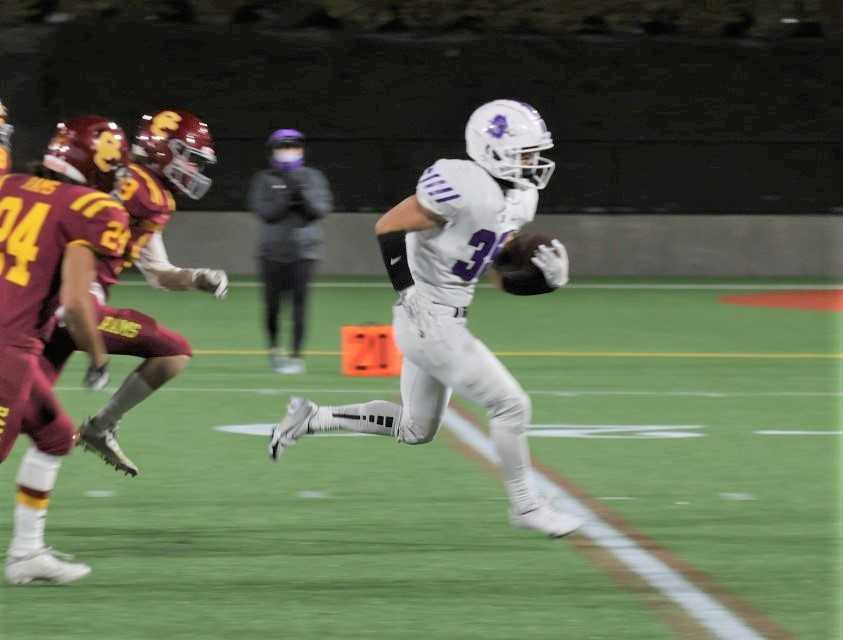 HILLSBORO – In a football season without a state champion, Sunset made its best case to be one Friday night at Hillsboro Stadium.
Sunset took reigning 6A champion Central Catholic to the mat, and after the Rams scrambled to their feet in the fourth quarter, the Apollos delivered the final blow in overtime to win 38-31 in what someday might be considered as the best game that almost nobody saw.
"It felt like the state championship game to us," said Sunset junior running back Caleb Kim, who rushed for 169 yards and three touchdowns on 29 carries, including a one-yard score in overtime. "Even our coaches are talking about this is a feeling that they've never felt. It's an amazing feeling."
It was the perfect capper to a 6-0 season for Sunset, and came one week after the Apollos knocked off the state's other private-school titan, Jesuit, for a rare back-to-back feat that was a topic of discussion in the team's postgame huddle.
"I don't know if anyone's ever done that," Sunset coach Damien Merrick said. "It's a huge accomplishment to beat those teams in back-to-back weeks."
Now, with no playoffs, the debate about 6A's best team this season is inevitable. Sunset has an impressive resume, as does West Linn (6-0), which romped over previously unbeaten Newberg 33-7 on Friday. West Salem (6-0) and Mountain View (6-0) are the only other 6A teams without a defeat.
"Even though it was a six-game season, it'll be something to remember for a long, long time, because we finished the way that we did," Merrick said. "I can't imagine the end of the season feeling much better than this."
How would the Apollos do against West Linn?
"We thought we'd be playing them at the end of the season," senior receiver Nic Janati said. "We'd love the opportunity, but it is what it is."
Sunset was in command early in the fourth quarter when it led 31-13 and had a first down at Central Catholic's 25-yard line. But Kim fumbled, junior defensive lineman Myale Jones recovered, and the Rams began to chip away.
"We were a little deflated after that point," Merrick said.
Junior Luke Johnson threw touchdown passes of six and 40 yards to junior Jordan King, and Central Catholic forced overtime at 31-31 on a 33-yard field goal by senior Atticus Sappington with seven seconds left.
Central Catholic's momentum appeared to spill over into overtime when, on the first series, Sunset faced fourth-and-27 at the Rams' 42. But that's when Sunset came up with the play of the game.
Senior quarterback Kyle Jaekel rolled to his right and lofted a pass down the sideline toward the 5-foot-8 Janati, who came down with the ball at the 5-yard line despite being surrounded by three Rams.
"I saw the ball in the air, and that was the only thing I was worried about," Janati said. "I wasn't worried about people around me or anything else. We've done that go-route about a million times during practice. It finally translated, and we all benefit from it."
Jaekel said he knew to look for his "best friend and brother," Janati.
"When the time gets rough, I usually just chuck it up to him and he comes down with it most of the time," Jaekel said.
Merrick marveled at the play, which ended a streak of seven consecutive incompletions for Jaekel.
"I don't know if any of us can take a whole lot of credit for that one," Merrick said. "A lot of luck in that one. He just threw it up to a spot where he could get it. He just made an unbelievable catch."
Three plays later, Kim scored on a one-yard run, and junior Sam Harker added the extra point for a 38-31 lead.
On its overtime series, Central Catholic earned a first down at the Sunset 14. But on second-and-10, Apollos junior linebackers Kaeden Ball and Aiden Timbo pinned Rams junior running back Ellis Bynum for a five-yard loss. Johnson threw incomplete on third and fourth down, the final pass knocked down by Sunset senior Nick Molitor.
The clinching play set off a wild celebration by the Apollos, who answered every challenge this season after going 5-5 and losing in the first round of the 6A playoffs in 2019.
"It just shows a lot of who we are as a team and a program," Jaekel said.
Merrick credited his players for sticking together through a trying offseason.
"We didn't lose one single senior. That might be the most special to me," Merrick said. "They cherished the opportunity to be together, which I think in this COVID world, that's as important as anything."
Jaekel completed 11 of 23 passes for 256 yards and two touchdowns, strikes of 19 and 48 yards to senior Owen Stark. Jaekel finished the season with 16 touchdown passes and no interceptions.
"Kyle is the most underrated, but he deserves the hype," Kim said. "He's everything you want in a quarterback. He's consistent, he's a leader. He's never down, and he's always consistent with the ball."
After spotting Central Catholic a 7-0 lead, Sunset scored 24 consecutive points to open a 24-7 lead midway through the third quarter. The Apollos had the Rams on their heels.
"They punched us in the mouth a little bit. Shocked us a little bit," King said.
The 5-11, 190-pound Kim jabbed, darted and powered his way through the Rams, scoring on two one-yard runs and a 35-yard burst up the middle. In six games, Kim rushed for 770 yards and 13 touchdowns.
"We couldn't have done it without him," Jaekel said.
Central Catholic had a 508-437 edge in total yards. Johnson completed 19 of 32 passes for 223 yards and two touchdowns with one interception. King had eight catches for 109 yards and two scores. And the Rams got a breakout performance from Bynum, who scored on runs of 59 and 80 yards and finished with 185 yards on 14 carries.
"Ellis showed up," Central Catholic coach Steve Pyne said of Bynum. "He's been closer to having those games over the last couple weeks. A shoelace tackle away, that kind of thing. He had a great night. I think he kind of figured out being a patient runner matters."
The defeat stung the Rams, but they took solace in the way they rallied from an 18-point deficit in the fourth quarter.
"It just shows our resilience," King said. "We didn't back down. We were down three possessions. Just sideline energy, everything just increased after we made a big play, that forced fumble by Myale Jones."
Said Bynum: "We fought through adversity. We knew we had it in us, we just couldn't get it done."
Pyne said he was "extremely proud" of how his team battled.
"We knew we were playing a really good team," Pyne said. "They're no slouch. And we're a young team. We have nine seniors. I thought it showed a lot of character on our part. Give them credit. They made the plays when they had to."