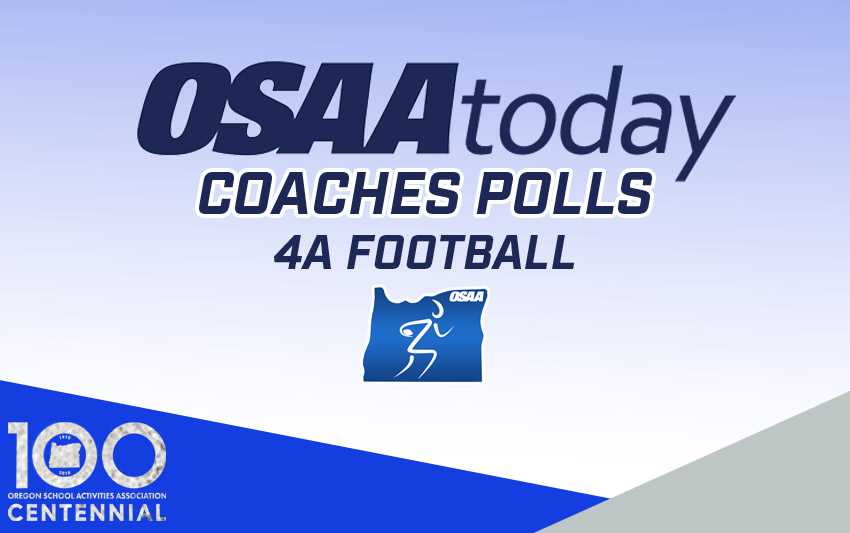 Week 6 Statewide Football Coaches Poll 4A
OSAAtoday presents its weekly 4A Football Coaches Poll. Thanks to all the coaches who took the time and had the expertise to contribute their opinions to this endeavor.
Please note: these polls are for generating interest and discussion only and have no impact on the OSAA's RPI and Colley ratings that form the basis of the OSAA's rankings for playoff purposes.
4A Football
1. Seaside (12) [1] 6-0 127
2. Banks [3] 5-1 109
3. Marshfield (1) [2] 5-1 105
4. Mazama [4] 4-1 90
5. Gladstone [5] 4-2 85
6. Estacada [6] 5-1 47
7. Newport [8] 6-0 44
8. Marist Catholic [7] 3-3 40
9. La Grande [nr] 4-2 26
10. Sweet Home [10] 4-2 16
First-place votes in parentheses
Last ranking in brackets
Record listed is what's posted on www.osaa.org
Others receiving significant votes: None
Notes: Nate Beck ran for a 97-yard touchdown on an option keeper in Mazama's 14-6 win over Marist, which got a 90-yard punt return for a score from Hagen Stevenson. … Alexander Teubner rushed for 177 yards and four touchdowns as Seaside beat Molalla 36-7, holding the Indians to 76 total yards. … Nick Keller ran for 180 yards and three touchdowns and threw for 175 yards and one score to lead Estacada past North Marion 28-20. … Gladstone held off Crook County 14-6, overcoming three fumbles in the red zone. ... Newport edged Stayton 13-12 to improve to 6-0, getting the go-ahead touchdown in the third quarter on a 39-yard run by Tanner Stottlemyre. Addison Galen rushed for 130 yards on 31 carries for Newport. ... Banks' Hayden Vandehey completed 14 of 20 passes for 304 yards and six touchdowns -- four to Blake Gobel -- as the Braves took out Valley Catholic 55-0.