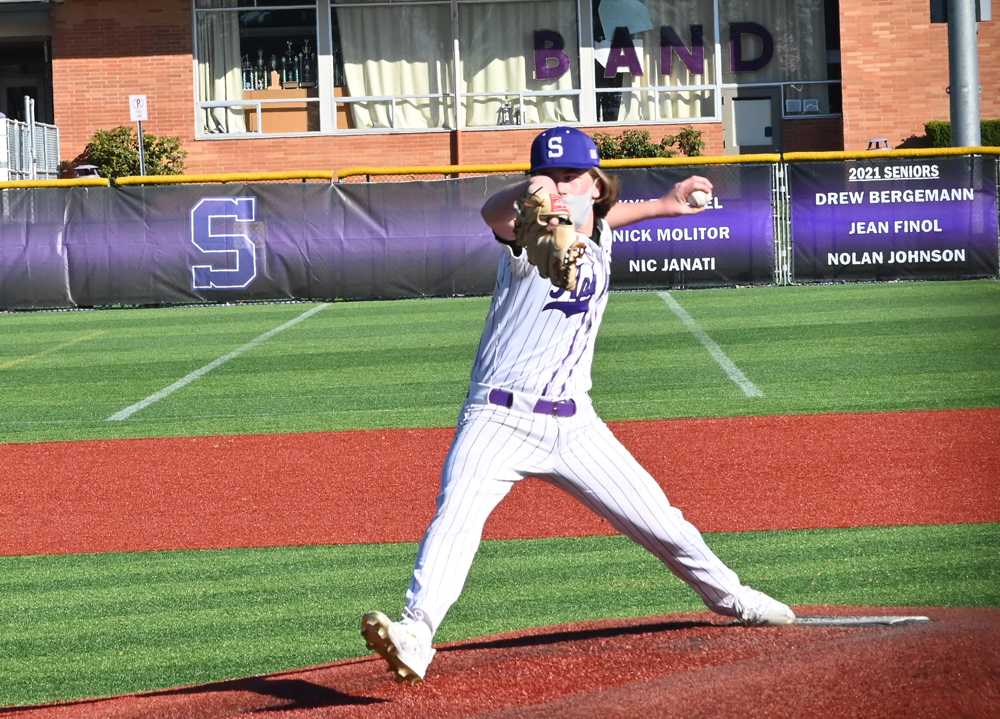 Every other week during this COVID-shortened season, we'll talk some Oregon high school baseball. This is the place!
EXTEME-ly upsetting!
It appears that COVID-19 isn't through with us yet. A recent spike in cases and hospitalizations will send 15 of the state's 36 counties from the high risk category to the extreme risk level on Friday. What that means for outdoor baseball, according to the OSAA's interpretation, is that spectators for baseball games in those counties will be limited to 50. Some baseball programs in those counties are moving up their scheduled Friday games to Thursday this week and having Senior Day recognitions so that more family members can attend.
Warrior mentality
Warrenton has started 3-1 as one of the best teams in 3A, but the challenges have been plenty.
"For me, the story this year at Warrenton—and probably everywhere else—is our commitment to persevere despite all the obstacles," coach Lennie Wolfe said. "Baseball began in September, and then air quality from fires shut us down. We restarted, and then a large COVID outbreak in town shut us down. We kept restarting, and our turnout was phenomenal. The kids are resilient!"
Because Warrenton's athletes all play multiple sports, football and baseball overlapped practices. Wolfe anticipates the same will happen with baseball and the Season 4 sports.
"I'm proud to work with the coaches of other sports who embrace that," Wolfe said. "We're all grateful to get to play, and we're having a blast!"
Immaculate!
Last Friday, Umpqua Valley Christian senior Devin McLaughlin threw an "immaculate inning" – nine strikes in a row for three strike outs – in a win against Riddle.
"I've never seen one of those in my 22 years of coaching," said UVC coach Dave York.
McLaughlin gave up a lead-off single, then got the No. 2 hitter to ground out. He struck out the next 11 batters he faced before the game was called after the fourth inning by agreement of the coaches and umpires.
Hey champ!
Covid canceled baseball around the state in 2020, so the 2019 state champions remain, technically, the defending champions heading into this season. Here's a recap of the top four finishers in each of the OSAA's five divisions from 2019, with their records year to date:
6A
1. Jesuit 7-0
2. Central Catholic 3-2
T-3. South Salem 3-4
T-3. Clackamas 6-1
5A
1. Central 1-4
2. Pendleton 6-1
T-3. Thurston 4-4
T-3. West Albany 5-1
4A
1. Banks 7-0
2. Henley 3-3
T-3. Hidden Valley 4-0
T-3. Astoria 2-4
3A
1. La Pine 4-1
2. Warrenton 3-1
T-3. Santiam Christian 5-1
T-3. Pleasant Hill 3-5
2A/1A
1. Umpqua Valley Christian 6-1
2. Kennedy 6-0
T-3. Knappa 7-0
T-3. North Douglas 2-1
Winning!
Just over two weeks into the season, 20 of the 200 teams playing Oregon high school baseball remain unbeaten. Here they are, by enrollment classification:
6A
Grant 7-0
Jesuit 7-0
Lakeridge 7-0
5A
Willamette 7-0
4A
Banks 7-0
Hidden Valley 4-0
Marist Catholic 7-0
North Marion 7-0
Phoenix 6-0
3A
Brookings-Harbor 7-0
Catlin Gabel 3-0
Rainier 6-0
2A/1A
Culver 5-0
Dufur / South Wasco County 4-0
Glide 5-0
Kennedy 6-0
Knappa 7-0
Lakeview 4-0
Monroe 7-0
Western Christian 6-0
Of the undefeated teams, several have demonstrated utter dominance. Jesuit has outscored opponents, 60-6. For Lakeridge, it's 72-7. Kennedy is 87-6, North Marion is 76-9, Catlin Gabel is 32-2 and Brookings-Harbor is 85-11.
Logging the runs
Knappa is off to a 7-0 start and is averaging almost 12 runs per game. That might be expected of a team that reached the 2A/1A semifinals in 2019, but consider this: 11 of the team's 16 varsity players had never even played a JV game before this year and two are trying high school baseball for the very first time! The Loggers have just one senior, Cameron Miethe, and he is the only player with varsity experience.
"It has truly been a team effort of contributing to learning to play the game and how to compete," coach Jeff Miller said.
Junior Drew Miller (no relation), and Miethe, have been steady forces early in the year and three freshmen have been huge sparks, Treven Moreland and Kutter Ball at the plate; and Jaxon Dietrichs on the mound.
I coulda been a contender!
Here's an informal ranking of the top five schools in 6A:
1. Lakeridge
2. Grant
3. Jesuit
4. Clackamas
5. Barlow
Here's an informal ranking of the top five teams in 4A:
1. Banks
2. North Marion
3. Hidden Valley
4. La Grande
5. Mazama
Here's an informal ranking of the top five teams in 2A/1A:
1. Monroe
2. Kennedy
3. Umpqua Valley Christian
4. Glide
5. Reedsport
Setting the Pace
Some have hailed Lakeridge's team as among the best in Oregon history. The Pacers, who have started 7-0 heading into a series with West Linn, have a roster loaded with Pac-12 talent. SS Cam Clayton is going to Washington, 3B Josh Schleichardt and C/SS Mason Utech are slated to attend Utah, 2B Dawson Santana has verbally committed to Oregon and LHP Paul Wilson will pitch for Oregon State, if he goes the college route. Head coach Ray Pearson, who took over the job last year after DJ Whittemore left for the college ranks, also has senior RHP George Eisenhardt (Xavier), senior CF Derek Seneker (Claremont-McKenna College) and unsigned senior 1B/RHP Mac Elske, who is every bit as talented as older brother Dutton Elske, who was Oregon 6A POY in 2016.
"We are fast, good on defense and our pitching is pretty dominant," Pearson said.
Clayton, whom Pearson calls "an all-time great," has performed "off the charts" in the early going. He and Utech, a great athlete; have been the team leaders, while sophomores Santana and Wilson have eye-popping talent.
Pearson said that, with so much talent, he and his staff spend very little time coaching during games.
"We just let them play baseball," Pearson said. "One key, I think, was helping to bring fun back to the game for them."
Dragons breathing fire
Monroe is off to a scorching start in 2A/1A, outscoring opponents 110-20 while building a 7-0 record. The Dragons' signature win came on April 21 versus 3A power Santiam Christian. Monroe trailed 4-2 in the sixth before plating six in the 8-4 win.
"We brought back a good group of upper classmen who had experience as sophomores," coach Bill Crowson said. "Dylan Irwin (SS/P), Austin Teran (OF/P), Alex Strand (2B/P), and Tom Koch (OF) are all seniors with good experience in the program. Trent Bateman (UT/P), Brody Ballard (INF/P), Spencer Ross (C), and Colton Wellette (UT/P) are all juniors, also with experience at the varsity level."
Teran and Ballard have been pretty dominant both on the mound and at the plate. Irwin has been a dynamic bat and Bateman has been solid on the dump.
"Overall, I feel like we're a solid group," Crowson said. "I certainly believe we could make a run at something but know that UVC, Kennedy, and Knappa are all very strong as usual. With the tight league schedules we're not going to have as much opportunity to see other programs. With the fast start, limited practices, and low pitch counts it feels like a different type of season. It will be interesting to see how teams develop pitching as we progress. We're fortunate to have several kids who compete well on the mound and we feel good about our depth there. It's been great to be outside with the kids and doing positive things."
Cracker box?
The measurements at Grant's new field may inevitably play a part in helping them break some offensive records. Measuring just 285 feet down the left field line, 300 feet down the right field line and power alleys in the 325-foot range, the field has contributed to the Generals' smashing 16 home runs on the season so far! Senior Kaden Segel and sophomore Kellen Segel have led the way.
Next level stuff
College scouts should start paying closer attention to Oregon's high school baseball players. The state is producing high impact, collegiate performers in 2021. Here's a team of homegrown talent that could compete against the best in the nation:
1B: Gabe Matthews, South Salem (Univ. of Oregon) -- .336, 4 HRs, 21 RBIs
2B: Tim Tawa, West Linn (Stanford) -- .339, 5 HRs, 26 RBIs, 11 SBs
SS: Andy Armstrong, West Salem (Oregon State) -- .359, 2 HRs, 24 RBIs, 4 SBs
3B: Jake Dukart, Lake Oswego (Oregon State) -- .265, 1 HR, 13 RBIs
OF: Jacob Melton, South Medford (Oregon) -- .404, 6 HRs, 25 RBIs, 8 SBs
OF: Joe Casey, Crescent Valley (Oregon State) -- .295, 6 HRs, 31 RBIs
OF: Aaron Zavala, South Salem (Oregon) -- .387, 4 HRs, 19 RBIs, 8 SBs
DH: Kenyon Yovan, Westview (Oregon)-- .308, 9 HRs, 31 RBIs
C: Sam Olsson, Sheldon (Oregon) -- .250, 1 HR, 5 RBIs
SP: Bradley McVay, Milwaukie (Univ. of Portland) – 5 wins, 2.98 ERA
SP: Robert Ahlstrom, North Eugene (Oregon) – 3 wins, 2.70 ERA
SP: Zane Mills, Lincoln (Washington State) – 4 wins, 3.81 ERA
SP: Caleb Franzen, West Linn (Portland) – 2 wins, 1 save, 2.72 ERA
RP: Kolby Somers, Century (Oregon) – 7 saves, 1.54 ERA
RP: Willie Weiss, Westview (Univ. of Michigan) – 3 saves, 1.15 ERA
RP: Eli Morse, Cleveland (Portland) – 8 saves, 2.63 ERA
RP: Mitchell Verburg, Lake Oswego (Oregon State) – 1 win, 1 save, 1.72 ERA
Odds and ends…
On April 19, Santiam Christian head coach Matt Nosack earned career win No. 600. It came against 2019 2A/1A champion Umpqua Valley Christian…Nosack now has 601 wins and needs 12 more to tie for fourth place on the state's all-time list…Monroe head coach Bill Crowson needs just two more wins to move into the top 10 in all-time wins. Once he reaches that mark, he'll join Nosack, North Marion's Randy Brack and Warrenton's Lennie Wolfe among active coaches in the top 10… Hidden Valley's fast start includes three wins over 2019 4A runner up Henley. Isaac Hill has three homers in four games and Nate Vidlak was won twice while fanning 28 in 11 innings on the mound…
… Hayden Hyatt has played a big role in Heppner / Ione's 6-1 start. The senior right hander has thrown 19.2 innings without giving up an earned run. In an outing last Friday, he threw just 74 pitched in shutting out Joseph / Enterprise / Wallowa / Elgin… Chance Wallace and Gage Lee have spurred Sunset's 5-2 start. Wallace has a 15-strikeout game under his belt and Lee hit for the cycle on April 21 versus Aloha… Clatskanie dedicated Lester Wallace Field on April 23. The "El Dub" honors a longtime teacher/coach/administrator at the school who worked for several years as one of the Directors of the 4A Baseball All-Star Series. "His dedication to Oregon athletes has gone far beyond a career commitment," Warrenton coach Lennie Wolfe said.