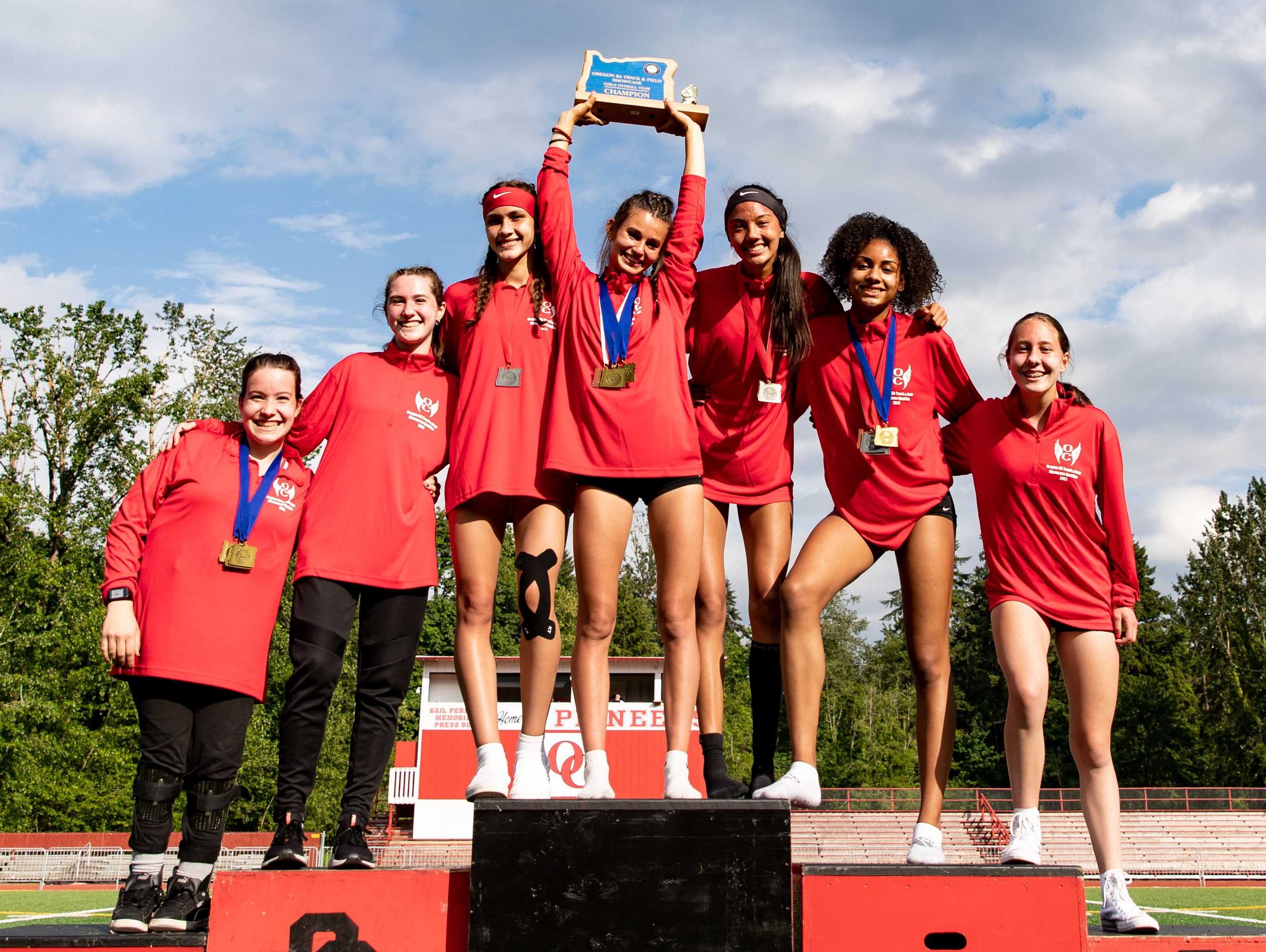 It wasn't Hayward Field, and it wasn't an official state meet, but the Oregon 6A Track and Field Showcase at Oregon City's Pioneer Memorial Stadium on Friday and Saturday packed all the emotion and meaning of a state championship.
Just ask Terrel Smith and Kristin Mull, coaches of the first-place Sherwood boys and Oregon City girls, respectively.
For Smith, who has never won a team state title since his coaching tenure began in 1986, the meet represented a breakthrough. One year after the Bowmen had their best chance at a state title snatched away by the COVID-19 crisis, they found redemption in victory at the Showcase, which included all but six 6A schools.
"We're actually thrilled," Smith said. "We had been disappointed because we had a group that we thought could pick up something. We had it set up for last year. Could we sustain that through COVID and still be able to compete at this level? The proof is in the pudding. Here we are."
From Mull's perspective, she got a chance to see the Oregon City girls come full circle from their state co-title in 1989, when she was a standout javelin thrower on the team.
"That's a long time ago," said Mull, who has coached at Oregon City since 1994, taking over as head coach in 2003. "The people I was with back then were great, and this group is awesome, too. It's cool. It was fortunate that we got to do it on our home field, at our track."
Sherwood's boys scored 120 points to pull away from Wells (68), Newberg (61), Central Catholic (55) and Sandy (44). The Bowmen got big performances from senior Noah Culbertson, who won the shot and was runner-up in the discus, and senior Asher Krauel, who took the javelin with a school-record throw of 198-7.
But there was so much more for Sherwood.
The 4x400-meter relay – with junior Davyon Sanders, junior Jeffery Rogers, senior Charles Verkamp and junior Ethan Sturdivant – finished second in school-record time (3:23.78).
Rogers set school records in finishing fourth in the 3,000 (8:26.59) and seventh in the 1,500 (3:54.34). Sanders was second in the high jump and sixth in the long jump. Sophomore Austin Milton took third in the javelin. Senior Bryan Cuthbertson placed fourth in the shot.
"It appears that we hadn't peaked until today," Smith said. "You've got to show up to the dance and you've got to perform. At every point, our kids really stepped up and actually exceeded our expectations. Probably over my entire career, up and down the board for the boys, this was the most satisfying win."
Yes, Centennial, Grants Pass, Gresham, McNary, Roseburg and North Medford did not participate in the meet, but in reviewing the state-best lists, Smith said the presence of those teams would have had minimal impact on the scores. He asserted that the qualifying process for the meet, largely based on the state-best lists, set a higher bar than the usual automatic district berths.
"We'll put money on the fact that there were many events at this meet that were better than any state meet," Smith said.
Franklin senior Charlie Robertson won the 3,000, two years after taking the event in the 6A meet. Central Catholic senior Liam Shores won the 200 and 400 and was the anchor for the winning 4x400 relay.
Other top performers were Sheldon senior Vincent Mestler (first-800, second-1,500), Sandy senior Tanner Brewster (first-discus, second-shot), Wells junior Nolan Malcomson (first-300 hurdles, first-4x100), Newberg senior Owen Hawley (first-long jump, second-triple jump) and Newberg junior Blake Smith (first-triple jump, second-long jump).
Oregon City's girls outscored Summit 90-79 for first place. Lake Oswego (68), West Linn (55) and Sheldon (52) followed.
The Pioneers were led by junior Harley Daniel, who won both hurdles races and was third in the long jump, and sophomore Sophia Beckmon, who won the long jump and placed second in the 200 and third in the 100. Junior Grace Leasure was third in the triple jump and fourth in the high jump.
Oregon City's 4x400 team of freshman Samara Lugo, Leasure, Daniel and Beckmon finished second by one one-hundredth of a second to Lake Oswego.
"There weren't a lot of PRs, but they were right on them. They were consistent," Mull said of her athletes. "They did a fantastic job. They just performed really well, came out and did what they were supposed to do."
Given who is eligible to return, the Pioneers could be going for a 6A title in 2022.
"I think we'll go back next time, and it's going to be fun," Mull said. "Even I would say that there's something magical about Hayward."
Lake Oswego freshman phenom Mia Brahe-Pedersen won the 100 (11.68) and 200 (24.09) and ran on both winning relays. The Lakers' 4x100 relay – sophomore Chloe Collier, freshman Josie Donelson, junior Lauren DeGroot and Brahe-Pedersen – clocked 47.35, which ranks No. 4 on the state's all-time list.
Jesuit junior Chloe Foerster, the 6A champion in the 800 as a freshman, won the event by 2.4 seconds over Summit junior Magdalene Williams in a highly anticipated duel.
Franklin senior Autumn Ost won the 1,500 and 3,000 and Glencoe senior Jayda Lee took first in the shot and discus.
5A
Seniors Nerissa Thompson and Eimy Martinez showed the way as North Salem's girls finished first in the 5A Invitational at Wilsonville on Friday and Saturday.
Thompson won the 100, 200 and long jump and Martinez took the 1,500 and 3,000 for the Vikings, who scored 104 points to finish ahead of Crescent Valley (52), La Salle Prep (51) and Corvallis (50). North Salem also got a win from senior Gabrielle Tata-Rodrigues Jr. in the discus.
Ridgeview freshman Kensey Gault won both hurdles races.
Churchill dominated the boys meet with 92 points, well ahead of Wilsonville (51.5), Ridgeview (50) and Crescent Valley (48.5).
Churchill senior Jacob Trone finished first in the 100 and 200 and placed second in the triple jump and long jump. The Lancers also got wins from both relays and junior Nathan Fields in the triple jump.
Ashland senior Cameron Stein won the 1,500 and 3,000 and Ridgeview senior Cody Gehrett took both hurdles races.
4A
Hidden Valley swept the 4A Showcase meet Friday and Saturday at Siuslaw, winning the boys and girls titles.
The Mustangs' girls team outscored runner-up Siuslaw 82-50 behind senior Jada Hurley, who won the 100, 200 and 400 and ran a leg on the winning 4x100. Hidden Valley also got wins from Stanford-bound Kaiah Fisher in the shot and discus and from senior Jaaden Steele in the triple jump.
Oregon-bound Anika Thompson of Junction City won the 1,500 to finish her decorated high school career. Cascade junior Emma Gates took the high jump and helped the 4x400 to a win. Gladstone junior DeShanae Norman won the 100 hurdles and long jump.
Hidden Valley's boys scored 77 points to beat Newport (52), Henley (47) and Philomath (46.5). The Mustangs got two wins each from seniors Jeremiah Noga (200, 400) and Gabriel Burchfield (110 hurdles, high jump).
The other double winners were Philomath sophomore Brody Bushnell (800, 1,500) and Astoria junior Colton McMaster (shot, discus).
3A
Senior Jadyn Vermillion won four events to lead Sutherlin's girls to first place in the season-ending 3A meet at Harrisburg on Monday and Tuesday.
Vermillion won the 100, 200, long jump and triple jump for the Bulldogs, who scored 113 points to beat runner-up St. Mary's (103). Vermillion was the 3A long jump champion in 2019.
Sutherlin also got wins from junior Mallory Turner in the 100 hurdles and high jump and junior Erica McDonald in the shot.
St. Mary's senior Jensyn Ford won the 400 and was part of both winning relays. Riverdale freshman Zoe Rector took the 800 and 1,500.
Catlin Gabel outscored St. Mary's 90-58 for first place in the boys meet.
Sophomore Malcolm Grant led the way for the Eagles, winning the 200 and 110 hurdles and running legs on both winning relays. Senior Miles Grant (triple jump) and junior Eli Foster (800) also won events for Catlin Gabel.
Santiam Christian sophomore Benjamin Bourne (1,500, 3,000) and Riverdale junior Sam Veverka (100, long jump) each won two events.
2A
Gervais senior Katie Hanson stole the show at the season-ending 2A meet in Union, winning the 200, 400 and long jump.
But Regis finished first in the girls meet, scoring 60 points to beta Faith Bible (47) and Gervais (43). The winning Rams were led by junior Whitney Stepp, who won the high jump and placed second in the triple jump and fourth in the long jump.
Columbia Christian junior Makena Houston (1,500, 3,000) and Monroe junior Laura Young (shot, discus) each won two events.
Senior Grant Davidson won the shot and discus to lead East Linn Christian to first place in the boys meet. East Linn Christian outpointed runner-up Grant Union 67-53.
Enterprise junior Zac Knapp captured the 1,500 and 3,000.
1A
Powder Valley's boys amassed 64.5 points to hold off Micah Colburn-led Damascus Christian (56 points) and win the season-ending 1A meet at Eastern Oregon University on Friday and Saturday.
Colburn, a senior, won the pole vault with a mark of 15-0 ½, claimed the long jump and ran the anchor leg for the first-place 4x400 relay. St. Stephen's Academy junior Colin Friend (1,500, 3,000) was the only other boy winning two events.
Crane won the girls meet, scoring 75 points to finish ahead of North Lake (48) and Elgin (47).
Girls winning two events were Elgin senior Aaliyah Burton (100, 100 hurdles), Camas Valley senior Joy DeRoss (shot, discus) and Powder Valley senior Belle Blair (300 hurdles, long jump). St. Paul won both relays.