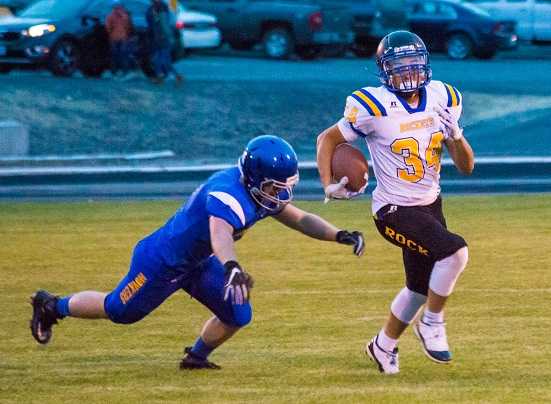 Pilot Rock / Nixyaawii's feel-good football season could be in for a reality check Thursday when the 10th-ranked Rockets play host to No. 1 Dufur in a game that will decide first place in the West division of 1A Special District 3.
Pilot Rock / Nixyaawii went winless in 2015 and 2016 in 2A before playing an independent 1A schedule last year, finishing 3-5. The Rockets met the OSAA criteria to play down one classification this year and are off to an impressive 6-0 start.
None of the wins has come against teams currently ranked in the top 10 of the OSAAtoday coaches poll, however, so the matchup against three-time reigning state champion Dufur (6-0) will be revealing.
The Rockets are hoping to make a better showing than last season, when they lost to Dufur 58-22.
"Worst-case scenario, I'd like to play them tough where they can't put a single JV player in," coach Mike Baleztena said. "Last year they could've beat us by 100, we were so little and young.
"I'd like to play them to where we're considered a team to look out for. We're not just one that they can walk over to get to the playoffs."
Baleztena said his team has come a long way since last season, when, with only about 12 players available for each game, he was forced to use a handful of freshmen. Those players have matured as sophomores.
"They've all gotten bigger and stronger, and their football IQ is high," Baleztena said.
Sophomore running back Tyasin Burns, who attends Nixyaawii, has rushed for more than 1,000 yards. In one game, he accounted for touchdowns rushing, receiving, passing and on a kick return, and had an interception return for a score nullified by a penalty.
Sophomore Tanner Corwin took over at quarterback early in the season for Logan Weinke, who moved to receiver. Corwin and Weinke have connected for about 800 receiving yards.
"I made that swap, and ever since I did that, that was the turning point for us this year," Baleztena said. "We're still small, but our passing game is what's helping us out."
Baleztena was an assistant in the program before becoming head coach in 2016. The Rockets needed time to adjust to the eight-man game but showed signs of coming around late last season, finishing with a 54-24 win over Arlington.
"We started figuring it out really well, and by the end of the year we were really confident," Baleztena said. "After that last game, the coaches sat down and we were like, 'OK, I think we got it. The boys are figuring it out, and we're young.'"
The winner of Thursday's game against Dufur advances to the district title game against the East division champion.