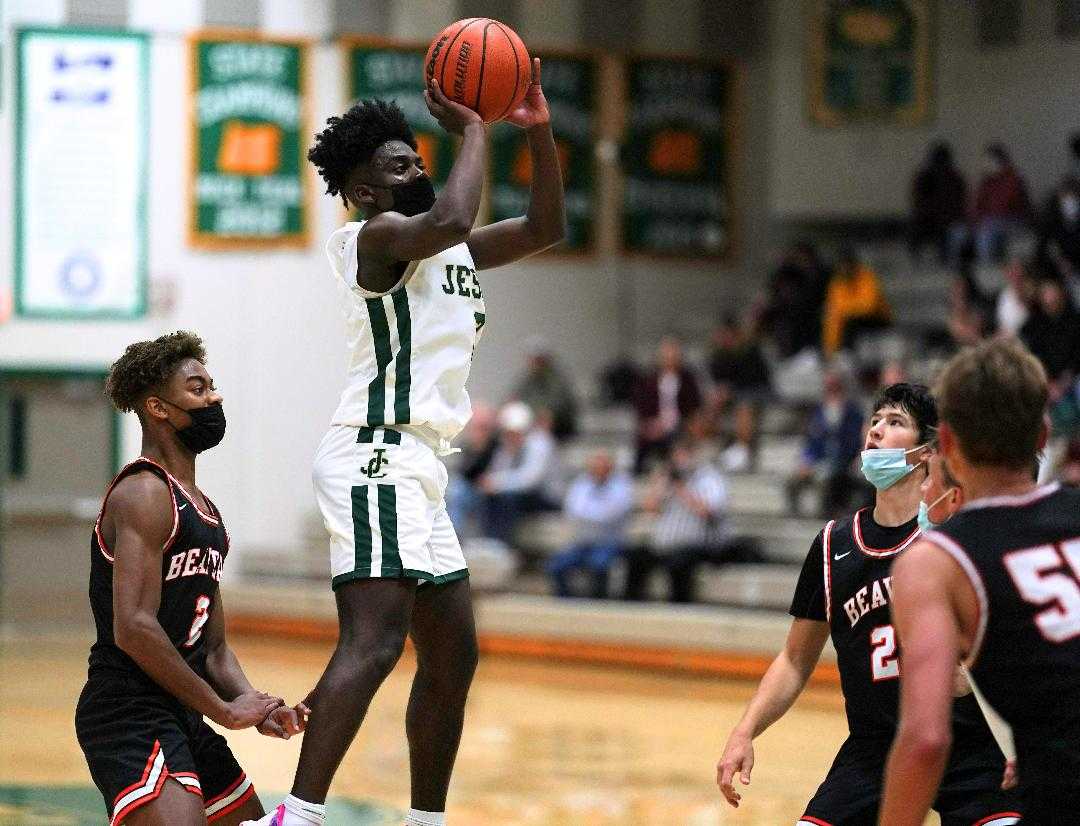 PORTLAND – If Jesuit wasn't already fired up for an early-season Metro League boys basketball showdown with visiting Beaverton on Thursday night, the Crusaders got a little extra boost from something that has been missing – a rowdy student section.
Jesuit fed off its home crowd, racing to a 10-2 lead and coasting to a wire-to-wire, 60-41 win, handing the Beavers their first defeat.
"That hasn't happened in a while. It's been over a year since we've had fans like that," Crusaders senior point guard Roy Bunn said. "The fans were there for us tonight. It really helped us a lot. We got jacked up."
Jesuit coach Gene Potter said it was "kind of fun."
"It was the first time we've had real live students and some noise and some atmosphere," Potter said. "It actually felt like a high school basketball game during the season instead of a summer league game where your parents are there and it's dead quiet."
Bunn and senior guard James Lang scored 15 points each and junior wing Tyree Blake came off the bench for 13 points for the Crusaders (4-1, 4-0), who won their fourth in a row since opening with a 58-53 loss to Jefferson.
Jesuit was more than ready for the challenge posed by the Beavers (4-1, 3-1) and their 6-foot-10 senior, Dane Erikstrup, who has signed with Cal Poly Pomona.
Erikstrup entered averaging 21 points per game and was coming off a 27-point outburst against Mountainside on Tuesday, but he went scoreless in the first half and finished with seven points. He shot 2 for 11 from the field as he struggled to get clean looks against the physical defense of juniors Spencer McKelligon (6-3), Mack Wall (6-7) and Nelson Keljo (6-4) and senior Pre Gaston (6-6).
"We defended him great," Lang said. "Our big guys were able to force him into the trap, where our guards would come down, double-team him, make him have a tough shot. That's where we got a lot of turnovers and steals off him."
Bunn said Jesuit's interior defenders followed the game plan against Erikstrup.
"They kind of pushed him off the block early, didn't let him get in a rhythm early," Bunn said. "If he sees a couple go in, the basket is going to be wide. So they did a good job of shutting him down early and limiting his looks."
With Erikstrup struggling, Beaverton fell behind 29-14 in the second quarter and trailed 31-20 at half.
"They were just a little bit more physical," Beavers coach Andrew Vancil said. "We would've liked to have gotten Dane to the line a little bit more in that first half. The way they guard Dane in the post, they're leaning on him, they're pushing, they're shoving. If you don't get those calls early, it's going to make it very difficult. Give them credit for being very physical. They took away our best player."
Erikstrup made two free throws and converted a three-point play early in the third quarter as Beaverton got within 31-25. But the Beavers stalled on offense, and Jesuit went on a 14-0 run to open a 47-27 lead early in the fourth quarter.
"We kind of ran out of gas a little bit," Vancil said.
Bunn, a member of Jesuit's 6A title team in 2019, was outstanding in directing the offense. He made three three-pointers and three layups and kept his teammates involved throughout.
"It's nice to be able to put the ball in his hands and say, 'Here you go, take care of it,'" Potter said of Bunn, who entered averaging a team-best 13.3 points per game. "Those guys come along every now and then. He played with some great players the last two years, and he learned from them and exactly how to lead a team."
The two-time reigning Metro champion Crusaders know they won't get a chance to defend their league title in this shortened season, so they are savoring their limited opportunities.
"We talked about that after the last game, just looking at every game like it's the last game, because it could be," Potter said.
Bunn said Jesuit has made much progress since losing to Jefferson.
"We just got the jitters out in that one," Bunn said. "After that Jefferson game, we took everything personal, made it a goal of ours to not come out slow and really get after it."
Beaverton sophomore wing Brady Rice scored 13 of his game-high 17 points in the first half.
The teams meet again June 8 at Beaverton.